United States
Editors Review
An RV rental supplier/ feed & farm store, Red Mountain RV Rentals has a fleet consisting of motorhomes, travel and utility trailers. The motorhome rental, however, is narrowed down into two options, with both choices being fairly priced.
What Red Mountain RV Rentals Tells Us
With one branch located in Lynwood, Red Mountain RV Rentals is not your ordinary rental company. Actually, they aren't just an RV rental supplier but also a one-stop shop for animal feeds, irrigation supplies and even party needs. Because of the diversity of businesses being handled by the company, it can be noted that they remain to be an attractive option for renters, especially that the owners themselves would always go the extra mile to cater their customers. Even if they don't have it, they make sure that they can help you in whatever means they can. And though the company focus in trailer rentals, they still give options for those in need of an motorhome ride.
Fleet
The fleet features more travel trailers and less motorhomes. There are only two motorhome options, both large and automatic Class C units. All rentals are nicely priced with options for extra tanks, generator use, kitchen and linen kits. Before, the company allows you to bring your fur babies, but eventually changed for hygienic purposes.
Vehicles
Minnie Winnie

The Minnie Winnie is quite big at 31' and sleeps 9. This unit has two slide-outs and outdoor awning. Having two slide-outs, the living room and bedroom can now provide more space and comfort. Across each other are the convertible dinette and sofa sleeper that provide additional sleeping places at night. Other sleeping areas inside are the rear bedroom, side bunk beds, and cab-over bed. Next to the sofa bed is the L-shaped kitchen with microwave, burner gas stove and sink. The bathroom with inside shower and toilet is positioned adjacent to the bunk beds, just before the bedroom.
Sun Seeker

Smaller at 26', this luxury 6 berth motorhome provides only one slide out that extends the living room. Its interior design is very sleek and stylish with fancy facilities on-board. The kitchen is equipped with gas stove, microwave, sink, refrigerator, and lots of overhead cabinets. Behind the fronts seat is a nice comfy chair that acts as additional seating area during daytime or even at night. Because of the limited space, this one does not provide a sofa so all your day talks or late night games can be done on the dinette. The rear part of the vehicle is all for the bedroom.
Insurance
If you do not or cannot provide for your own insurance coverage, then the company can give you options from their partner insurance company. This will be, of course, an added expense, so it's much recommended if you can get a copy of your insurance binder to save money.
Reputation
Red Mountain RV Rentals is tagged as a family friendly rental in Lynwood, with more travel trailers than motorhome rentals. Talking about friendlier service, the company provides you with all your needs regardless of time and impossibility. Previous renters noted that the owners would bend over to suffice your needs. Hence, this down home type of business with competitive rates is a pleasant option for renters out there needing a small yet more personalized rental.
Summary
Red Mountain RV Rentals has only two motorhome rental options so you need to act as fast as you can if you want to avail of their homey rental. The rates are way attractive too!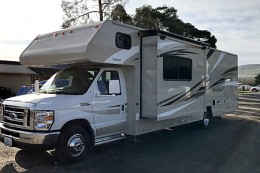 From the Agency
No word from this agency yet. Come back and see if they checked in soon.
Pros
Competitive rates
Not just a rental shop but also a feed & farm store
Hands-on and friendly service
Cons
Only two options for motorhome rental
Only one depot
See who else rents RVs in the same cities
Instant Price Comparison
Just Got Questions? Want a Quote direct from the company?
Fill in this form to contact the Agency direct.
Write Your Own Review
Tell the world about your experience renting from this company
Have you experienced Red Mountain RV Rentals?
Be the first to leave them a review and help others on their journey.