United States
Editors Review
Located conveniently near the SEATAC airport, Cascade Campers underscores the right balance of quality, affordability, and practicality through its cheap, hippie campers that you can call your tiny home for short-to-extended road trips.
What Cascade Campers Tells Us
As a small-scaled rental company in Seattle, Cascade Campers focuses on small yet compact hippie campers that are built to tread like RVs but are small enough to park anywhere. The classic campers are downright basic, from the exteriors down to the interiors, so do not expect for any bells and whistles that may only add cost but not value. Still, the vans are reliable enough to give you a spectacular sense of freedom to explore the open roads without worrying where to sleep at night and, of course, the budget. In addition to that, the Cascade Campers are designed to comfortably cater two people plus a furry friend!
Fleet
Particularly, the units aren't much that attractive, which is partly a good thing if you want to have a more discreet and convenient camping. But even if the layout are overly simple, the campervan conversions are outfitted in-house, providing a more personalized unit. The standard campervan comes with efficient features like comfy couch that converts into a cozy bed, house battery system that charges while you're driving and interior camping lighting that preserves night vision at night. These 2010-2013 Ford Transit Connect and 2016-plus Ram Promaster City are also cheaper and easier to keep on the roads because they are small. Consequently, you can't stand up inside the vehicle and there may be limited space and storage. So it's recommended to pack light and travel heavy!
Vehicles
Ram Promaster City
The 2016-plus Ram Promaster City takes prides with its modernness and affordability. But since Cascade Campers does not focuses on luxury vehicles, expect this one to be not-so-attractive. Well, it could be attractive in term of savings, but not with the exterior presentation— simple van painted in white. Yet behold the interior as it features a comfortable fold-out bed designed for two, kitchen with sink, stove, refrigerator, and even solar charging capability and more.
Ford Transit Connect

The other Cascade camper is the 2010-2013 Ford Transit Connect that provides more spacious layout because of the wider, taller dimension. Still, these units are economical with complete essentials. To start, the comfy couch transforms into a roomy double bed at night and the interior camp lighting maintains the night vision while you camp. You are also provided with a small fridge, single-burner cooktop and five-gallon water tank. The auxiliary battery system charges while you drive and the roof-mounted solar panels take over the charging responsibility while the unit is parked. Even if this is relatively bigger than the other campervan, this one is still small compared to normal RVs on the road so just pack light.
Insurance
The insurance, however, is unlike most RV rentals in the USA because you need to purchase it from their business partner, Outdoorsy. With the added cost on rental, the insurance now includes full collision coverage, plus $1 million in liability coverage, with a maximum $1,500 deductible. Take note that there's a non-negotiable 10 percent charge for this insurance that covers the insurance in total. To secure your rental, the company also requires a $500 security deposit to cover possible damage and excessive cleaning.
Reputation
There may only be one depot, but Cascade Campers is conveniently located near the airport, making it very suitable for travellers. The biggest compromise, however, is the limited sleeping restriction. The campervans are designed for only two people, eventually erasing attraction among large groups. And all the campervans do not come with any bells and whistles to brag for, but for sure you'll be getting a great amount of savings from them.
Summary
Accordingly, Cascade Campers are small yet compact, not luxury but economical. Hence, pack light and just bring stuff for two people and your fur baby.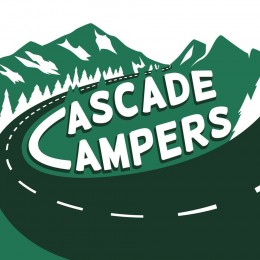 From the Agency
No word from this agency yet. Come back and see if they checked in soon.
Pros
Small but compact campervans
Ideal for couples on budget
Convenient location
Cons
Only one depot
Limited insurance options
Does not come with any bells and whistles
Not suitable for bigger groups
See who else rents RVs in the same cities
Instant Price Comparison
Just Got Questions? Want a Quote direct from the company?
Fill in this form to contact the Agency direct.
Write Your Own Review
Tell the world about your experience renting from this company
Have you experienced Cascade Campers?
Be the first to leave them a review and help others on their journey.