United States
Editors Review
With a mix of Class B & C motorhomes as well as travel trailers, Durango RV Rentals is outlined for both fancy adventurers and family travellers―with pets.
About Durango RV Rentals
Durango RV Rentals is a quite popular RV business in the area, with an impressive range of vehicles for rent. Aside from rentals, they also have a nice range of consigned motorhomes and travel trailers at reasonable prices! And if you rent from them, you can head directly to their depot, which is located in 'Four Corners' in Durango. Or, if you prefer, they can pick you up from Durango Colorado airport for free. The owners/ staff are highly knowledgable and friendly. Their RVs are catered to renters who are at least 25 yrs old, which means their units aren't for young travellers.
Fleet
Their RV range is composed of Class A and Class C motorhomes. The units vary in size and age model. The oldest they have on fleet is a 2008 Majestic model while the newest is a 2018 Mercedes Sprinter Van. You get 100 free miles daily and 800 miles weekly, which means you get more savings if you rent them for a week. Further, each rental includes a coffee maker, cleaning soaps, toilet paper, and more. And if you have extra stuff or sports gears, most large motorhomes come with an exterior compartment where you can store these big items. Their motorhomes are also pet-friendly so you can bring your furry pet.
Vehicles
2018 Class B Mercedes Sprinter Van

La Forest and La Desert are the two Mercedes Sprinter Vans of Durango RV Rentals. These are the newest motorhomes on offer that are suitable for 2 to 4 persons. There are two options for queen beds inside―upper and lower bed at the back area. But of course, considering the vehicle dimension, there's not too much space for rolling around while sleeping. But you'll love the panoramic windows of the van. This diesel-run unit got some swivel front seats and an extra seat at the back of the driver's area, which means all three can dine together.
2013 Madge the Majestic

The perfect option for big families, this extra-large motorhome features comfy sleeping areas and multiple facilities. Madge the Majestic takes pride of its 30' length, allowing it to fit 6 to 8 persons. It has a queen-sized cabin bed, a full sofa bed, a rear queen bed, and a dinette bed. All these beds can sleep two persons each. The full bathroom has a separate shower and toilet for privacy. And because of its size, there are tons of storage inside.
2010 Winnebago View

Dubbed as their Road Warrior, this 2012 is a luxury home on wheels. It is designed for three people. Equipped with camping amenities, this 24' motorhome may not have the most spacious interior but it highlights some refined features that are worth the mention. For the main sleeping area, you have the queen size bed at the cabin. Also, this one comes with a full kitchen and a bathroom located at the back. And did we forget to mention that this one has an 18' slide-out that expands the living/ dining quarters? Plus, the swivel chairs together with the two dining chairs and a couch bed, allow all three to eat together.
2005 Molly Majestic
The 2005 Molly Majestic is another great option for families up to 7. This big motorhome has 4 sleeping areas―rear queen bed, sofa bed, dinette bed, and cabover bed. If you want extreme comfort, opt for the main bedroom that not just comes with a large bed but also lots of cabinets. The toilet is separated from the toilet.
Insurance
They provide you with two options to cover the motorhome. First, you can provide a binder from your auto policy. One binder per driver. If not, you need to purchase coverage through their insurance. Further, you will be required to pay a $1000 security deposit via credit card.
Reputation
Durango RV Rentals is one of the popular rental businesses in Durango, offering rentals and sales. Their RV rentals are great for couples and big families. And one thing that makes them unique is that they also offer a fleet of travel trailers for rent and some RVs for sale. Since they have units of different age models, their range also caters to different budgets. Some are older models and some are also recent units. So, whether you're on a budget or want to splurge, they've got something to offer. They only have one depot, though they offer pickup from Durango airport. All in all, they offer a friendly, responsive RV rental service.
Summary
Durango RV Rentals offers both motorhomes and travel trailers for hire, which are designed for small to big groups wanting to bring along their furry pet.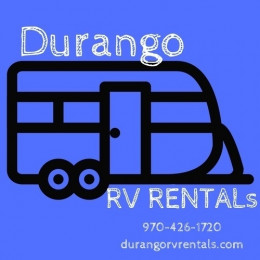 From the Agency
No word from this agency yet. Come back and see if they checked in soon.
Pros
Great for couples and big families
Extensive fleet of RVs, including travel trailer
Meant for both fancy and mid-budget travellers
Pet-friendly
Cons
Only one depot
Some older models
Few issues about extra charges
See who else rents RVs in the same cities
Instant Price Comparison
Just Got Questions? Want a Quote direct from the company?
Fill in this form to contact the Agency direct.
Write Your Own Review
Tell the world about your experience renting from this company
Have you experienced Durango RV Rentals?
Be the first to leave them a review and help others on their journey.