United States
Editors Review
Escape Campervans USA is an award-winning campervan rental company with multiple branches across the USA and Canada. They provide reliable, economical, and pet-friendly campervan to couples and families who wouldn't mind a funky road trip.
About Escape Campervans
A reliable and popular rental company in North America, Escape Campervans USA has 12 depots, including Phoenix, Miami, Los Angeles, Las Vegas, San Francisco, New York, Seattle, and Denver, as well as Canada. Recently, they opened two new branches―in Portland and Calgary. More than that, they are also one of the well-favored companies in New Zealand, which is the first branch that started it all back in 2003. It was in 2009 when Escape Campervans USA brought the #vanlife into the country. Up to the present time, they continue to offer amazing road trip experiences to travelers.

Escaper Campervans USA is quite a charm to funky travelers needing a cheap holiday on the road. Definitely, the first thing that will catch your attention about the Escape campervans is the fascinating campervan exteriors. And if you are into vibrant colors and head-turner rentals, then you are on the right track.

Fleet
With a rental fleet of more than 600 custom-built, uniquely hand-painted units, Escape Campervans is a great choice for couples and even families up to 5. Currently, they have 4 campervan models―Santa Cruz, Mavericks, Big Sur, and Indie Camper. These are all automatic campervans that are easy to drive and park. And of course, Escape campervans are known for their head-turner exteriors, not to mention versatile interior layout. So, if you're looking for a simple and discreet holiday, then Escape campervans aren't for you. All their campervans are new models that are less than 2 years old, except for the Mavericks, which is quite older. And for those with a heart for adventure, they offer roof racks to keep your gears secured as well as bike racks.
Vehicles
Santa Cruz
Lo and behold, the newest addition to the Escape Campervans fleet. This 2 berth campervan is both space and fuel-efficient, making it a great choice for solo wanderers or couples on a budget. But of course, it still features all comforts of home like a permanent double bed, kitchen, USB outlets, and storage. The pull-out kitchen is geared with a sink, ref, and single burner stove.
Mavericks
The Escape Mavericks is good for 2 to 3 people and extends up to 4 to 5 because of the rooftop sleeper. The campervan has all the basic camping facilities and a particular specialty—a solar panel to recharge the auxiliary battery. With 2012 average model year and campervan fit-out, it's the oldest unit on offer. Nevertheless, the Mavericks are stocked with a comfy queen size bed including bedding, a foldaway in-van table with benches, a rear kitchen with sink, 2 burner stove, solar-powered fridge, and plenty of storage areas.
Big Sur

Big Sur is a step-up version of Maverick, now featuring a newer age model and specs. Still, it caters to up to 5 people comfortably through its standard amenities, including a queen-sized bed, rear bucket seats, fold-away seats, refrigerator, stove, sink, and more. Plus, this model got some extra storage space and an optional rooftop sleeper. So, if you want a more spacious family campervan, Big Sur is a great choice.
Indie Camper

The Indie Camper is not your usual campervan. Well, technically, it's not really a campervan but a truck camper Still, its vibes scream that laid-back campervan aura, especially the cool exterior design. Maximize all the luxuries of this 3 berth unit that now comes with a nicer kitchen and comfier bed. Plus, it has a shower and toilet that make it a suitable option for those who want a more convenient road trip.
Insurance
There's no compulsory insurance charge on top of the rental rate, and you can just provide a copy of insurance binder as long as the liability insurance covers up to $1,000,000. If not, you can avail of the company's Supplemental Liability Insurance at an additional of $12.25/day. They also offer an optional Collision Damage Waiver at $10/day or $14/day if including van, tires, and glass. Take note that insurance options for their Indie Camper units vary as well as for different pickup locations.
Reputation
A relatively popular rental company with mostly positive reviews, Escape Campervan is known for its vibrant and catchy vehicle exteriors and nicely equipped interiors. With several branches across the USA and Canada, they give extra convenience to their renters, especially that they do not charge for up to 4 extra drivers. Aside from their competitive rates, they only charge a US$200 deposit upon booking. And because of these awesome features, Escape campervans are in demand, well, not for the fancy travelers but rather for those budget and funky backpackers.
And being in the rental industry for quite some time, they continually make sure to keep abreast with all the changes in the field. For instance, they just added two branches and one new campervan model. This makes them the largest fleet in North America with over 600 vibrant and reliable campervans.
Summary
If you do not want to break the bank and just want to experience a groovy yet compact campervan hire, then an Escape campervan can grant your wish.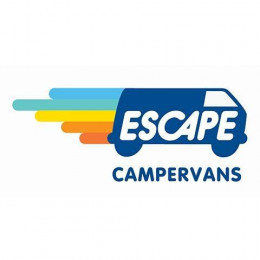 From the Agency
No word from this agency yet. Come back and see if they checked in soon.
Pros
A reliable and popular rental company
Catchy vehicle exteriors
Competitive rates
Largest fleet in North America with 4 campervan models
Cons
Not for fancy travellers who want a discreet holiday
Caters to groups up to 5 persons only
See who else rents RVs in the same cities
Instant Price Comparison
Just Got Questions? Want a Quote direct from the company?
Fill in this form to contact the Agency direct.
Write Your Own Review
Tell the world about your experience renting from this company
Have you experienced Escape Campervans USA?
Be the first to leave them a review and help others on their journey.