United States
Editors Review
Escape Campervans USA is an award-winning campervan rental company with multiple branches across the USA and Canada. They provide reliable, economical, and pet-friendly campervan to couples and families who wouldn't mind a funky road trip.
About Escape Campervans
A reliable and popular rental company in North America, Escape Campervans USA has 12 depots, including Phoenix, Miami, Los Angeles, Las Vegas, San Francisco, New York, Seattle, and Denver, as well as Canada. Recently, they opened two new branches―in Portland and Calgary. More than that, they are also one of the well-favored companies in New Zealand, which is the first branch that started it all back in 2003. It was in 2009 when Escape Campervans USA brought the #vanlife into the country. Up to the present time, they continue to offer amazing road trip experiences to travelers.

Escaper Campervans USA is quite a charm to funky travelers needing a cheap holiday on the road. Definitely, the first thing that will catch your attention about the Escape campervans is the fascinating campervan exteriors. And if you are into vibrant colors and head-turner rentals, then you are on the right track.

Fleet
With a rental fleet of more than 600 custom-built, uniquely hand-painted units, Escape Campervans is a great choice for couples and even families up to 5. Currently, they have 4 campervan models―Santa Cruz, Mavericks, Big Sur, and Indie Camper. These are all automatic campervans that are easy to drive and park. And of course, Escape campervans are known for their head-turner exteriors, not to mention versatile interior layout. So, if you're looking for a simple and discreet holiday, then Escape campervans aren't for you. All their campervans are new models that are less than 2 years old, except for the Mavericks, which is quite older. And for those with a heart for adventure, they offer roof racks to keep your gears secured as well as bike racks.
Vehicles
Santa Cruz
Lo and behold, the newest addition to the Escape Campervans fleet. This 2 berth campervan is both space and fuel-efficient, making it a great choice for solo wanderers or couples on a budget. But of course, it still features all comforts of home like a permanent double bed, kitchen, USB outlets, and storage. The pull-out kitchen is geared with a sink, ref, and single burner stove.
Mavericks
The Escape Mavericks is good for 2 to 3 people and extends up to 4 to 5 because of the rooftop sleeper. The campervan has all the basic camping facilities and a particular specialty—a solar panel to recharge the auxiliary battery. With 2012 average model year and campervan fit-out, it's the oldest unit on offer. Nevertheless, the Mavericks are stocked with a comfy queen size bed including bedding, a foldaway in-van table with benches, a rear kitchen with sink, 2 burner stove, solar-powered fridge, and plenty of storage areas.
Big Sur

Big Sur is a step-up version of Maverick, now featuring a newer age model and specs. Still, it caters to up to 5 people comfortably through its standard amenities, including a queen-sized bed, rear bucket seats, fold-away seats, refrigerator, stove, sink, and more. Plus, this model got some extra storage space and an optional rooftop sleeper. So, if you want a more spacious family campervan, Big Sur is a great choice.
Indie Camper

The Indie Camper is not your usual campervan. Well, technically, it's not really a campervan but a truck camper Still, its vibes scream that laid-back campervan aura, especially the cool exterior design. Maximize all the luxuries of this 3 berth unit that now comes with a nicer kitchen and comfier bed. Plus, it has a shower and toilet that make it a suitable option for those who want a more convenient road trip.
Insurance
There's no compulsory insurance charge on top of the rental rate, and you can just provide a copy of insurance binder as long as the liability insurance covers up to $1,000,000. If not, you can avail of the company's Supplemental Liability Insurance at an additional of $12.25/day. They also offer an optional Collision Damage Waiver at $10/day or $14/day if including van, tires, and glass. Take note that insurance options for their Indie Camper units vary as well as for different pickup locations.
Reputation
A relatively popular rental company with mostly positive reviews, Escape Campervan is known for its vibrant and catchy vehicle exteriors and nicely equipped interiors. With several branches across the USA and Canada, they give extra convenience to their renters, especially that they do not charge for up to 4 extra drivers. Aside from their competitive rates, they only charge a US$200 deposit upon booking. And because of these awesome features, Escape campervans are in demand, well, not for the fancy travelers but rather for those budget and funky backpackers.
And being in the rental industry for quite some time, they continually make sure to keep abreast with all the changes in the field. For instance, they just added two branches and one new campervan model. This makes them the largest fleet in North America with over 600 vibrant and reliable campervans.
Summary
If you do not want to break the bank and just want to experience a groovy yet compact campervan hire, then an Escape campervan can grant your wish.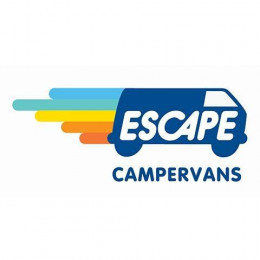 From the Agency
No word from this agency yet. Come back and see if they checked in soon.
Pros
A reliable and popular rental company
Catchy vehicle exteriors
Competitive rates
Largest fleet in North America with 4 campervan models
Cons
Not for fancy travellers who want a discreet holiday
Caters to groups up to 5 persons only
See who else rents RVs in the same cities
Instant Price Comparison
Just Got Questions? Want a Quote direct from the company?
Fill in this form to contact the Agency direct.
Write Your Own Review
Tell the world about your experience renting from this company
1 Review
"
Find Another Company

"

I have reached my limit with Team Escape. We rented in Hayward, California, and got a 25-year old Maverick with hardly any suspension and a stereo that allows you to physically plug in your iPod (in 2021). The chargers inside the van blew out on day 2 of 14, so there went our ability to charge our cell phones on a road trip. Then we were given 2 half-empty cans of gas (already used, obviously) for $5 each, one of which lasted a day. Finally, I returned the van 4 days early, and instead of "Hey, did something go wrong?", I hear "You know, we can't refund you. It's in the contract you signed." I didn't even ask for a refund. To add insult to injury, I then get a "violation" notice telling me they charged my credit card a $25 admin fee + a $2 processing fee because they paid a $6 toll I incurred on the Bay Bridge. Bear in mind that all tolls are now cashless. You can't pay even if you want to. Do they text their customers a website link to pay any tolls after the fact? Of course not. Finally, be aware that they are planning to phase out their old Mavericks, and yet they continue to rent them at the highest prices even though they regularly break down (see customer reviews above).

This company is sorely in need of competition since it treats its customers like marks.

2

Service

1

Mechanical

1

Interior

1

Value
1 Review
"
beware

"

On Saturday June 27th we packed our entire car and prepared our two daughters (age 2 and 6) for a 14 day camping trip. We then drove to NJ to pick up our mavericks campervan. The troubles actually began even earlier as I had repeatedly emailed the contact for the NJ office to find out our pick up time and no one had responded--even right up until the day of pick up. Finally I called and was told that I could pick up at 1. I later found out that the email you gave me as a contact was someone who was in the process of resigning, so he just didn't bother to answer any of my emails.

We arrived in NJ and completely filled the campervan with our things in the rain. As we are putting the girls car seat and booster seat into the van we realized that there were NO SHOULDER BELTS in the entire back seat. It is against the law for a 6 year old to sit in a seat without a shoulder belt. It also makes a booster seat completely irrelevant. We told this to Claudia, the person who was at the NJ location. She seemed defensive and not willing to admit that this was not ok. She kept saying things like "we have had many satisfied people use these vans with kids" and "I know our vehicles are legal for kids". Since we planned to cover a lot of ground in the van and it was just just a short drive to a campsite, my husband and I decided that we just couldn't put our daughter in an unsafe situation. Claudia got someone on the phone from escape campervans and she said our two options were to get our money back or take a Big Sur van that was available because of a last minute cancellation. but....we would have to pay the difference of the upgrade. Basically we were asked to pay a lot of extra money just to go on our scheduled trip even though the van that we had paid for was unsafe through no fault of our own.

In the end we were forced to get our money back and completely rethink and change our plans. I was told a manager would follow up with me, which never happened. Escape campervans could have made it right by offering us a different van that had acceptable safety belts with no added cost but that didn't happen.

1

Service

1

Mechanical

1

Interior

1

Value
1 Review
"
Stay away if safety is important to you

"

2 Camper vens broke 2 days in a row.
0 safety
0 road assistance
The cars are not well maintained.
First car, no AC, found this when we left the city. Got a bigger van, much older one, I asked for the new one because I was afraid that the Marvik one will have problems, it seems old. In the next morning, in Utah, the car engine started ticking, the engine light turned on. We were told to get to the closest auto zone. Right before we arrived there the engine shutdown.We were stuck.

They are not sending a placement car if you stuck.!!

They wanted us either fix the car or tow it to Vegas (get a new car there or get refund(and then what!?)), Vegas is 2 hours away in our opposite way to go . I couldn't trust the car not to be stuck again, but I couldn't go to Vegas.

It was 2 days out of 4 days trip that totally destroyed by their unchecked, Untreated cars. The cars are in a bad mechanical shape. So you probably get stuck, far from home ( Because that's the point) and no chance of getting proper help if you stuck. We ended by fix the spark plug and get back the road after full day in the situation.
No matter what, they won't provide you a way to get back to the road quickly. They say they don't do that.
I asked the car for 2 more days and got $150 discount. I payed around $500, I spent two days in crying. I had to pay twice to all my campground, I missed the visit in grand canyon which was the purpose of the trip because of the delay ( they opened the park only for the weekend), and I almost killed myself when the engine shutdown in the middle of the traffic.
Cars can break. I know.I
But
For me, *safety + get back on the road quickly *are the most important things in rental companies. And they failed big time.
Would not recommend.

1

Service

1

Mechanical

1

Interior

1

Value
1 Review
"
A great tester for the #vanlife - Escape CamperVans

"

Escape Campervans review: Renting and picking up the van

To be honest, we had a great time with the van, but a mixed experience with the rental company, which I guess is not surprising. I guess my takeaway is that despite the brightly colored van, and the low-tech warehouse-chic esthetic, this is a car rental company just like any other. Don't let your guard down when it comes to things like inspecting for previous damage, noting start and end mileage and gas.

The van itself was an older Ford van, tried and tested at 200,000+ miles on the odometer. It handled great and was a smooth ride throughout, after the small growing pains of adjusting to being much higher up than in a normal car. Good news is that your regular US drivers license is enough to drive these vans, no commercial license needed.

Escape Campervans review: Van tour
We had the Mavericks build, which sleeps up to 5 people, but that is with the optional roof tent. Inside, a queen size bed folds out and is quite comfortable, and can be folded away in the morning to provide van seats with adequate safety belts. A third state is to turn it into a mini living room with benches and a removable table. The table was surprisingly sturdy is how we ate dinner and played tabletop games after dinner, given the cold outdoor temperatures where we camped.

The bed itself provided a great nights sleep! Honestly, the older I get, the more I am reluctant to go tent camping just because I feel like I can no longer handle the cold hard ground, no matter how thick the sleeping pad or sleeping mat is. This makes Escape Campervan a wonderful alternative for those who want to still enjoy the outdoors but dont want to tent camp, or are unable to tent camp due to accessibility issues.

More on kitchen, amenities and other add ons at https://maxplusmariatravel.com/escape-campervans-review/

Now that I have tested the #vanlife, I would tend to look at other campervan rental sites, which provide a variety of campervans, some by owner in an Airbnb model. While the brightly painted van exterior seemed cute at first, it did attract some unwanted attention occasionally. If I were taking an extended trip, I'd definitely want a more nondescript van.

Maria,
https://maxplusmariatravel.com/escape-campervans-review/

4

Service

5

Mechanical

5

Interior

4

Value