United States
Editors Review
A small company with a depot in Lithia Springs, Atlanta, Georgia Motorcoach RV Rentals rents out an extensive fleet of motorhomes and trailers at decent prices.
About Georgia Motorcoach RV Rentals
Georgia Motorcoach RV Rental is a small company in Lithia Springs that is designed for luxury travellers. This rental entity caters small groups of friends or large families with children. The company may not be that grand in terms of popularity but you still need to book early, especially during summers. Surprisingly as a luxury rental, this one allows some of your furry pets inside some of their RVs. Not only that, they permit early pickup as early as 8 AM at a minimal cost. Office hours normally start at 10 AM and end at 6 PM. For certain RV rentals, they may allow free on-site parking, so you just leave your personal car and drive off in the RV.
Fleet
A mid to luxury accommodation awaits renters of Georgia Motorcoach. Offering a diverse fleet of modern and older motorhomes and trailers, the company has a large array of high-end Class B RVs that are superior fuel economy. But if you want a Class A motorhome, they also have options. Most of these RVs come from big and reputable manufacturers such as Thor and Winnebago. All gas chassis RVs do come with a gasoline generator while the others either have diesel or propane generators. Conveniently, these motorhomes already include 100 miles per night and 4 hr per night generator use. Plus, these are equipped with 30 amp electrical hookups. Still, you need to bring your own linen, kitchen/ cooking utensils, toiletries and the like.
Vehicles
2019 Coachmen Leprechaun

This 2019 Coachmen Leprechaun has a sleeping capacity for 5 people. With a length of 24.9, the motorhome may not that expansive in terms of layout but it provides one slide-out at the rear queen bed. Also at the back is the shower and toilet. The J-lounge comes with a nice extension so that all five can eat together. The kids will love the entertainment system positioned at the cab-over bunk.
2019 Gulf Stream Bunkhouse

A 2019 model, this Gulf Stream Conquest provides a slide at the master bedroom for a roomier ambience. This bunkhouse model sleeps 8 to 9 people, with plenty of sleeping options from the living room to the rear area. A highlight for this large motorhome is the solid surface countertops that add sophistication in the interior. The rear enclosed bathroom comes with shower and corner sink. Near the convertible dinette is a bunk over the cab.
2019 Gulf Stream Small Class C

Much smaller than the Coachmen Leprechaun, this 24.1' Gulf Stream surprisingly sleeps 5-6 people. Offering two units, this motorhome also has one slide-out to provide extra space onboard. The unit is ideal for couples with small children or just 5 adults. It has a walk-around bed, a nice kitchen, a full bathroom and an entertainment system. This may not be the most spacious RV on deck but it's very easy to drive and park.
2012 Nexus Phantom

This fancy-looking RV is tailored for those who have a thing for elegance and comfort. And you will not be disappointed with its sizable length at 31' and high-end furnishings, including leather seats, Corian counters and beautiful rear storage compartment. A 6 to 7 berth, you can bring your children onboard, and let them enjoy all the luxury appointments during your trip. There's only one TV located in the living room.
2017 Thor Vegas 24.1

Another recent motorhome is the 2017 Thor Vegas 24.1 that sleeps 5. This Class B provides one slide-out, extending the sofa bed space. A medium-sized motorhome, this one lets you travel in style and comfort with its classy exterior and fully-equipped interior. The panoramic front window gives you breathtaking outdoor views, as well as lesser wind noise. There are cameras positioned on both left, rear and right side so you can travel comfortably and safely. And there are 3 TVs, including one outside, to ultimately keep up with your entertainment fever.
2010 Forest River Solera

At 24', this RV built on a Mercedes Freightliner Sprinter is tagged as the easiest RV to operate. Plus, it's super efficient, making it one of the least expensive RVs to maneuver. With the help of the large slide, it can cater up to 6 people, ideally a family with kids. Aside from the overhead cabinets inside, there are also plenty of exterior cabinets for your extra stuff. You have the option to choose whether the cab-over area becomes a fantastic entertainment center or an extra sleeping place.
2007 Gulf Stream B Touring Cruiser

The oldest yet still running in excellent condition, this Class B+ RV takes pride in its aerodynamic design that ensures good power at higher speed, good fuel economy and lower wind noise. This 2007 Gulf Stream B Touring Cruise provides 6 seatbelts but ideally sleeps up to 4 only. The spacious queen bed already comes with a comfy mattress while the large dinette easily folds into another double bed. The bathroom is located in the rear area, just next to the convertible couch.
2013 Winnebago View Profile

Topping one of the easiest and cheapest motorhomes to use is this 2013 Winnebago View Profile, featuring a powerful yet super efficient Mercedes chassis. The diesel engine get 16 5mpg at 65 mph, which means that this RV remains efficient even at higher speeds. Styled with 2 slides, this 25' RV oozes with plenty of room for 2 people. Yes, this is a 2 berth motorhome perfect for couples in need of luxury and overly comfy road trip. But if you want to bring your small child, well you can as he/ she can comfortably stay on the wide couch while, you, parents at the queen bed.
2014 Itasca Cambria 30J

Look at this beaut. Seriously, this RV is crowd-charmer with its fascinating exteriors. Its recognition also includes the elegant interior style and facilities, including the LED accent lighting, leather seats, and Corian countertops. This 31' unit only sleeps 5 and comes with 3 slide-outs, meaning more space for everyone onboard. Also, there are plenty of cameras attached to the unit and one TV located in the living room.
2017 Thor Gemini

The 25' Thor Gemini is a 4 berth Class B, highlighting a Ford Transit chassis and rear slide-out. The cab-over area brings a beautiful built-in skylight for nice illumination while inside the RV. Underneath the rear flip-up queen bed is a decent cushion seating. There are three TV locations: in the living room, rear bedroom, and outside. This unit is preferable for couples or small families looking for a medium-sized RV with complete amenities.
Insurance
All RVs have full insurance coverage, but the company require you to provide your insurance binder from your personal auto insurance company, as well as vehicle registration to complete your rental.
Reputation
As a small RV rental, Georgia Motorcoach RV Rentals can give you a more customized trip, and that start with allowing you to bring your pet with during your rental. They have a sizable range of motorhomes and trailers, that are a mix of new and old RVs. They may not be largely known but their luxury RVs are decently priced, plus you all bases are covered. The owners are nice hosts, allowing you to enjoy your rental even more.
Summary
Georgia Motorcoach RV Rentals in Lithia Springs could be your go-to RV option if you're looking for a wide variety of new and old, and mid and luxury motorhomes.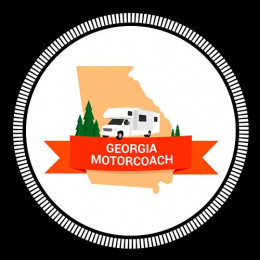 From the Agency
No word from this agency yet. Come back and see if they checked in soon.
Pros
Large range of motorhomes and travel trailers
Decent prices for luxury RVs
Cons
A mix of new and older motorhomes
See who else rents RVs in the same cities
Instant Price Comparison
Just Got Questions? Want a Quote direct from the company?
Fill in this form to contact the Agency direct.
Write Your Own Review
Tell the world about your experience renting from this company
Have you experienced Georgia Motorcoach RV Rentals?
Be the first to leave them a review and help others on their journey.