United States
Editors Review
Last Updated: 11/6/19
Hightened Path RV Rental is dubbed as one of the most in-demand RV hires brimming with a substantial range of motorhomes, trailers, toy haulers, and more. It is a premier RV rental that caters to two states―Arizona and Colorado, with lots of service areas per state.
About Hightened Path RV Rental
Furnished with more than 9 years of experience, Hightened Path RV Rental has two service areas in Colorado and Arizona. This popular company started with the owner's personal RV, then has grown into a rather big business with extensive recreational vehicles for rent. As a top-rated rental entity of the west, you get quality service from them. Their rates depend on the season. And since they have two locations, they can allow one-way rentals for a decent fee.
Fleet
From motorhomes to trailers to pop-up, no wonder Hightened Path RV Rentals has the most number of recreational vehicles for rent. For their motorhome fleet, they have Class A, Class B, and Class C, which means a very impressive range of units to choose from. Though most come units come with awning, these are not to be used, per the company's policy. Still, you won't be disappointed with their fleet because it provides sleeping capacity for 6 to 10 persons at max! Not only that, they can allow your furry pet inside the unit.
Vehicles
Class A
2015 Fleetwood Flair

At 28', this gas RV offers you a very practical layout, allowing it to seat 7 and sleep up to 8 people. Because of its functional interior space, the inside of the unit includes a full-comfort dinette sleeper and a free-standing recliner. The large center aisle makes up for the separate shower and toilet and a more spacious kitchen area. Plus, there's a drop-down bed with TV in the front area and a rear queen bed with TV, ward, and closets.
2017 Thor ACE

For a newer Class A, you have the 2017 Thor ACE. This is a bit bigger, providing sleeping places for up 8 persons. The bunk beds are very unique that's why it's suitable for families travelling with kids. And since this is 30' RV with one slide-out, you can expect a very palatial interior space.
2017 Forest River Ford Georgetown
Equipped with one full-wall slide, this large motorhome can accommodate a family of 8. At 31', the bunkhouse model has some unique features, including a passenger work station at the front, a table in between the driver and the passenger's seat, and more overhead storage spaces.
Class B
2018 Forest River Forester

The only Class B on offer is this sophisticated Mercedes-Benz sprinter. It is a diesel-run model with two slide-outs. Even at 25', this compact model provides sleeping areas for up to 6 persons. It has a dinette bed, a rear queen bed, and a bunk bed. Optional TVs can be placed in the rear bedroom, in the cab-over bunk, and outside, which gives you a total of three entertainment areas inside and outside.
Class C
2005 Fleetwood Jamboree

The 30' Fleetwood Jamboree is a great treat for families on a budget. It can take up to 8 persons via unique sleeping areas. Instead of the normal rear queen bed, this older unit has double bunk beds at the back. Wards and overhead cabinets are everywhere in the bedroom and living room. The shower is separated from the toilet, which gives a hallway-like style before going to the bedroom.
2015 and 2018 Jayco Greyhawk

A luxurious ride awaits a group of 10 with this new Jayco Greyhawk Prestige. It comes with 2 slides that extend the living quarters and sleeping areas inside. This 32' unit is very much airy, allowing you to move around inside the RV with ease. Plus, the cab-over has a panoramic front window that makes it easy for kids or young adults to get a view of the roads ahead. If you prefer another Greyhawk model with extra luxury, there's another 32' option that also sleeps 10. There isn't much difference with the interior amenities except that the 2015 model has more wards at the rear bedroom. But if you want added style, the older Greyhawk is recommended.
2016 Ford Fourwinds
This 32' Fourwinds model is also one of the biggest motorhomes for rent. It can cater to up to 10 persons comfortably while leaving extra space for moving around and for storing your things. Its interior kitchen is geared with all essentials you need, from microwave to gas grill cooktop to refrigerator. Also, this unit comes with a slide-out, making the interior more spacious and comfy.
2016 and 2017 Coachmen Freelander

Offering two models, this Coachmen Freelander RV comes in handy for both small groups. The Coachmen Freelander Micro, in particular, is only 23' with no slide but sleeps 5, while the bigger RV is 24', making it sleep up to 6 persons. Both compact motorhomes are very easy to drive. These RVs have two double beds (rear queen and loft), and either a single/ double dinette bed. Despite the size, these RVs are equipped with lots of storage space.
2017 Thor Chateau

Featuring a length of 33', you'll be surprised by how this Thor Chateau is so easy to maneuver, hence making it a popular target among newbie RVers and even experienced travellers. The full-wall slide-out starts from the dining area up to the rear bedroom. There are bunk beds before the queen bed. Both the dream dinette and jack-knife sofa that both converts into double beds are positioned adjacent to each other.
2017 Jayco Redhawk

Jayco Redhawks are 32' motorhomes with 2 slide-outs. These 10-berth Class C RV offers a roomy living room and bunk bed area. The L-shaped kitchen is geared with all essentials and plenty of overhead cabinets. And conveniently, there are two Jayco Redhawk models in stock.
2017 Forest River Forester
Seats 11 but only sleeps 10, this bunkhouse model features a length up to 33', which means it's one of the biggest RVs on the fleet. Loaded with two slide-outs, you can expect for a roomier interior enough for the entire fam. Plus, there are plenty of storage spaces here. You have the choice to alter the cabover with built-in cabinets―from a bunk to a large entertainment center with 42" TV. Other TV options inside include outside the bathroom, living room, and rear bedroom.
2019 Coachmen Leprechaun

One of the latest motorhomes by the company, this 2019 Coachmen Leprechaun is ideal for those who prefer extra space for moving around or doing exercises while on-board. This RV with 32' length sports not just one slide-out but two! In addition, the Leprechaun styling is also something that makes it more refined. It comes with sophisticated flooring, hardwood cabinet doors, and upgraded furniture. And, since this is a large RV, it smoothly sleeps up to 7 persons.
2019 Forest River Sunseeker

Another recent RV for big groups, the 2019 Forest River Sunseeker has a maximum capacity of up to 10. So, if you're travelling with the entire gang, this is such a great option. The elegant style and interior amenities provide extreme comfort to everyone. Aside from the rear queen bed, this unit offers a dinette bed, a loft bed, a jackknife sofa, and bunks! There's so much headroom in the living room and convenient walk-through storage for your stuff.
Insurance
Before you get to drive their RV, you need to provide your own insurance coverage through a binder. If not, you will need to avail of their commercial insurance, which ranges around $10 to $35 per day. Check their RV rentals for specific prices, including insurance rates.
Reputation
Hightened Path RV Rental is clearly a very popular RV rental in both Colorado and Arizona. And because of such popularity, they have made a name in the industry, where they provide a very extensive fleet of RVs, from motorhomes to toy haulers to travel trailers and more! Their impressive motorhome range is highly recommended for big groups as the units mostly cater to 6 to 10 people at max (plus your furry friend!). So for Rvers who are also pet owners, their fleet offers you a nice selection of units. There are older units and newer models to choose from.
Summary
There are lots of choices when you decide to book from Hightened Path RV Rental. So, if you're travelling either Colorado or Arizona, you might want to check out their amazing fleet of RVs for rent!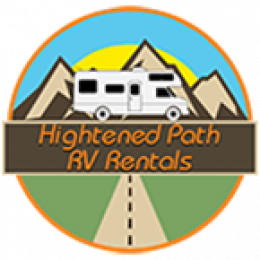 From the Agency
No word from this agency yet. Come back and see if they checked in soon.
Pros
Impressive fleet of RVs for big groups
Great reputation
Two service areas (Colorado and Arizona)
Some pet-friendly units
Cons
Some older units
Not meant for couples or small families
See who else rents RVs in the same cities
Instant Price Comparison
Just Got Questions? Want a Quote direct from the company?
Fill in this form to contact the Agency direct.
Write Your Own Review
Tell the world about your experience renting from this company
Have you experienced Hightened Path RV Rental?
Be the first to leave them a review and help others on their journey.