United States
Editors Review
A family-owned business that provides family rentals, Mile High RV Rentals in Denver is all about economy to luxury road trips. They have an amazing mix of Class A, B, and Class C motorhomes for rent.
About Mile High RV Rentals
Renting an RV from a family-owned and operated company like Mile High RV Rentals give you a chance to experience a more personalized RV hire. They are based in Englewood, Colorado, offering a great range of rental vehicles that are designed for families of different sizes and budgets.
Fleet
Surely, their RV fleet is quite interesting. They offer not just motorhomes but also travel trailers. Their motorhomes, in particular, are meant for different sizes and different budgets. They have an assortment in their fleet, from the RV type to the RV age model. Whether you want a spacious Class A, a compact Class B, or a versatile Class C, there's something that'll surely catch your attention. Because of the variety, their fleet is designed for couples, small groups, and large families.
Vehicles
Class A
2013 Fleetwood Bounder

For families who want extreme space, then this Class A motorhome is a great catch. At 36', the RV only caters up to 6 people, leaving a very spacious and well-equipped interior. Because of its extended length, the unit comes with a rear queen bedroom featuring a master bath with shower and cabinet. Take note that this is a queen rear bedroom slide, which means you get a super roomy sleeping area at the back. More than that, the living room and kitchen area have lots of room to relax and enjoy. Laze around the wrap-around sofa or the dinette while you watch your fave movie from the entertainment center.
Class B
2018 Airstream Tommy Bahama

This Class B motorhome is built on a newer model, particularly the Airstream Tommy Bahama. As the only Class B RV on offer, this is such a coveted camper to try. Unfortunately, it is designed for 2 persons only. So, if you want something compact yet well-stocked, then this 24' motorhome is a great choice. Even with its small size, it has its own kitchen, convertible sofa bed, standing shower, and overhead cabinets.
Class C
2011 Forest River Sunseeker
One of the many Class C RVs on the fleet, this 28' motorhome is well-stocked with everything. This includes a rear queen bed that comes with an entertainment system and shelves, an overhead cab bed with TV, and a rear bathroom with stub and toilet. There are lots of storage cabinets inside, plus you get a nicely supplied kitchen. Because of its size, it's suitable for both newbie or seasoned campers up to 8 people.
2014 Winnebago Minnie Winnie

The biggest of all Class C motorhomes, the 2014 Winnebago Minnie Winnie is the perfect fit for groups up to 10. This 32' RV is equipped with slide-outs that make the interior more spacious. Aside from being spacious, the unit is also fully-furnished with all camping facilities, including a bathroom, kitchen, and dining area. So, if you want to take the entire fam to a road trip, this one won't be a disappointment.
2018 Forest River Forester
One of the newest RVs' offered by Mile High, the 2018 Forest River Forester is the biggest as it comes with three slide-outs. This 27' vehicle has a cabover bunk with TV and another optional TV at the rear queen bed. The dinette slide becomes another extra double bed. The kitchen has everything you need―large refrigerator, angled double kitchen sink, microwave, and 3-burner range. The unit sleeps up to six persons.
2018 Thor Freedom Elite

Another 2018 model is the Thor Freedom Elite. This is quite smaller compared to the previous motorhome but still sleeps 6 persons. At 24', you get a comfy queen bed, a sofa bed, and cabover bed. In addition, convenient facilities such as kitchen, front living area, and rear bed.
Insurance
Get more information about the insurance upon rental inquiry.
Reputation
With lots of RVs to choose from, Mile High RV Rentals is surely a great catch for families and friends in different sizes and budgets. Their fleet is a mix of newer and older units, from 2013 to 2018 year models. Since they are a family-owned business, they can give you a more personalized RV rental.
Summary
Mile High RV Rentals offers a diverse fleet ranging from economy to luxury. They have options for couples and even groups up to 10 persons.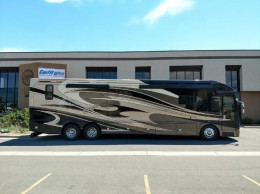 From the Agency
No word from this agency yet. Come back and see if they checked in soon.
Pros
Personalized RV rental
Various motorhome models
A mix of newer and older units
Cons
Only one depot
Limited reviews to back up their reputation
See who else rents RVs in the same cities
Instant Price Comparison
Just Got Questions? Want a Quote direct from the company?
Fill in this form to contact the Agency direct.
Write Your Own Review
Tell the world about your experience renting from this company
Have you experienced Mile High RV Rentals?
Be the first to leave them a review and help others on their journey.