United States
Editors Review
Novak's 83 RV is one of the trusted Chicagoland RV dealers with over three decades of experience in the business. This family owned and operated company offer sales, service, parts, rentals and a lot more.
About Novak's 83 RV
A full service RV dealer, Novak's 83 RV is something to consider when it comes to any kind of RV service, from sales to rentals and anything in between. They have been in the industry for quite a while now and houses their RVs in their one and only location in Long Grove. The company's RV rental isn't that much extensive yet are attractive enough for picky travellers. Offering a fleet of brand new motorhomes and travel trailers, the company makes sure that their RV rental units are ready for any road trip.
Fleet
The Novak's 83 RV units are all 2018 models of Class A and Class C motorhomes. These are claimed to be the newest as well as the cleanest with 100 miles free per night. For pet owners, these RVs would be very enticing as the company may grant your request to tag along your furry friends during your trip. The units are suitable for smaller groups or even larger families.
Vehicles
Epic

With the largest full wall slide, the Epic is a luxury bunkhouse that easily sleeps 10. This large motorhome is the only Class A unit on offer. It features high-end facilities to assure you of a fancy road trip with palatial interior space. Uniquely, the unit comes with a drop-down overhead bunk for extra sleeping area. Plus, it has 4 flat screen TV/ DVD for extended indoor and outdoor fun.
Elegant
The 32' Elegant is a dual slide-out motorhome that takes pride of its great mileage. This 6 speed automatic transmission is the option for families looking for longer road trips. The unit is equipped with amenities like jack-knife sofa, dream dinette, rear queen bed, cab-over bunk and another set of bunks at the rear side. At the cab-over is a 40' LED TV swivel for a comfortable TV watching. Also in the rear bedroom is an optional entertainment system.
Efficient

A smaller yet bigger sleeping capacity, the 27' Efficient is an automatic RV with better gas mileage for easy highway driving. This motohome doesn't feature any slide-out so interior layout may slightly be limited compared to other Class Cs. Still, it is supplied with luxury facilities like dinette bed, sofa sleeper, queen bed and full kitchen. The bathroom has a separate toilet and shower. Furnished with 9 seat belts, the RV can only sleep up to 8.
Executive

A Class C with super slide, the Executive is pretty big at 30'. This 7 to 8 berth motorhome has bigger windows for panoramic viewing while on the road. The rear bedroom is very spacious with a queen bed, lots of storage areas, and a step-up. The TV/DVD set is positioned on top of the dream dinette so you can watch your favorite shows while lazing around the sofa, which is located adjacent to the the dining area.
Exclusive

No slides, smaller length and tinier windows, the Exclusive motorhome is still a nice option for a family of 6. This low profile luxury motorhome is easy to drive as well as park. Plus, it gets great mileage to get you around the highways smoothly. Interior features include stainless steel equipment, nice kitchen galley, convenient rear queen bed, full bathroom and large flat TV/ DVD.
Insurance
Renter must have their own personal auto insurance to complete their booking. Also, the company requires a $500 security deposit or other extra deposits to confirm your rental. Take note that all interior, roof and undercarriage damage are at the account of the renter.
Reputation
As one of Chicagoland's most popular RV dealers, Novak's 83 RV has created a name in the RV business. Over the years, they have maintained a good reputation by treating their customers like family. Their rental fleet are mostly brand new models with lesser wear and tear issues and maintenance problems, though not that extensive. They only have one depot to shelter their recreational vehicles.
Summary
Novak's 83 RV is a trusted RV dealer that can help you grant your RV holiday through their new RV units and family-like service.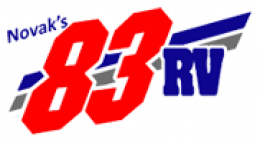 From the Agency
No word from this agency yet. Come back and see if they checked in soon.
Pros
Popular RV dealer in the Chicagoland
Brand new units
Three decades RV expertise
Cons
Not that extensive rental fleet
Only one depot
See who else rents RVs in the same cities
Instant Price Comparison
Just Got Questions? Want a Quote direct from the company?
Fill in this form to contact the Agency direct.
Write Your Own Review
Tell the world about your experience renting from this company
Have you experienced Novak's 83 RV?
Be the first to leave them a review and help others on their journey.