United States
Editors Review
Peace Vans Rentals is a recent rental van venture with a simple mission— to make people happy through their versatile and fun vintage units.
What Peace Vans Rentals
Established just a couple of years ago, Peace Vans Rentals lets you travel the Pacific Northwest and beyond through their classic VW camper. As a company with a fleet of VW vans, every renter becomes part of the VW community. The laid-back and charming vibes of these vehicles give you heaps of friendly waves during your road trip or in any campground. And even if you're a local and just want to take a look at their fascinating fleet, the friendly owners would welcome you to their collection. All vans are owned by the company so they can religiously take care of everything on set at their convenient location in SODO neighborhood of Seattle. For a more personalized holiday, the owners themselves provide you with detailed and customized itineraries, plus special discounts and a list of secret camping spots along with many must-visit routes.
Fleet
These vintage units are, of course, way older than most luxury vehicles on the road. Because of the age of these vehicles and the amount of maintenance they need, sometimes the actual vehicle may vary with the booked unit. Though not the exact vans, they guarantee the same model. So if you reserve a Eurovan, you'll get a Eurovan. Same goes with the other modes— the Vanagon and VW buses. Still, any unit from Peace Vans Rentals are pretty attractive with well-stocked interior and rather charming exterior. Well, VW vans are not very visible now on the open roads, and driving one would create stares for a moment or two. The vans are small enough that it can be parked in most camping grounds yet can comfortably fit a family of 4 (2 adults and 2 children). The campervans are complete with power and USB outlets for your devices, as well as cooking and dining utensils and some local treats! Though these are vintage vehicles, these units still come with convenient upgrades like modern refrigerators, upgraded entertainment system, heaters for colder weather camping, and outdoor awnings.
Vehicles
Vanagons

The Vanagons take more than half of the Peace Vans Rentals fleet. There are actually 8 Vanagons on selection— Nisqually, Ohanapecosh, Chilliwack, Pilchuck, Elwha, Whatcom, Duckabush and Hamma Hamma. Quite unique names, right? Not only that, each Vanagon comes in different and fun styling that would really capture your attention. Most of these vans are full Westfalias, which means these are very comfortable to drive with big windows and kitchen set with sink, 2 burner stove and storage cabinets. Some Vanagons, however, are just Weekenders, so they are not equipped with built-in kitchen leaving more space inside. And for 2018, the company is all out to provide comfort to all their renters. All their full campers, and that includes some Vanagons, will now have an AC/DC fridge installed, plus a Propex heater and Litium Ion batteries to power the camping facilities and your devices easily. For the Weekenders, these vans will also get Lithium batteries and electric coolers instead of the modern fridge. But remember, the Vanagons are your classical VW vans with no airconditioning, so if you're pretty dependent with air conditioning, consider the next option— the Eurovans.

Eurovans
One visible difference of Vanagons and Eurovans is the existence of air conditioning unit to the latter. Eurovans are more modern with upgraded facilities on board and lots of storage. These modern incarnation of VW vans are also newer, ranging from 1993 to 2003 models. Because of the newer fit-out and more comfort features inside, these campers are great for those taking longer road trips. The vehicles already come with a comfy bed, pop up tent, and heaps of storage areas. Some full camper Eurovans also provide extra facilities like built-in fridge and robust heater. As to the sleeping capacity, most of the Eurovans can sleep only up to a family of 4, but there's one option that would allow you to insert one person— the Dosewalips. Some 4 berth vans on this selection are the Quinault, Skykomish, and Yakima.
Vintage Buses

A very recent addition to welcome 2018, the vintage buses are seriously charming and crowd-pullers. These units are beautifully designed with vibrant exteriors and some quaint features. However, these vintage buses may be trickier to drive and things would be way slower compared to the Eurovans and Vanagons. Hence, these are just suitable for short camping trips for a day or two, but if you fell in love with the vehicle at first sight, you can arrange with the company for a longer rental.
Insurance
Insurance is a must and it must be obtained from their partner, Outdoorsy. This insurance coverage already provides collision and $1M liability coverage. The maximum deductible is $1,500 with a 10% charge. The company, however, is strict in terms of insurance as they also require every driver to pass a DMV check to proceed with the rental. And if you fail their DMV requirements, you'll be left with no choice but to look for other rental alternative. Don't worry, they will give the refund 100% including any fees.
Reputation
Peace Vans Rentals offers a unique fleet of vintage units that are thoroughly revamped to complete a fulfilling road trip. Though they only provide old campervans, the company makes sure that you will enjoy their classical vans with useful camping gears like second auxiliary battery and air conditioning units, and fun little extras like french press, a collection of spices and even coffee! But a downer would be their higher prices compared to other similar companies.
Summary
Slow down your pace with a classical campervan from Peace Vans Rentals. These may not be the cheapest on town but spending an extra dollar wouldn't hurt if you get to enjoy both worlds, right?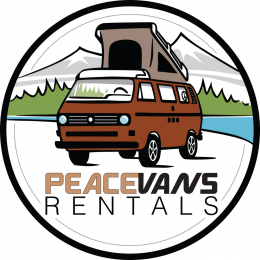 From the Agency
No word from this agency yet. Come back and see if they checked in soon.
Pros
All revamped VW vans
More personalized rental
Can suit up to a family of 4 or 5
Cons
Pricier compared to similar rentals
Only one depot
Not for luxury renters
See who else rents RVs in the same cities
Instant Price Comparison
Just Got Questions? Want a Quote direct from the company?
Fill in this form to contact the Agency direct.
Write Your Own Review
Tell the world about your experience renting from this company
Have you experienced Peace Vans Rentals?
Be the first to leave them a review and help others on their journey.