United States
Editors Review
An Atlanta-based rental and concierge business, sCAMPer Van takes you to a funky adventure with their compact and head-turner campervans that sleep 2 to 5 persons. They have van delivery and grocery service that make them a standout among other campervan hires in the area.
About sCAMPer Van
sCAMPer Van CAMPer Van claims to be the first and only company in the Southeast to bring the outdoor beauty right at your doorstep. With van delivery to Atlanta metro areas and Hartsfield–Jackson Atlanta International Airport, the company aims to make each rental smoother and easier by also providing grocery shopping. Now, each van is equipped with all essentials and some goodies. Not only that, they have partnered with Asheville Brewery for their very own beer line! How cool is that? Offering daily, weekly, and monthly rentals, renters have an array of fully loaded campervans at their selection with free 100 miles per day.
Fleet
Browse the fleet of vans that fit groups of 2 to 6 people. These brightly colored vans are designed for a funky getaway with modern amenities. Because of its loud exteriors, everyone will know that you are on a campervan trip. Still, you get to enjoy the adventure inside these well-equipped campervans. Each campervan is stocked with dishware, toiletries, camping tables, chairs, and first aid kits. You can rent their kitchen package or bring your own. If you want more adventures, they have an adventure gear for hire including kayaks, bikes, SUPS, tent, and the like. Most campers have a pop-up roof for additional headspace and ventilation.
Vehicles
Van 1
sCAMPer 1 is just 15 ft. long but is way spacious because of the pop-up top. Taking in up to 4 people, the camper also provides an 8 ft. awning for outdoor recreation. Plus, there are 2 bike racks, roof rack, rear shower, 1-burner portable camp stove, small refrigerator, indoor sink with hot & cold water provided for added convenience. The self-inflating pad upstairs comes with chic designs and decorative blanket. This kind of unit is great for adventurous friends eyeing for a budget yet worthwhile road trip.
Van 2
The same with Van 1 in all aspects, Van 2 also accommodates 4 friends who'd prefer to do some outdoor activities like biking or surfing. In comparison, this campervan provides an extension cord to plug into 110 power so that you can use your electronics all day.
Van 3 & 4
Suitable for couples or solo backpackers, Van 3 and 4 are simpler yet roomier. These Dodge Promaster 1500 high top units are geared with some extras like a lighter wand, dish and paper towel, dish soap and sponge, travel toiletries, and microfiber towel, and trash bags. Featuring a 49" sliding side door, you'll be greeted with a small kitchen area and a comfy sleeping space inside. Below the 52" wide x 6'2" long bed is a large storage area for all your stuff. Plus, the step-in/ cabinet adds extra storage option.
Van 5
This new campervan is great for touring families up to 5, with 3 lap belts for extra passengers. If you're traveling with children 5 and above or 60 lbs +, then this one is a perfect treat for everyone. There's a rooftop tent as well as 2 full-size beds inside, with one double bed convertible into a sofa. Driver's will also love the interior access from the drivers' seat.

Insurance
sCAMPer Vans requires a $250 refundable damage deposit. Campervan insurance is not part of the cost of the rental. Hence, they offer coverage from their partner at Outdoorsy/Wheelbase at a certain rate, with the inclusion of both collision and liability. For U.S. and Canadian residents, they allow renters to provide their own automobile insurance with full coverage for rented campervan. You just have to coordinate with your insurance provider to include the campervan in the coverage. If not, you can avail of their CDW option.
Reputation
sCAMPer Van revolves around their funky campervans that cater to different traveler sizes. Considering the loud exteriors, their campervans may not be that fitting for those looking for a super discreet holiday because everyone will know you are on vacation. However, each unit is equipped with lots of extras, from kitchen essentials to camping needs. Plus, these are super easy to drive. And even with only one branch, the company is still in good standing because of their extra van delivery and grocery service.
Summary
Offering brightly tinted campervans for solo travelers, couples, and small families, sCAMPer Van makes a good choice for renters of in different travel sizes.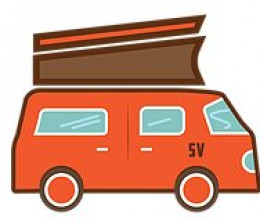 From the Agency
No word from this agency yet. Come back and see if they checked in soon.
Pros
Good selection of campervans
Show-stopper exteriors
Drives like a car
Van delivery and grocery service
Cons
Not for those wanting a super discreet vacation
One depot
See who else rents RVs in the same cities
Instant Price Comparison
Just Got Questions? Want a Quote direct from the company?
Fill in this form to contact the Agency direct.
Write Your Own Review
Tell the world about your experience renting from this company
Have you experienced sCAMPer Van?
Be the first to leave them a review and help others on their journey.