United States
Editors Review
This small and friendly family business in Newnan, Atlanta, South Atlanta RV Rental presents a limited fleet of big Class A motorhomes at reasonable rates.
About South Atlanta RV Rental
South Atlanta RV Rental represents simple yet convenient and cheap RVing in Georgia. Their branch or depot is located south of Atlanta International Airport, roughly a 30-minutes ride from Exit 51. If you want comfort, they have available airport pickup and storage of personal vehicle at their place. Well, perks of renting from a family-owned company! All rental rates are highly competitive, which are about half of most national rental companies. In addition, these rates already include unlimited mileage, unlimited generator usage, and free towing in case of travel mishaps.

Fleet
As of this writing, the company rents out three family motorhomes―all Class A RVs. These units are Coachmen models in slightly different sizes. It is because these 3 RVs are all big, making it suitable for families. With the limited fleet, the company takes direct charge of all rentals, with no cleaning or preparation fees.
Vehicles
Coachmen Elite 402 TS

Gracing the fleet is the 40' Coachmen Elite, which is also the largest RV on offer. Sleeping places inside include the queen bed in the master bedroom, convertible dinette and sofa bed, and love seat for smaller kids. In the living room, kids will love the pullout sofa and dinette, as well as the 36 inch TV with in-motion satellite and BlueRay Player. This RV is designed with 3 slide-outs that make the bedroom and living room very spacious. Brimmed with hinge door, the bathroom is nicely equipped with a sink, toilet, and a full-size shower with glass door. The overall interior makes this motorhome perfect for a laid-back yet slightly sophisticated road trip.
Coachmen Sportscoach 376

This Class A spells out sophistication and comfort. Relax in the living room that features a sofa that opens up to a full bed, a dinette bed, and a great entertainment system. The easy chair comes with a leg rest, which is perfect for the tired driver. The master bedroom is loaded with plenty of cabinets, including a vanity area with a mirror and an overhead TV. And, the large kitchen area makes cooking more fun and easy.
Coachmen Sportscoach 372

At 37.2', this Coachmen Sportscoach in black is the smallest yet still caters the entire family with the help of its 2 deep slides. The fully-equipped L-shaped kitchen permits a roomier living area. There are plenty of places to relax on board such as the sofa bed, dinette bed, and easy chair―all leather seats with cloth. Not only that, there's an extra space in the living room that allows a single mattress to be added on it. So, if you're planning to bring more than 5 people, then this is a great feature. Distinctively, this unit has a separate toilet and bathroom to give more privacy.
Insurance
The company accepts your insurance binder to provide coverage for the rented unit. If you can't provide one, then you must purchase a per day insurance through MBA.
Reputation
South Atlanta RV Rental may only have 3 RV rental options, all Class A motorhomes, but they are outstanding in terms of affordability and service. They make every rental more convenient with options for airport delivery, storage of personal vehicle, and convenient location. Accordingly, they are one of the small yet thriving RV family businesses in Metro Atlanta that is a decent rental option.
Summary
This family-owned company with few recreational vehicles for rent, South Atlanta RV Rental is something to consider if you want to take your family in an affordable yet worthwhile road trip.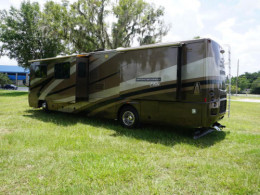 From the Agency
No word from this agency yet. Come back and see if they checked in soon.
Pros
Cheap rates
Friendly service
Suitable for families
Cons
Limited fleet
All Class A, no other RV options
Only one branch
See who else rents RVs in the same cities
Instant Price Comparison
Just Got Questions? Want a Quote direct from the company?
Fill in this form to contact the Agency direct.
Write Your Own Review
Tell the world about your experience renting from this company
Have you experienced South Atlanta RV Rental?
Be the first to leave them a review and help others on their journey.