United States
Editors Review
Live your search for adventure with a TIMBR Basecamp. This Denver-based company rents out 2 to 4 berth, simple yet highly sophisticated campervans that cater to couples and small families.
About TIMBR Basecamps
TIMBR Basecamps tag themselves as adventure experts. So, aside from rentals, they also offer sales and consultancy. They can help you design your own van, advise where to camp, choose the most scenic routes, and visit all the best attractions. Depending on your needs, you can take your camper to the mountains, to a sporting event, or even a musical concert. Just let them know and they can customize your camper to your need.
Conveniently, TIMBR Basecamps is located right at the heart of Denver. Plus, it's roughly 30 minutes away from the airport.
Fleet
As of this writing, TIMBR Basecamps consists of a fleet of 19' campervans that sleep 2 to 4 persons. These are Mercedes-Benz Sprinter models that come with amazing layouts that fit your personal preferences. The units are quite new and are gorgeously crafted to cater to different styles of adventures. Both exterior and interior designs are worth the second stare. Inside this white-washed campervan are great amenities―kitchen, sleeping, and storage essentials.
Though fitted out for couples and small families, you can bring along some of your friends―as long as they wouldn't mind sleeping in a tent. Other camping gears for rent include bike, racks, ski, climbing essentials, and more.
Vehicles
TREK
First on the list is the TREK, a 19' camper is built on a Mercedes-Benz Sprinter. This compact camper has amazing gas mileage, with 24 MPG fuel economy. Inside this unit, you get all the comforts of home, including a cozy side kitchen, a comfy rear lounge/ bed, retractable dining table, and maximum storage. Plus, there's an awning that allows you to dine outside. Instead of a built-in bathroom, you only get a solar shower. Though built for two, this unit can give space for up to 3 persons―or even more, if you avail of an extra tent.
Adventure Wagon
If you want a more personalized camper together with the entire fam, there's the Adventure Wagon, which is also a 19' wheelbase Mercedes-Benz Sprinter. This unit is highly flexible according to your needs. The unique features you can incorporate inside include the storage locket and elevator bed system. Because of its customizable layout, the vehicle can easily sleep up to 4 persons.
Insurance
TIMBR's basic protection package is CA$29.95 per day. Know more about the insurance coverage upon rental booking inquiry.
Reputation
Renting a unit from TIMBR Basecamps is good. Their campervans are built on high-end models (Mercedes-Benz Sprinter) with nice interior layouts. This Denver-based campervan hire not just targets rentals but also offers sales and consultancy. So, in case you need help in creating your own van, you might want to ask for assistance from them. Though they are dubbed as travel experts, there have been issues about late communication between them and their renters.
Since they are a small campervan business, they only have limited campervan choices that are not meant for large groups. Still, even with one depot, their location is very convenient―within the central business district of Denver.
Summary
Surely, there's beauty in simplicity. And when you rent a camper from TIMBR Basecamps, you get to experience an uncomplicated adventure around the city, along the mountains, and everywhere you want to go.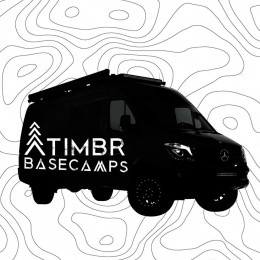 From the Agency
No word from this agency yet. Come back and see if they checked in soon.
Pros
Nice interior layouts
High-end campervan model
Also offers sales and consultancy
Cons
Issues about communication
Limited campervan choices
Only one depot
Not meant for large groups
See who else rents RVs in the same cities
Instant Price Comparison
Just Got Questions? Want a Quote direct from the company?
Fill in this form to contact the Agency direct.
Write Your Own Review
Tell the world about your experience renting from this company
Have you experienced TIMBR Basecamps?
Be the first to leave them a review and help others on their journey.