United States
Editors Review
Simple, compact, furnished― that's something that Village RV focuses on. Their privately-owned motorhomes and travel trailers cater the budget market and provide rentals for small to large groups.
What The Village RV Tells Us
Camp in simplicity and comfort with a rental company that offers privately-owned motorhomes at competitive prices. The Village RV has only one location, so they offer delivery and pickup service and one way trip to uphold their remarkable personal customer service. The personalized service from the owner himself well compensates the slight issues about vehicle maintenance.
Fleet
Though some units are older models that may show some wear and tear, each vehicle does not come with flashy stickers or sign, but rather outfitted fittings. Small families or large groups can groove on their diverse fleet of motorhomes, with the Class A 35' Fleetwood Fiesta as the biggest model while the Class C Fleetwood Jamboree at 22' as the smallest. Aside from motorhomes, they also have travel trailers for rent. They also provide free 150 miles per day and optional equipment items such as bike rack, booster seat, and personal kit that includes kitchen, bed, and bath essentials. Every rental will enjoy a starter kit equipped with full tanks of propane and water, as well as chemicals for sewer.
Vehicles
Fleetwood Fiesta 35 ft

The one of the only two Class A motorhomes, this big-sized unit is also the largest option on fleet at 35'. Perfect for 4 adults and 4 children, the RV provides 2 large slide-outs in the dining and master bedroom. Sleeping places include the private bedroom with walk-around queen bed, 2 single bunk beds, sofa sleeper, and dinette bed. The private bathroom comes with a shower or tub. Yes, you heard it right― a tub! Quite unique for a motorhome, right? Aside from that, this extra large unit also supplies an outside shower. The kitchen, of course, is equipped with all essentials like 3-burner stove, microwave, oven, refrigerator and freezer. And to complete all the comforts of home, TV/DVD, AM-FM stereo and CD player are all within your reach, along with a fancy tea room consisting of the two swivel front seats and added sofa chair on the right side.
Winnebago Sightseer 27 ft

This 27' Class A RV specializes on luxury and space. Only for 2 adults and 2 children (plus a dinette slide-out!), this means that there's a lot of room to move around. Driving this motorhome is very easy as it is not bulky and has better driving views. The only sleeping locations inside are the walk-around rear bed and dinette bed.
Fleetwood Jamboree 32 ft

The 32' Fleetwood Jamboree is the biggest among all Class C motorhomes and is suitable for 8 people (4 adults and 4 children). Providing two slide-outs for added space in the bedroom and dining area, the vehicle also supplies enough sleeping places inside― rear queen-sized bedroom, convertible dinette, sofa bed and a cab-over bed instead of bunk beds. The hallway leading to the master bedroom provides a beautiful view of the outside through the large side window. The L-shaped kitchen saves lots of space at the right side, allowing more space for the bathroom with a full-size shower.
Fleetwood Jamboree 30 ft

Another Fleetwood Jamboree unit but 2' smaller compared to the largest Class C RV, the 30' motorhome sleeps the same as the two above-mentioned, which means the space for walking around may be a bit restricted. Since this is also an 8-berth motorhome, it provides the same sleeping areas located in the walk-around queen bed, dinette bed, sofa Bed, and double cab-over bed.
Fleetwood Jamboree 22 ft

Last for the Fleetwood Jamboree at 22', this small motorhome is great for starting families as the tight space can only allow 4 adults and 2 children. Usual sleeping areas like rear double bed, double cab-over bed and dinette provide a comfy relaxation at night. But even with the limited area, this one has a private bathroom and shower as well as TV/DVD/VHS/AM-FM, stereo and CD Player.
Fleetwood Tioga Ranger 26 ft

Also suitable for small families up to 6, Tioga Ranger brings space and style in one setting. The slide-out in the dinette makes it easier for a comfortable dining session. Next to the dinette is a a vanity ward with full size mirrored closet and washing area. At the back is the private shower & toilet. Also, this one provides an outside shower for practicality.
Insurance
For the convenience of the renters, the company provides two insurance options: renter provides his personal auto insurance policy that must include comprehensive, collision and liability coverage or purchase a rental insurance through their insurance company at 21/ day for motorhomes and $6/day for travel trailers.
Reputation
Specializing in simple recreational vehicles with no stickers or whatsoever, the Village RV has religiously maintained its positive reputation. Most reviews are affirmative, which clearly shade few downers like older vehicles on fleet with slight cleanliness issues. In addition to the competitive rates and wide range of units that includes motorhomes and travel trailers, the company doesn't have absurd hidden fees but instead provides useful perks like generator use and free daily mileage.
Summary
For anyone needing a discreet and cheap holiday on wheels, a unit from the Village RV is recommended. You have several options, from efficient motorhomes to convenient travel trailers.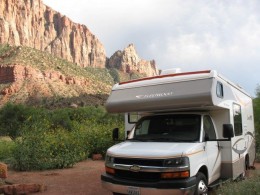 From the Agency
No word from this agency yet. Come back and see if they checked in soon.
Pros
Free 150 miles per day
One way available
No absurd fees
Competitive prices
Cons
Some older models
Only one location
Few issues about vehicle maintenance
See who else rents RVs in the same cities
Instant Price Comparison
Just Got Questions? Want a Quote direct from the company?
Fill in this form to contact the Agency direct.
Write Your Own Review
Tell the world about your experience renting from this company
Have you experienced The Village RV?
Be the first to leave them a review and help others on their journey.