United States
Editors Review
WNY RV Rental takes pride in newer RVs that are pet-friendly. Based in Buffalo, New York, this RV company targets small to medium families wanting to rent out a Class C motorhome.
About WNY RV Rental
Renting a unit from WNY RV Rental means good service and newer motorhomes. They are very hands-on with every rental, especially that they only have a limited motorhome hire. Conveniently, they are located a couple of minutes away from Buffalo International Airport. Their rates are quite cheaper. Plus, each rental is all-inclusive of generator usage and comes with 125 miles per day. To ensure that they give quality rental, they put on sale their older models, hence leaving only newer motorhomes for rent.
Fleet
Before, WNY RV Rental rents out a Class A RV. But as of this writing, they now focused on Class C motorhomes. Currently, they have three options―all Sunseeker models that accommodate up to 6 adults, plus four more kids. Even with the limited fleet, these RVs are recent motorhomes, ranging from 2016 to 2019 unit models. Plus, these are equipped with useful facilities and extras like kitchen items, linens, blankets, towels, chairs, and a lot more! If you want extra comfort, you can avail of their camping tables, screen and popup tents, trays, and bike racks for a small fee.
Vehicles
2019 Forest River Sunseeker 3270

The 2019 Forest River Sunseeker 3270 is the newest addition to the fleet. This latest bunkhouse model is perfect for a big groups. You will appreciate the great interior layout that maximizes all corners of the RV. There are plenty of USB charging areas and cozy sleeping areas for everyone on-board. The spacious kitchen comes with a four-door fridge, a home-size microwave, and lots of storage areas. With a full wall slide, it's easy to move around inside. Moreover, you'll love the power awning and the outdoor entertainment that comes with it.
2018 Sunseeker 3170DS
Another option is the 2018 Sunseeker 3170DS with better road performance and nicer floor plan. The Forest River Sunseeker features a great floor plan. With four TV/DVD's and charging stations, for sure you'll enjoy your trip even more. The couches and dinette convert into sleeping places. Also, there's a bunk bed before the master's bedroom with a king-size bed. For your kitchen needs, you're given a 3-burner stove, microwave, oven, sink, and refrigerator. There are heaps of storage areas inside. And aside from the bathroom inside, there's an outside shower for extra comfort.
2016 Sunseeker 3170DS
Don't underestimate this 2016 Sunskeer 3170DS. This older unit still works like a beast, with the same layout and facilities as the newer model. The unit also sleeps an entire family with its 8 seatbelts. So, just in case the first one books out, you can have another option, which is pretty much the same as the one, except for the age.
Insurance
A rental from WNY RV Rental includes an MBA RV Rental insurance, which provides coverage up to $1M. This one features a deductible amounting to $1, 000 per incident, hence the $1, 000 security deposit. You have the option to increase the coverage from your existing insurance. Simply consult with your insurance provider and request for a binder.
Reputation
WNY RV Rental is run by friendly and knowledgeable owners in Buffalo, New York. They may not be as grand as other leading RV companies, but they highlight a more personalized service. Their tagline of "Creating Memories that Lasts a Lifetime" pretty sums up most rentals. The owners are very hands-on and accommodating to the renters. Plus, their fleet of modern vehicles with almost everything you need is a plus point (not to mention to the possibility of bringing your pet on an RV adventure!). Also, their rental rates are decently priced, so if you don't want to go broke with an RV rental in New York, you can give them a try.
Summary
Overall, WNY RV Rental's newer motorhomes are meant to provide nice service to small to medium families.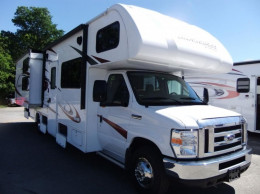 From the Agency
No word from this agency yet. Come back and see if they checked in soon.
Pros
Suitable for big families
Great reputation
Competitive rental rates
Pet-friendly
Depot close to the airport
Cons
Limited fleet; all class C motorhomes
Only one depot
Not ideal for couples or small groups
See who else rents RVs in the same cities
Instant Price Comparison
Just Got Questions? Want a Quote direct from the company?
Fill in this form to contact the Agency direct.
Write Your Own Review
Tell the world about your experience renting from this company
Have you experienced WNY RV Rental?
Be the first to leave them a review and help others on their journey.