New Zealand
Editors Review
Last Updated: 10/17/19
Highlighting a fleet of recent, certified self-contained motorhomes, Heron Campers is a popular choice in NZ with depots in Auckland and Christchurch. Under the umbrella of a big company, this family-friendly rental is aimed at the mid-range market.
About Heron Campers
Started in 2016, Heron Campers is under Tourism and Travel Holdings Ltd, with two other motorhome brands—Euro Campers and Budgy—catering to different types of renters. Heron Campers targets the middle range by offering certified self-contained modern motorhomes great for couples and starting families. They have pick-up and drop-off in Auckland and Christchurch as well as free airport service from and to the airport. When you explore around NZ, don't forget to gear yourself first with the important freedom camping rules.
Fleet
Offering three modern motorhome models with different style and sleeping capacity, these units provide the needed comforts of an apartment-style camper, including a media kit with GPS navigation system, WiFi internet modem, cell phone and NZ sim card as well as outdoor entertainment such as camping chair, camping table and road maps. Not only that, all are claimed to self-contained motorhomes, by which you can save by freedom camping. Since the units are claimed to be self-contained, each comes with a fully equipped kitchen, built-in shower and toilet, and independent heating system.
Vehicles
Heron 2+1
The Heron 2+1 is a nice option for couples travelling with a small child. Because of the fitted three-point seat belt between the driver seat and the passenger seat, all three can sit together in front. The roof comes with a solar panel that supports the internal battery system. Run by either diesel or gas, the unit operates with a 12V battery. This automatic LDV Heron Twin features a single bed on top of the rear lounge/ double bed, which is designed for a child up to 45 kg. Under the convertible rear lounge is a plentiful storage for your stuff.
Heron Trio
The Heron Trio is great for small families or a group of three adults. The driver and passenger seats can easily be swiveled around for in between coffee breaks. At the back of the driver's cabin is another seat that transforms into a single bed, making it suitable for your child. The convertible U-shaped lounge at the rear comes with an adjustable table so that you have the option for two single beds or one double bed. Surprisingly, this family-friendly motorhome furnishes an exterior BBQ slide-out.
Heron 4
This 4 berth LDV camper is a family-oriented motorhome for two adults and two children. The kids can sit comfortably in the area behind the driver's seat. At night, they can retire easily at the luton bed equipped with safety net while the adults at the double rear bed. The permanent rear bed provides extra storage space that can be accessed from the outside. For convenience, there's an internal walk-through access as well as diesel heating system and reversing camera. Enjoy some BBQ party with the help of the Weber outdoor-barbeque.
Insurance
You have three insurance options to choose from: Risk Taker Insurance at $0/ day with an excess of $5, 000; All Good Insurance at $25/ day with an excess of $2, 000; No Worries at $44 with no excess. All three insurance options are capped at a max of 50 days.
Reputation
Heron Campers holds a positive reputation of offering modern, family-friendly motorhomes at very competitive prices. There may only be limited rental options but all motorhomes are a catch, depending on your preferences. Plus, these are self-contained campers, which means freedom camping and savings!
Summary
If you're looking for an attractive hire price for your touring family, chances are you'll get a nice deal from Heron Campers. But if their fleet does not convince you, you can try the rental range from their sister companies: Budgy and Euro Campers.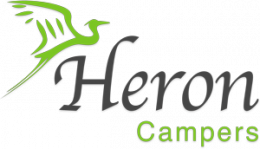 From the Agency
No word from this agency yet. Come back and see if they checked in soon.
Pros
Competitive rates
Modern, self-contained motorhomes
Family-friendly units
Cons
Limited rental options
Only for couples or starting families
See who else rents Campervans in the same cities
Instant Price Comparison
Just Got Questions? Want a Quote direct from the company?
Fill in this form to contact the Agency direct.
Write Your Own Review
Tell the world about your experience renting from this company
1 Review
"
Ok but treated unkind

"

The camper was ok, reasonably priced and sort of as we expected. However it was dirty upon pickup and we were treated unkind by the owner. Be prepared to be treated as a client not a guest and you'll be fine here.

1

Service

3

Mechanical

3

Interior

3

Value