New Zealand
Editors Review
Lucky Rentals New Zealand has a huge selection of 2, 3 and 4-berth campervans, aiming at budget travellers looking for cheap campervans and cars.
About Lucky Rentals New Zealand
Lucky Rentals is a campervan hire company with operating branches in New Zealand and Australia. The company has a huge selection of vehicles to choose from and it's aimed at budget travellers looking for cheap campervans and cars. Lucky Rentals New Zealand offers 2,3 and 4 berth campervans for hire. They have depots in Auckland and Christchurch Airport NZ. Lucky campers are the hand-me-down brother of Jucy Campers as this is where Jucy's old campers go when they are too old for the Jucy brand. For a long time, they even had similar names, but Lucky Rentals has now changed the names to differentiate things a little.
Fleet
Lucky Rentals New Zealand have a fantastic set of campervans, mostly run by Toyota models― Estima and Hiace. Aside from campervans, they also offer small saloon cars. However, their campervans are a bit old with visible wear and tear as these are hand-me-down vehicles from Jucy. Still, these are all automatic transmission to erase the stress of shifting gears all throughout the road trip. The fleet ranges from 2, 3, 4-berth vehicles that are suitable for those on a tight budget.
Vehicles
Lucky Rookie

The Lucky Rookie, a 2-berth automatic Toyota Estima is the cheapest option offered by the company. The van is quite small in size but can accommodate two guests in absolute luxury and comfort. Noticeable specifications of the van include 10 litres water tank, 1 burner gas cooker, power steering, 2 bench seats that easily converts to a double bed measuring 1.9m by 1.3m, interior lights, CD player, Radio & iPod plug and, ample storage space under the bench seats. This van also features a 2.4L petrol engine that has a fuel consumption rate of 10 to 14 litres per 100kms, which is relatively economical for long distance travellers and fun loving explorers.
Lucky Rodeo

This snug 2-berth campervan is an upgrade of the Lucky Rookie. A couple of features it has over the earlier version is the small 18L Fridge and a much more acceptable 25ltr water tank. All other amenities and electronics found on Lucky Rookie are also present in this vehicle.
Lucky Roadie
Lucky Roadie features a diesel engine and can accommodate 3 guests. Some of its specification includes: 20L tanks, storage space under the bench seats, 42L Fridge (decent!), 2 batteries, 2 bench seats that easily converts to 2 double beds (first bed measures 1.96m by 1.42m and 2nd bed at 1.96m by 1.20m), 3 seats in the drivers cab, CD player with a radio & iPod plug and, hand pumped cold water. It's the first in the hi-top range to offer a little more comfort inside. Being a van, the style of drive changes for 'car-like' into being a bit higher and a bit noisier as you are now sitting above the engine, not behind it.
Lucky Ranger

The Lucky Ranger is a 2 berth campervan that comes with a fitted toilet & shower amenities. It's a great option for travellers who want to explore New Zealand with spacious mobile accommodation at a cheap rate. Some of its unique specifications include: 2 bench seats that easily converts to double bed (bed measures 1.96m by 1.42m), power steering, 2 batteries, 3 seats at the driver cab, gas cooker, heated towel rail of 240v, interior lights, hot water system, flat screen & DVD player, 2 tanks 80L for water & 80L for waste, water pump of 12V, shower and, toilet. As claimed by the company, this is the first in the ladder of Lucky Rentals range to be self-contained, though no self-containment certification.
Lucky Rover
The Lucky Rover is the luxurious 4 berth automatic campervan in the fleet that comes with almost everything you would need for an enjoyable ride. The van is quite big in size, and one can stand upright while inside the van. For the company, this campervan is considered as fully self-contained because it has the portable toilet but still, it does not feature a 'self-containment sticker.
Lucky Rambler
The latest addition to the fleet is a pre-loved JUCY 3 berth campervan. Tagged as the company's pride, this self-contained camper offers two double beds, bathroom with shower and toilet, and a nice kitchen. And if you compare closer, the unit is actually the same model as the Lucky Ranger with upgraded features like more windows, added sleeping capacity, and slightly taller interior height.
Insurance
If you want to hire a campervan from Lucky Rentals, be prepared to pay an insurance cover. The company provides three insurance reduction options for each vehicle. If you don't want any reduction, you can pay a one-time insurance fee or security bond of $2500, which is also called as the 'Gambler' option. The second reduction option is called 'On the Fence', and one can pay a one-time security bond of $1500 and then $15 per day (maximum of fifty 50days). The last option is called "Sure Thing" and the hirer must pay $25 per day (maximum of fifty 50days) for the entire hire or rental period to reduce the excess to $0.
Reputation
Lucky Rentals have its fair share of fantastic and dissenting reviews. Though most of their clients have embraced so much about their affordable rates, there have been lots of issues about vehicle maintenance. Well, what do you expect from hand-me-down vehicles that are over 3 years old? Besides that, there are some concerns on deposit refund delays and most hirers are frustrated by the company "sluggish" approach when it comes to refunding back deposit money debited from clients cards. Still, Lucky Rentals seems to be a good campervan hire company, especially to anyone looking for budget vehicles in NZ.
Summary
If you are looking for an affordable campervan for hire, Lucky Rentals have a good deal for you at very competitive rates. But, of course, rent with caution and don't set the bar too high or else you'll definitely have a headache.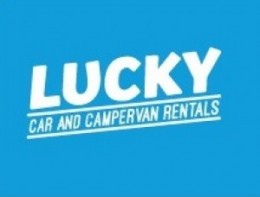 From the Agency
No word from this agency yet. Come back and see if they checked in soon.
Pros
Lots of choice
Affordable rates
Some campervans are claimed to be self-contained
Cons
Only 2 depots
Older models
Not so good reputation
See who else rents Campervans in the same cities
Instant Price Comparison
Just Got Questions? Want a Quote direct from the company?
Fill in this form to contact the Agency direct.
Write Your Own Review
Tell the world about your experience renting from this company 1 Review
"
We had a great time

"

I booked lucky on a whim because they were one of the few rental companies who were willing to rent to an 18 year old. After booking, I decided to look more into the company, and read so many negative reviews. I prepared myself for the worst.

Upon arrival to Auckland airport, we took a shuttle to the Lucky building. The shuttle came in 10 or so minutes, I did need to call and clarify where the shuttle pickup was. They were very helpful on the phone. Once getting to the office, we did wait maybe 10 minutes to be talked to. They seem like a very busy company. They told us to wait another 30 minutes so they could change the tires on our van, as we were renting for 8 weeks. But the time flew by since they provided free wifi and couches.

The van did have a stuffy smell at the beginning, we ended up with a 1997 Toyota. She was definitely a trooper and struggled up some hills, but sure enough, she pulled through. We never had any mechanical issues with the van. Only complaint would be that some of curtains didn't secure properly, but we makeshifted our own way to close them. The cookers they provide are about 20 bucks at the KMart, not sure why the one they provided was very very old.

Anyways, with all that said, our van had character. We had an amazing time and enjoyed not having a blaringly green and purple JUCY van that screams "tourist" haha. We decided to not pay for any insurance, so we were a little nervous when returning the van. We had no accidents or scratches, only a little chip in the windshield. But we heard that they might accuse you of something that was there before. The returning process was very quick and easy. They didn't notice the chip ;) and sent us on our way.

Overall, I had a very positive experience. Don't go into lucky expecting a holiday on wheels. It's rustic and old, but as a young couple it was perfect for us.

5

Service

4

Mechanical

4

Interior

5

Value 1 Review
"
DO NOT BOOK!

"

Unfortunately, our rental experience with Lucky Car was the worse car rental experience we ever had (comparing services around the world). Stay away from this company!
We have booked the campervan for 9 nights to enjoy our holidays on the South Island. Already at the pickup, we were not welcomed very friendly or had the feeling the service lady took time to explain us how the van worked, even though we told her this is the first time we were driving a camper van. Even though the handover was rushed, it took quite a while for us to take off as the main battery under the passenger seat needed to be exchanged apparently because people prior to us forgot to turn off the lights inside the van. After a good 1hour, the car was finally ready and we could leave the car rental station.
As we planned to use as many freedom campaign sites as possible, we knew we need to drive quite a bit for the secondary battery to recharge and to actually use the water system, fridge and lights inside the car. However, after driving 5h the water system was still not working so we had already the feeling that something is wrong. We tried to call the rental station but without any success. No doubt, this is defiantly not an emergency hotline the company provides, and I pray for anyone not having a serious accident because it takes 24-48h for Lucky car rental to return your call!
After 4 days we could arrange to see a mechanic, who told us that the main battery of the car was flat and actually even a bigger issue than the secondary one. The main battery wasn't exchanged correctly on the day of the pick up. Due to those issues, we were not able to use the water system in the van for five days, besides that the fridge didn't cool and we needed to throw away our groceries. All in all, we lost money on that, lost hours calling lucky rentals without success of reaching anyone, as well as needing to seeing a professional mechanic. Instead of offering us any kind of compensation Lucky car rental only refunded us 5 days the value of the car rental (excluding insurance or tax)., the 5 days we couldn't use the van properly as it wasn't functioning as it should.
I really don't recommend renting with Lucky car rental, as the only thing you wish for is a secure and working van. We don't mind an older car model if it is technically working perfectly and CLEAN (another big issue). Attached some pictures of this very old, mouldy and dirty car…. Better investing $200 more, having a stress-free and save holiday and renting with juicie, maui, Berlitz or any other van rental company!

1

Service

1

Mechanical

1

Interior

1

Value 1 Review
"
Un désastre !

"

Voyageur du monde,

Après 17 jours de location du véhicule Lucky Rover de Lucky Rentals entre Auckland et Christchurch nous avons été totalement déçus et insatisfaits de cette agence et ces véhicules:
• Accueil déplorable (à la remise et à la restitution du van). La phase de présentation/instruction du van a été totalement bâclée.
• Le van nous a été remis dans un état que nous pouvons qualifier de « dégueulasse » (vaisselle nettoyée à moitié, sol et plan de travail crasseux, draps de lit aussi vieux que le van - de quoi gâcher l'enthousiasme de vos premiers jours de vacances).
• Évier bouché dès la première utilisation (l'assistance en ligne n'a pas été capable de résoudre ce problème que nous avons trainé durant nos 17 jours de location)
• La vidange des eaux usées des anciens locataires n'avait pas été faites (l'odeur de cette vidange restera ancrée dans mes souvenirs de vacances)
• Le plein d'essence n'avait pas été fait lors de la remise du van (notons que la compagnie exige de rendre le van avec le plein sous peine de pénalités)
• Le frigidaire ne fonctionnait pas bien (le joint d'étanchéité de la porte était totalement décollé). Nous avons dû bloquer la porte avec un sac à chaque voyage.
• Les rétroviseurs extérieurs se déréglaient constamment à partir de 80 km/h. Ce point est de notre point de vue inadmissible puisqu'il impact directement la sécurité !!!!
• Problème avec le système de verrouillage/déverrouillage du coffre (fonctionnement aléatoire)
• Le BBQ réservé en ligne ne nous a pas été remis avec le van sous prétexte qu'il n'y en avait plus de dispo (ce point fait partie des choses qu'il vaut mieux ne pas essayer de comprendre dans la vie),
• La politique de la bouteille de gaz est ridicule : « le loueur qui se retrouve avec une bouteille vide doit la remplir » (la notre nous a permis de faire chauffer 2 casseroles d'eau ? - à noter qu'il n'y a aucun indicateur de niveau sur la bouteille, ce serait trop beau),
• La batterie de service du van se baladait dans le compartiment à bagage (nous avons dû la fixer par nous-mêmes),
Et la cerise sur le gâteau de l'escroquerie Lucky : une fissure sous un joint du pare-brise qui nous a valu le coquette somme de 400$. Notons que nous aurions pu éviter ces 400 dollars en prenant l'assurance Lucky proposée au tarif de 25$/jour ; ce qui nous aurait coûté 425$.

Vous l'aurez compris, Lucky Rentals est ni plus ni moins qu'une entreprise peut scrupuleuse surfant sur le marché juteux des locations de van pour des touristes étrangers vulnérables aux arnaques de ce genre.

Si vous cherchez la pire agence de location de la planète, prenez Lucky Rentals !!! Arnaque garantie ?

1

Service

1

Mechanical

1

Interior

1

Value L. Aitken
, United Kingdom
1 Review
"
Lucky Rentals

"

Having read the reviews for Lucky Rentals, my girlfriend and I arrived at their depot with considerable trepidation. We decided to write this in order to give prospective clients of lucky rentals an accurate description of the company, something which we did not really have. Their vehicles are very dated, we went for the Lucky Rookie option (the cheapest of the three campers offered by Lucky Rentals) which was a 21 year old Toyota Estima. Throughout our trip the car itself ran well in terms of getting us from A to B, however you should prepare yourself for the need to fill up the car regularly. The car guzzles through petrol, as you would expect from a 21 year old car, but this adds a significant cost on to your trip. We were averaging about 5 hours driving time to a tank of petrol, probably down to the windy and hilly nature of New Zealand's roads.

Comfort wise, the car was provided with a blue mattress that you make in to a bed in the back area of the car. The downsides of this set up is that the blanks of wood you are provided with to create the frame of the bed did not always sit properly in to the groves they were supposed to, often resulting in the bottom of the bed collapsing. We ended up placing our suitcases underneath to provide more support and this solved the issue. The duvet was warm when the weather was nice but once it turned cold it was simply to thin. It should also be noted that the bedding pack (2x pillows, duvet and sheet) is not provided for free and costs $35 for the trip.

Our main piece of advice would be to take the 'Sure Thing' insurance option. This costs $25 a day but is definitely worth it as it reduces your excess to $0. New Zealand's roads are hazardous and very often you have rocks flying in to the cars windscreen, which happened to us causing as significant crack. It is tempting to go for the free insurance which has an excess of $3000 should anything happen. What we noticed is that Lucky Rentals will ask for a preauthorisation amount to be placed on your card once you arrive to pick up your vehicle which we were told was the excess amount form the insurance option you have taken. For example if you take no insurance, you will still need to have $3000 in your account for the pre authorisation, that is what we were told in an email from an employee. If you get the sure thing insurance, you have a minimum of $250 which you get placed back in to your available funds again very quickly after you leave the depot. Lucky also have a surcharge for debit/credit cards of 5% so make sure you are aware of that before you go to pay. So basically, just get the sure thing insurance, it really does give you peace of mind. You also get free hire of a table and chairs and free extra drivers.

Our other pieces of advice include not buying one of the car chargers from Lucky. They are slow and only charge on item at a time. You are far better off stopping at any service station and picking up one for $15, they have two output points and actually charge your phone properly. Also, if you are thinking of buying an AUX cable for your music make sure you check the car if it has the point for an AUX cable first. Our car did not have this facility, and I doubt that Lucky would offer a refund if you were to raise it with them.

Overall, Lucky Rentals are a good company if you are on a budget and looking for the cheapest option. If you are happy with a little less quality of campervan then we would recommend them. I personally think we were lucky with our experience having heard stories from other people's time and the issues that they have had. If you would like something with a little more quality and a more modern car which might be more economical, then it would be best to look in to JUCY Rentals, Britz or Spaceships as they seemed to be the most popular of the Campervans that we saw on our travels.

3

Service

2

Mechanical

2

Interior

3

Value 1 Review
"
Poor...

"

Picking up was a disaster from auckland... unfortunately those working had no idea what they were doing and understaffed. Besides everyone cutting the line in frustration due to the wait... took almost 2 hours to get our van. They rushed us through our look over. Which we wish now we took the time to make sure EVERYTHING worked properly. Cigarette lighter (only source of charging anything) did not work, we had to take the time to go to a mechanic... apparently ~12 fuses missing... water pump broke midway through the trip. Rivets were popping out through the trip, the battery source was not properly secured and we could hear it slide and rattle the whole trip, and only one speaker in the whole campervan worked. The girls at drop off in christchurch were lovely and sympathetic... but just for the 15 or so minutes there we heard literally everyone receive a "customer experience refund" per different faults. One poor girl tried to leave the parking lot and had to be towed in because the engine fell out... spend the extra money on another camper or at least take the time to review averything!!!

2

Service

2

Mechanical

2

Interior

2

Value 1 Review
"
Lucky Rentals

"

We are a family of 4 (2 kids < 3y) and booked a 23 day trip in a 4 berth camper van with "lucky" rentals. We arrived at Auckland after an exhausting 30h journey from Germany and received this Email on a Friday afternoon at 4pm the day before the pickup (11am) of the camper van:

"Hi Benjamin,

Unfortunately, due to a large number of on road incidents we will be unable to offer you the camper van you have booked with us, and due to the time of the year are unable to offer any alternatives ourselves. This means we have had to cancel your booking with us we will of course refund the deposit in full.

We have managed to source an alternative camper van from Rental Car Village, at a rate of $62.12 per day which whilst not quite as big does offer 240v electricity, double stove and the usual amenities. This is only an option however, and you can choose any provider you would like to, please have a look at the website and see if the vehicle is suitable. As such when you arrive in Auckland please go to Rental car village and ask for Grant. Their address is ‪12 Pavilion Drive, Mangere, Auckland.‬

Kind Regards,

Connor Moss
Operations Manager at Lucky Rentals"

No apologies, support or help was offered at all. The alternative he mentions was a 2 berth or afterwards two 2 berth. Both options are absolutely unacceptable for a family of 4 and one driver. I would rather call this a joke than an alternative!
I got no replies on emails I did send to lucky rentals after that.
So we had to book another camper which is only available for 2 weeks and about 1500 Dollar more expensive plus a hotel for the missing 1,5 weeks.
In total this was not only a financial disaster due to unplanned extra expenses of multiple thousands of Dollars but also our whole holly days got messed up. And all caused by "lucky" rentals and their very friendly and competent staff.
Of course unforeseen things can happen but then an appropriate compensation and help should be offered. Absolutely NON of that was the case with "lucky" rentals!! After first denying him self on the phone, the author of the Email above said we should think twice before trying to claim our money because of the terms and conditions (which by the way are not attached to the booking confirmation Email!).
That was the was the perfect example of a "I don't give a f*** about you and your family" attitude paired with a "you better be careful what you do" warning.
That is nothing I would expect from an Operations Manager.

In general a situation like this has to be covered by the rental company and their own insurance and it must not be the responsibility of the customer.

Thank you lucky rentals and to be continued...

1

Service

1

Mechanical

1

Interior

1

Value 1 Review
"
Dreadful from start to finish.

"

Arrived at the pick up location near to Christchurch airport and went to collect our van. We waited almost 2 hours to collect both our vans, and were dealt with some of the worst customer service I've ever had the misfortune to experience. As the wait was so long, naturally we complained, but that didn't stop the very rude lady at the desk having a go at us and getting rather aggressive at our group. Anyway, got the vans and set off on our 2 week holiday, the pricing was very good and we were happy enough despite the service. The 2 man van we had seemed to have a battery issue and needed jumpstarted regularly, also the door fell off while were about 30 miles from a mechanic able to reattach it; anyway it all came to a head at Wanaka where it refused to start entirely, a mechanic sent by Lucky came and took it away, we were then left 2 days in limbo without a van and no advice on whether we would get a replacement or our own van back. Though wanaka was lovely so we sat put until they offered us a car in Queenstown, so we had to manage to get 2 of us to queenstown, meanwhile we had to spend nights in hostels as we had no van to sleep in. The rest of our holiday was then in a car and forking our 30-40$ per night on hostels for another week. Lucky reimbursed us a total of $150... personally, I'd recommend to spend a few more quid on a half decent company, arguably the least professional out of any company that I've had the misery to deal with.
On another note, New Zealand is stunning and don't let this put you off going to visit the country.

2

Service

1

Mechanical

3

Interior

1

Value 1 Review
"
Loved our little Roadie!

"

Our first campervan experience and it was for 7weeks in New Zealand and was amazing!
We had read a lot of bad reviews about Lucky but our experience was great.

Picking up the camper was straightforward friendly staff who made sure our van got a good check over as it was a long rental. The camper was a bit battered on the outside but what do you expect for 15yrs old. The staff also gave us loads of bits like salt, pepper, washing up liquid, tea bags etc when we asked if there were any leftovers.

The campervan was easy to drive and we did 6,500kms. It was a bit slow up the hills but we weren't in a rush as you need to enjoy the beautiful scenery. We had an issue with the headlights but we got it sorted at wanaka which was easy.

Returning the van at Auckland was great. They checked over the van and no issues. Then due to the headlight issue they refunded us $100 which wasn't expected.

Overall a great campervan and great company. I would use them again.

5

Service

5

Mechanical

5

Interior

5

Value 1 Review
"
"Unlucky Rental..."

"

Made an enquiry for almost 40 days rental, only received a quote for 8days. We continued email correspondence for terms and conditions, insurance etc. And when it was time to make a booking they did not honour the price quoted. Disappointed, i rented previously and although very old vehicles with 500000 km on it and more, 2500$ deposit requirement and not the newest, the customer service was very poor and will take advantage of every opportunity. Beware

5

Service

5

Mechanical

5

Interior

5

Value

Emily Shea
, United States
1 Review
"
Best van choice on a budget

"

There are a lot of negative reviews on here about Lucky Rentals, but all things considered, we actually had a really positive experience with them. They are by far the cheapest option that we found, and you have to realize that you get what you pay for. There are obviously more luxurious campervan options out there, but as backpackers, we really wanted the most bang for our buck, and that's what we got. We rented the Lucky Rover, and it was perfectly suitable for 3 people. The kitchen was equipped with everything we needed, we had sufficient storage space, and everything was in good working order.

The van initially was not ready for us on the day we had requested. Luckily for us, we were not on a super tight schedule, so this didn't impact us too much. Lucky did a good job in making up for this inconvenience as well. They gave us a free rental car to use in the interim period, and when we actually picked up our van, they threw in a few freebies - extra pillows and blankets, a GPS, and an aux cord.

We had no mechanical issues with our van in the entire 50 days we had it. It got decent gas mileage, and we only had to fill up our propane tank for cooking one time (and we cooked almost every night). If you are looking for the best campervan option on a budget, Lucky is definitely the way to go.

4

Service

4

Mechanical

4

Interior

4

Value 1 Review
"
Smooth rental at an unbeatable price in May

"

Our small but perfectly formed budget camper (Toyota Estima) was a very enjoyable drive with no mechanical problems at all during the 7 weeks - except one very cold morning when we decided to put the fans on to thaw the ice on the inside of the windowscreen before starting the engine (the battery appeared to be flat, but kicked itself into life after a 5 minute wait!)
We knew that the bedding provided by Lucky would be insufficient for the wintery weather in May and June so stocked up on sleeping bags and blankets from op shops and Warehouse enroute south.
Warehouse is also an excellent place to buy gas canisters ($6 for 4!)
Our Lucky Rookie suited our needs perfectly as it was easy to drive and park anywhere.
It wasn't self contained so there was limited free camping, but we found plenty of places to camp.
I'd highly recommend Lucky, their customer service and communication before, during and at the end of the rental was excellent and everything I expected.

5

Service

5

Mechanical

5

Interior

5

Value 1 Review
"
worst ever

"

This was the worst ever experience!!! The only Lucky thing is that we are still alive!

We rented a roadie for a month driving from North to South. 6 month ago when we booked the trip, we had so much to plan, so we didn't even bother reading reviews about the company. We were more paying attention to the type of camper, the route, etc. As a matter of fact I was bragging how great a deal I got us for less than 90NZD/day for a camper when others were 140+NZD...as I thought that NZ as a developed country has standards and regulations in place that protect consumers and ensure that all vehicles are safe to drive around.

A week before we left, I started reading the reviews by pure chance....That's when I started to have a bad feeling about this. It was ahrd enough for us to get such a long vacation and the entire trip was expensive. Unfortunately, all other agencies were sold out and only a super huge 350NZD/day camper was available, so our hands were tied. 

At pick up in the Auckland office we had a super great guy. He told us to get the full insurance package (25NZD/day), because at drop off they will find something to charge us the excess; even though the van was already totally beat up after 15years and 450.000 km. Ok, we expected it to be old, but it was:

Super dirty! we spend 2hours cleaning it in a parking lot and managed to get it to a state where we didn't have to though up. Spiders nets all over the place, dust, rust and stain that I can't really describe

Broken:
Steering wheel was pointing right when driving straight
Suspension completely beaten up; huge safety risk on the often wet and curvy NZ roads
No airbags
Chips all over the windshields (they probably charged them to many non-full-insurance rents multiple times before us)
Seat belts…lets just say I was happy we didn't have to rely on them
Torn seats
Super loud engine, also because the insulations was completely worn out…BTW this made it super cold in the van at night; a tent would have kept us wormer!
Fractures all over the van, so on top of the engine sound also creaking sounds
right loud speaker
in car lights
rear window heater disconnected (visible)
leak in drivers cabin, so when driving through rain, it got a bit wet inside
doors were creaky, so we bought WD40 to fix it, because when one need to go to the toilet at night the other or rather entire camp site was woken up. 
2 keys, because the on lock was changed; so always confusion there

Funny thing the camper didn't even start at the beginning; so I insisted on getting a new battery. This was probably the reason why the engine started every morning. 

At drop off, there were huge lines, took us 45mins to return it; There were three couples swopping to other vehicles; no idea why, but must have been some bigger issues. 

Never ever again!

1

Service

1

Mechanical

1

Interior

1

Value 1 Review
"
Dangerous Scam

"

A completely disaster, I recommend a better name for this company UNLUCKY RENTER. The campervan was very dirty and old, there weren't lights inside so we have to use our flashlights to see something during the night, the mattress were very dirty like someone had pee on it, believe me it was disgusting sleeping there, the smell also was sickening. The table was absolutely broken, it was like playing air hockey with the dishes. It was impossible to take a shower because he hose was too short and you couldn't reach your head. When raining, water leaks through the upper window getting wet all inside the campervan. The side door couldn't be open with the key, you had to open from the inside. The certificate of self contained was expired two months ago, and I can assure it wasn't self contained because when the grey water tank was nearly full it starts leaking water.
The most dangerous thing was that one day the engine, that have more than 400000 km, started throwing out the coolant liquid with a lot of steam in the front cabin when driving, it was like a gas chamber, we couldn't neither see nor breathing, we had to stop in the middle of the road during a foggy day and the situation was critical. After calling the road service assistance we lost one whole day and night waiting for the garage to fix the problem, there were no compensation. Later we knew that the expansion tank near the left seat had no cover so it can burn somebody's skin.
My advice for the further hirers is don't continuing giving business to these people that rent the worst, dirties, oldest and un-safeties campervans in New Zealand.

P. Stevenson, Australia

1

Service

1

Mechanical

1

Interior

1

Value 1 Review
"
Shocking

"

We were apauled with the outcome of our "lucky" Roma vehicle so many issues occurred which was unacceptable. Firstly after having been told we would receive full gas cans one was empty and another half full, secondly we were given the van with every item of kitchen wear dirty...nothing had been checked to be clean. Thirdly our radio and speakers had issues. In addition to this our altinator (which functions the battery) was broken clearly telling us the car had not been serviced correctly before handing to a customer which resulted in leaving us broken down starting on the highway in a highly dangerous position. This breakdown lasted 22 hours and left us 18 year old girls over night in a car park behind the back of some buildings in an unsecure state leaving all windows open without being able to close them as well as all 4 of us having to sleep downstairs with easy access for the public. Thank god we got full insurance...this was a $700 job. We worked hard to achieve a refund of $200 for the 2 days we missed out on travelling.
K. Foxston, New Zealand

1

Service

1

Mechanical

1

Interior

1

Value 1 Review
"
IF you are LUCKY :)

"

Obviously, Lucky Rental is a very budget option. However, the expectations are that it stills delivers on the very core service of the rental company i.e. you get the car that drives safely and lasts you a trip. Well... Where do I start? 

1. We had to wait 4.5 hours for our pick up. NOBODY apologises. ever. The first day of the trip was ruined for the whole group. After pressing the issue, we got one day reimbursed BUT the rest of the group still lost the money and the day trip as they were waiting for us. 
2. As soon as we started driving, the left wing mirror tilted and never gone back up. The driver could not see what was happening on the left side of the van. OOPS! 
3. Our van charging cord was broken and taped back together. :O Not too bad, until the rainy night when we had a voltage spike that burnt all of our outlets, our charger and my killed my phone battery. BOOM! pls, see below the response I got from the company : ) complete ignore of my complaint. 
"This vehicle is fitted with a surge breaker which is a device that is designed to protect electrical devices from voltage spikes. This vehicle has a current EWOF so has been check to ensure this is in working order. " 
4. Gears were funky, but thankfully lasted us a whole trip. Though, we could not gain more then 30-40km/hr up the hill (even the small hill) , the travel time doubled some days because of that. 
5. At the end of the trip, I received an angry call from the service desk asking where we were and that we were late to return the car. She just happened to confuse the dates and phoned us up a day earlier. Have I mentioned that nobody ever apologises? 

If I knew, what I know right now - I would not rent from them. However, if you are willing to risk your long vacation and trip of the lifetime, below are few tips learnt the hard way. 
- If something goes wrong, get it fixed right in front of them. If you let it go email/phone, forget it. They will promise things to get you out , but no follow up will ever happen. If the van broke and you were stuck , and the service person tells you to get taxi and hotel, and they will reimburse you later... Do not believe it. It actually happened. The next morning they told that it is not part of the policy and they do not reimburse. 
- Read the contract. The stuff is trained to quote the contract word for word in all situations. So you better actually look through T&Cs. 
- Again, if something goes wrong and you interact with the stuff, I would recommend recording them. Asking for comms copies apparently was not enough. 
- Service people are not there to help you; 
- Save a bit more and get someone with the better rating :) 

NZ is fantastic place to visit, do not let it get ruined with Lucky Rentals . When it is suspiciously cheap, it is probably for the reason . I should have remembered that one myself.

1

Service

1

Mechanical

1

Interior

1

Value 1 Review
"
Do not use Lucky

"

We have had significant issues with the campervan we rented from Lucky. Twice we have been unable to start the vehicle and were charged out of pocket for a roadside assistance callout. Something in the van continues to drain the battery when the engine is turned off. The back door to the van was broken and the sink leaked due to a faulty seal (flooding our mattress), both issues we had to arrange to fix ourselves. Other than the above the van has seen better days...nearly 500,000 kms, guzzles fuel, the most uncomfortable seats to drive in, dirty with mould on the ceiling, the radio doesn't work (which was needed during the earthquake), the AC runs even when turned off, and a family of spiders lives in the window seals. I would recommend paying a little extra to rent from a reputable company with a better fleet of vehicles. You'll end up spending the same money for a much better experience.

1

Service

1

Mechanical

1

Interior

1

Value 1 Review
"
Bad Quality Car

"

The 1st campervan collected was overheated after 30minutes driving, the technician was unprofessional and we wasted quite a long time to convince him tat there was serious problem with radiator. Only then they agreed to change another car for us. Unfortunately another nightmare occurred. The so-called 24/7 technical assistant was bullshit, no body picked up call at night. They required us to stay at one place for 2days to get the problem fixed was really a waste to time. Lucky rentals will not guarantee u good luck. Folks, I wish u all good luck.

3

Service

1

Mechanical

4

Interior

1

Value 1 Review
"
Don't waste your time

"

Don't waste your time considering this company. Worst service ever! They waste your time where ever possible, making you miss your connections. Be very careful of Connor their Branch manager he doesnt know the first thing about customer service and will NOT trust you even if you provide evidence. Lastly he will ensure you leave with no apology and him in the right.

1

Service

1

Mechanical

1

Interior

1

Value