New Zealand
Editors Review
The Pod Campervan Rentals is a modest, family-owned campervan hire company on the South Island of New Zealand, with a fleet of around 60 vehicles―either self-contained or non self-contained campers. Providing free airport transfers and no one-way fees, they cater to budget solo travelers or couples.
About The Pod Campervan Rentals
If you're looking for a decent and affordable campervan hire for two, this family-owned business with depots in Auckland, Christchurch, and Queenstown is great option. The Pod Campervan Rentas prides themselves as one of the best value campervan hires in NZ, and a lot of positive feedback could back them up. Being a company run by a family, they specialise in providing quality and friendlier service to their customers, like allowing you to drive between the North and South Islands with free pick up and drop off at any of their locations.
As of this writing, they may only have one campervan style for hire, but sooner they'll expand their fleet and offer more 2-berth campervans. So, stay tuned!
Fleet
The company has a quite unique branding with the campervan mainly being painted black and a huge company logo styled on the exteriors. Most of the vans are automatic, though you can request if you prefer those with manual transmissions. All Pod campervans use petrol, and are either self-contained or not. Since this is a small campervan, only a cassette toilet can fit inside the main cabin. Whilst these units are technically for couples or two people, you can sneak in an extra passenger because there are three front seats in the vans. They offer some optional extras including night time insect screen, solar shower, privacy tent for shower, and hammock.
Vehicles
These black-painted Pod campervans are simple and easily sleeps up to two people only in the queen-sized bed. Since the aim of the company is to provide a quality rental on a budget, do not expect any frills installed within the campervan units. All are standard yet very useful facilities that include a kitchen with sink, pump faucet, utensils, pots, and pans. Though no fridge, there's a chilly bin or cooler box provided for your left-over. Ice can easily be bought at service stations and campgrounds. And because of the restricted layout, a cassette toilet with free chemicals can only be provided instead of a full bathroom. The fan heater is very convenient, however, it requires to be plugged-in a powered campsite.
Insurance
As a renter, you have to choose one of their three insurance options: All care no responsibility at $25 per day for an excess of NZ$0, Fence Sitter at $15 per day for an excess NZ$2, 000 and You break it you fix it at no extra daily charge for an excess of NZ$3, 000. Only the first option covers damage to tire, windscreen, window, underbody, overhead as well as single vehicle accidents.
Reputation
Without a question, Pod campervans are great little vans that can handle well on windy roads and even on unsealed tracks. Though the front seats are a bit uncomfortable on long journeys, these are in good condition with all standard accessories. And even if these aren't brand new models and these aren't as big and fast as some, the facilities on-board are very useful and convenient, and the vans are sure and steady that save you a couple of dollars in gas and camping fees. So for travellers wouldn't mind travelling in a small yet compact van like Pods, enjoy a campervan hire from this family-based business that can assure you of a friendlier and more personalized service.
Summary
For a couple travelling or independent backpacker on a budget, Pod Campervan Rentals is a great option. These petite but reliable vans drive really well, but you've got to keep in mind that these are few of the cheaper campervans that have space and height restrictions.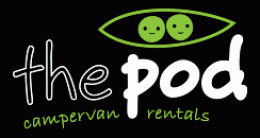 From the Agency
Our focus at The Pod is providing outstanding customer service from your first enquiry through to when we drop you at the airport for your flight home. All enquiries before, during and at the end of the hire are answered by us, the owners of the company Liz and Mike Williams, and we guarantee a first rate and prompt service where we work with you to ensure that your holiday is a positive experience. Our campers have been carefully designed and tested to provide you with everything you need to travel in comfort :)
Pros
Family run with friendlier service
Multiple depots
Positive reputation
Free airport transfers
No one-way fees
Cons
Not be attractive for big families
Cassette toilet only
Loud exteriors with huge company logo
See who else rents Campervans in the same cities
Instant Price Comparison
Just Got Questions? Want a Quote direct from the company?
Fill in this form to contact the Agency direct.
Write Your Own Review
Tell the world about your experience renting from this company
1 Review
"
Truly incredible 3 weeks

"

We have just finished 3 incredible weeks in Little Suzie (and Little Bluff) travelling round the South Island. As 2 younger backpackers, we stumbled across The Pod as a company who hire to under 21s and are so happy we chose the smaller, much more personal company. From start to finish we were looked after so well by the team, including a really detailed introduction to the van and really helpful tips as to where to go and visit. Our trip to New Zealand was all planned 'on the go' and completely surpassed expectations, which The Pod are definitely to thank for!! Thank you so much to the team for such a wonderful trip!

5

Service

5

Mechanical

5

Interior

5

Value
1 Review
"
Little Lizzy <3

"

We had an amazing time going around south island for a week. We loved Little Lizzy, she was great ! She took us everywhere we wanted with no problem at all though steep hills and overtaking were challenging at times but we were pretty happy with her. We put some fairy lights up in the van at night and she looked just perfect and also quite helpful when you need a bit of light at night thanks Destiny for the tip ;) In terms of fuel consumption we paid around $120 a tank and she could go for about 8 hours. Kitchen area was well set up though it can get a bit cold if you want to cook outside from evening onwards. We used a cassette toilet a couple of times. It's under the bed so it can be quite tricky to take it out and put it back if you have got your bed out (we did not want to keep setting up the bed every night). We would like to thank the Pod team for making our trip so comfortable and smooth, Mike and Destiny were super chill and helpful in every way with tips and services. They gave us some snow chain with no extra cost. We bought a zero excess (highly recommend!) and towards the end of the trip we had a stone chip in a big windscreen and it was all covered for!

5

Service

4

Mechanical

5

Interior

5

Value
M. Williams

Brand Manager

Thanks guys - great to hear you enjoyed your time in Little Lizzy :)

wildtests
, United Kingdom
1 Review
"
Great experience at a great price

"

Genuinely great experience with this company and very much missing our Pod after returning it yesterday! Mike and his team couldn't have been more friendly, helpful and patient. The van itself was a pleasure to drive and simple to live in for a week. It had everything we needed and not much that we didn't - we camped mostly at serviced campsites but freedom camped a couple of nights too. Also no one-way fees made it a real pleasure to freewheel on the open road for the time we had, knowing we were never more than a long day's drive from our destination.

If you're looking for something simpler and more fun to drive than the Britz, Jucy etc campers which you will see everywhere across NZ, please do book with Pod. We didn't see another one and we couldn't be happier. Sweet as!

5

Service

5

Mechanical

4

Interior

5

Value
C. Jackson
, United Kingdom
1 Review
"
Great Service

"

We rented a Pod for over 3 weeks in January and it was the perfect little home for this time.
Not too big and bulky so no problems finding anywhere to park but not too small to live in.
My only only very small downside would be that I wish our Lucy (pod name!) had a little bit more power to get up some of the steep hills of New Zealand! But she didn't stuggle too much. .
Great customer service and very friendly.

5

Service

4

Mechanical

5

Interior

5

Value
M. Williams

Brand Manager

Thanks for the comments - yes our smaller vans are built for love not speed, but you get more time to enjoy the views as you head up those mountain passes :) Our new Adventurer campers will be online for the coming season and these are larger and more powerful.
1 Review
"
Autumn road trip!

"

We just went in a 9 day road trip in a self-contained Pod van and it was amazing! The kitchen set up is great and easy to use and keep organised. We loved the stereo and the ability to play our own music on the road. The self-contained van has an odd bed design due to the rule that you need to be able to use the toilet while the bed is set up. This means the bed is an odd shape and we did find it a little uncomfortable to sleep in with two people. We would probably opt for the van that isn't self-contained next time for the bigger sleeping space! We would definitely recommend Pod rentals and it's always great to support a growing local business!

5

Service

4

Mechanical

4

Interior

4

Value
M. Williams

Brand Manager

Thanks Elise - it was really nice to have met you both in Queenstown.
For the 2019-20 season we will have more campervan options available, including a larger camper that retains the full sized bed :)
1 Review
"
A campervan made for 2

"

The Pod Campervan rentals are one of the best companies I have had the pleasure of dealing with, from the very first email they replied swiftly, personally and helpfully. A few other companies I had been dealing with simply gave stock answers to questions and seemed unwilling to enter into discussions about flexibility or customer satisfaction.
I would go so far as to say emailing with Mike was a pleasure and was actually a little looking forward to meeting him when the time came!
The Pods are incredibly well and thoughtfully designed and constant updates to equipment is made suggesting that customer suggestions are considered. The vans themselves are deceptively roomy given how big they actually are, the beds/seating is comfortable for that inevitable rainy day. There were so many extra and helpful touches such as a heater, small amount of dish washing liquid and toasting rack which lets you know that you're in good and thoughtful hands.

I can't thank Pod enough for how easy and wonderful they helped make our travels in New Zealand

5

Service

5

Mechanical

5

Interior

5

Value
M. Williams

Brand Manager

Thanks for the kind comments Alistair - it was awesome to catch up with you and Miranda. It's meeting amazing people like you that make owning this company so special :)
T. Umansky
, United States
1 Review
"
Hire from The Pod Rentals!

"

After a few hours of searching for campervans online, we luckily stumbled upon The Pod rentals. We called them to discuss reserving a van for a week and Liz answered the phone. We corresponded with her during the entirety of our trip and she was nothing but kind and helpful. The van was not only affordable, but provided us with everything we needed and more (including a kitchenette, toilet, ventilation, camping chairs/table, cutlery, duvet, etc. ). The company picked us up to go get our van and paid for a taxi to take us back to the airport when we were done. We could not have been more happy with the service The Pod rentals provided us with and we will definitely be using them again if we decide to plan a similar trip. We drove the van up the west coast (highway 6) and there were no issues whatsoever. If you get Little Sefton as your van, its new name is Podrick. Make sure to ask for Liz when you talk to the company because she is so sweet and attentive.

5

Service

5

Mechanical

5

Interior

5

Value
M. Williams

Brand Manager

Thanks for the kind comments Tyler - we were happy to have been of service to you for your trip throughout NZ. Think we might need to name a van Podrick - we love it :)
1 Review
"
Easter weekend pod getaway

"

My partner and I picked up from the Christchurch pod Depo and got travel coffee mugs included which was great as we both love our coffees☕️☕️ We started driving up towards Picton on the east coast in Little Apiti then over to the west coast #beautifulcoastalviews then back to Chch. It was an amazing experience and we defiantly felt like 2peas in a pod on holiday. I would highly recommend the pods we can't wait for next years pod holiday to travel the bottom of the South Island this time. Thanks to Bianca at the Chch depo and Liz & Mike ??

5

Service

5

Mechanical

5

Interior

5

Value
M. Williams

Brand Manager

Thanks for the amazing comments. See you soon for your for your next Pod adventure :)
1 Review
"
Definitely would recommend to anyone going to NZ!

"

We spent two weeks in our Pod 'Little Alex', and had an amazing time! Collection and drop-off near Christchurch airport went smoothly and we had no issues at all with the vehicle throughout. The kitchen area is well equipped and easy to keep tidy, the camping chairs and table are included (unlike for some rental companies), and we just left the bed folded down the whole time as you could still access the storage space underneath easily. Bed was comfy as well, and we're both fairly tall! We had quite a few comments from other campers about how great & compact our little Pod looked! :)

5

Service

4

Mechanical

5

Interior

5

Value
M. Williams

Brand Manager

Thanks guys - we were happy to assist with your trip through our beautiful country :)
1 Review
"
The Pod = The Best

"

New Zealand is an amazing country but if you want it to be a special trip, put a Pod in your life!
Nice price, nice people, nice pod, you'll have everything you need!! Put a Pod in your trip
Highly recommendable!!

5

Service

5

Mechanical

5

Interior

5

Value
M. Williams

Brand Manager

Thanks Jon - we appreciate you choosing us for your NZ adventure :)
J. Jausoro Azaceta
, Spain
1 Review
"
Pod Rentals Best Campervan company in New Zealand

"

Since the first moment we contact Pod Rentals they were really helpful, nice and close to us. The van "Little Hass" was amazing and full equipment with everything we need to hit the road. We drop the van in Queenstown Airport and there we met Liz, we had a nice chat with her and she, so kindly, drove us to the center of the city as we were staying there for the last night. We would highly recommend Pod Rentals, best Campervan company in New Zealand.

5

Service

5

Mechanical

5

Interior

5

Value
M. Williams

Brand Manager

Thanks for the review guys, we were happy to be of service during your NZ adventure :)
D. Hewitt
, United Kingdom
1 Review
"
Pure joy in the pod

"

13 days in Little Nate. Don't be fooled by the somewhat old looking camper. Total reliability in testing conditions. We did the entire South Island from Christchurch to Milford Sound, to the Catlins and the pod was glorious. Forget the large logo, which seems to be a turn off for some people. The Pod makes up for this in plucky exuberance, comfort and above all else total mechanical bliss. All the staff at Pod were helpful, friendly and went above and beyond from second one. By far the best price after extensive research. Can't speak highly enough of the company.

5

Service

5

Mechanical

5

Interior

5

Value
M. Williams

Brand Manager

Thanks guys - great to hear we met your expectations and you enjoyed your holiday with us :)

See you next time.
1 Review
"
"In Pod We Trust!" :)

"

I would highly recommend Pod Rentals! We hired our Pod 'Little Max' for 11 nights to travel around the South Island. When we started to look into campervan rentals, we had a few questions regarding the 'Self-Contained' V 'Non Self-Contained' options all of which we communicated to Mike and he was happy to assist. He also worked around some travel changes we had and helped us pick up our van from Queenstown rather than Christchurch as initially discussed.

We booked a self contained van and it was perfect for our requirements- we were very impressed with how they had managed to utilise all the space! We were met by Juuso in the Queenstown hub and he explained how to use everything and gave us lots of tips :)

During our trip, we had no problems with 'Little Max' and being self contained allowed us to freedom camp at some beautiful spots. (we did unfortunately have a stone hit the windscreen, we informed Mike and he responded straight away to let us know he would get it fixed/replaced ASAP if required). We dropped Little Max back and were met by Mike and Liz who were super keen to hear all about our trip and ask for any improvements on the van.

Overall, the service we received from all of The Pod team was fantastic.....really friendly couple who clearly care about the experience of their customers and take a real interest in making it the best experience possible.

Thanks Team Pod! :) We will definitely be recommending you to friends and family!

5

Service

5

Mechanical

5

Interior

5

Value
M. Williams

Brand Manager

Thanks for the kind comments Kerrie - we are stoked that you guys had such a great time with us :)
1 Review
"
Best holiday we have ever had

"

The Pod Campervan Rentals: Our experience with this company was A Grade - we picked up our van called the "Little Sefton", we were shown thoroughly how to use the van, the staff were amazing, so friendly and helpful - everything in the van was at your fingertips and so easy to use. The bed was perfect for the 2 of us travelling and warm and cosy at night. The fuel economy was excellent, we were very pleased with that as the petrol in NZ is quite expensive to say the least, so having a little 4 cylinder van was perfect. We had a dream drive around the south island and being a small campervan we were able to access roads that were unavailable to large campervans, which was a real bonus.
We have recommended The Pod Campervan company to many of our friends already and could not rate them high enough. We can't wait to come back to do the North Island and rent a van through these guys again. Thanks for making our 1st trip to your beautiful New Zealand our best holiday we have ever had (and we are not just saying that!!)

5

Service

5

Mechanical

5

Interior

5

Value
M. Williams

Brand Manager

Thanks Lisa - it was really nice to have met you both in Queenstown, and we appreciate you taking the time to do a review and recommending us to your friends :)
1 Review
"
A great experience with the Pod Campervan

"

We spent 3 weeks with the little Rata model and it was fantastic. First of all the welcome of the staff was really good and helpful. The van didn't give us any mechanical problem and we arrive all the places we desire. The equipment was complet. Definitely it's a good value for money comparing with other companies. Thank you!

5

Service

5

Mechanical

4

Interior

5

Value
1 Review
"
A honeymoon we will never forget!!!

"

We found the Pod rentals online after a lot of research of campervan rentals in NZ. From the moment we booked with The Pod the whole experience was seamless. Mike and Liz were so helpful from the start to the finish! We picked up "Little Lizzy" in Christchurch on Feb 1st and travelled the whole South and North island in 28 days! Little Lizzy had everything we needed - comfortable bed, storage space for our bags, cooking facilities, water etc. we never had any issues with our camper over our whole trip. Although it comes with a toilet we never used this as there are so many public toilets in NZ you don't really need it! Definitely download the "campermate" app if traveling in NZ. This app was our savior and we used it every single day to decide where we would stay! The fact that Little Lizzy was self contained was also a huge advantage as a lot of campsites (especially the free ones) only allow for self contained vans.
We gave Lizzy back in Auckland the end of February and we were sad to say goodbye!
I would 100% recommend The Pod rentals! Thank you so much for making our honeymoon a trip to remember!!

5

Service

5

Mechanical

5

Interior

5

Value
M. Williams

Brand Manager

Thanks guys, it's great to hear that Little Lizzy looked after you for your honeymoon. See you next time :)
1 Review
"
The best rental in NZ

"

I did do a lot of research to find a suitable van for us as we didn't want anything big! I was so happy to have founs Pod rentals, from the start everything was just soo easy with them and had a much more personal feel than the other companies I contacted. Everything in their website was so simple, there was no hidden extras or anything. We had couple of small issues while (broken chair so nothing van related) driving and they helped us sooo quickly and efficiently. I would rent from these guys, the van is really well designed and perfect for 2 persons who don't need a lot of space. You can put the bed away during the day, so you have plenty of space. We had people come over to admire the van and guaranteed you won't see many of these on the road. We saw 5 during our 4 week trip! Only thing I'd like them to improve is more efficient gas cooker. Other than that they exceeded all expectations and I'm so happy to have rented from them! Reallt highly recommend these guys, thank you Pod Rentals!

5

Service

4

Mechanical

5

Interior

5

Value
M. Williams

Brand Manager

Thanks Miia, you guys were a pleasure to deal with :)
1 Review
"
Peas in a pod

"

Little Billy was great. Perfect for a couple. We had her for a month and were happy out. Had no issues and they provided lots of useful little extras like an aux cable and cigarette charger! Simple but essential!! They have thought these vans through

5

Service

5

Mechanical

5

Interior

5

Value
M. Williams

Brand Manager

Thanks Dec - great to hear you enjoyed your time with us :)
1 Review
"
Great value and service on top of an awesome experience!

"

My girlfriend and I hired 'Little Kahu' from Queenstown for 10 days to explore the beautiful south island, and we can safely say it was one of the best decisions we have made on our trip.

The van drove well, it was also very thoughtfully set up and came with all the necessities, all we needed to purchase to start our trip was food and ice for the freezer bin. We really appreciated the comfy bed and user friendly kitchen which meant making meals and cleaning dishes quite easy. Even the smallest things were thought of like non slip mats for the pots and pans and a drawer that locks out so that you can access the freezer bin and use the stove without it sliding back in and a toast maker for a gas stove.

A major plus was the customer service! We had direct contact with the owners who are lovely people and are passionate about camping and helping us get the most out of our adventure. Communicating with them was a breeze, they were prompt with their replies and easily reachable throughout our whole trip despite it being peak season. This was very useful when part of our grey water waste tap came off (probably from going down some bumpy gravel roads), as we called them and they immediately reassured us and explained how we could fix the problem and continue the rest of our trip. Luckily, we purchased the $0 excess insurance package so we did not have to pay for its repair.

Overall, you get great value and service for your money, much better than any large rental company in the region. We would highly recommend Pod Rentals to anyone else looking to explore New Zealand!

5

Service

5

Mechanical

5

Interior

5

Value
M. Williams

Brand Manager

Cheers Kurt - we loved following your South Island adventure on Instagram - see you next time :)
1 Review
"
Fully recommended!

"

The Pod campervan was great! We had their lovely "Little Milton" for three weeks and everything worked as smooth as a baby's butt!

The customer service with the Pod is just remarkable. Mike and the crew made our holiday just perfect with letting us leave the car on their garage for the duration of our Routeburn hike and giving us lift to the city and back.

All together everything works. The car and the communication. The van is easy to drive and super comfy to sleep in! Fully recommended!

5

Service

5

Mechanical

5

Interior

5

Value
M. Williams

Brand Manager

Thanks guys - it was great meeting you both and we appreciate the review :)