New Zealand
Editors Review
Last Update: 7/31/19
The Pod Campervan Rentals stayed true to their words as they welcome some add-on to their fleet. Featuring the same exterior style and design, there are now three campers to choose from―Adventurer, Traveler, and Economy. The three differ, not with the outside look but rather on the interior layout. For a detailed review of each unit, along with other important info about the company, continue reading.
---
The Pod Campervan Rentals is a modest, family-owned campervan hire company on the South Island of New Zealand, with a fleet of around 60 vehicles―either self-contained or non-self-contained campers. Providing free airport transfers and no one-way fees, they cater to budget solo travelers or couples.
About The Pod Campervan Rentals
If you're looking for decent and affordable campervan hire for two, this family-owned business with depots in Auckland, Christchurch, and Queenstown is a great option. The Pod Campervan Rentas prides themselves as one of the best value campervan hires in NZ, and a lot of positive feedback could back them up. Being a company run by a family, they specialise in providing quality and friendlier service to their customers, like allowing you to drive between the North and South Islands with free pick up and drop off at any of their locations.
And whatever city you are planning to visit, there's a need for you to know and understand specific rules for freedom camping. Here's a useful NZ free camping tool you can take advantage of before you prepare for your greatest Kiwi adventure.
Fleet
The company has a quite unique branding with the campervan mainly being painted black and a huge company logo styled on the exteriors. Most of the vans are automatic, though you can request if you prefer those with manual transmissions. All Pod campervans use petrol and are either self-contained or not. Since this is a small campervan and the aim of the company is to provide a quality rental on a budget, do not expect any frills installed within the campervan. No shower, fridge, and such―only a cassette toilet, double bed, and kitchen can fit inside the main cabin. The fan heater is very convenient, however, it requires to be plugged-in a powered campsite.
Whilst these units are technically for couples or two people, you can sneak in an extra passenger because there are three front seats in the vans. They offer some optional extras including night time insect screen, solar shower, privacy tent for the shower, and hammock.
Vehicles
Adventurer
Since the Pod fleet is now divided into three, let's start with their Adventurer. This unit is dubbed as the most spacious among all rental units on offer. Similar to a mid-range campervan, you have the toilet on the right side, a convertible double bed inside, and a kitchen at the rear. Aside from being the largest campervan, it also holds the reputation of being the best when it comes to the inclusion of campervan facilities. No doubt it's called the Adventurer!
Traveler

Unto the next is the Traveler, which is way comfortable, especially at night because of the extended double bed. Even if it's much smaller compared to the previous one, this unit still has everything you need for a comfy getaway. It comes with a sleeping area, cooking area, and toilet area.
Economy

Lastly, they have their Economy camper, which is the same model as the Traveller―but varies with the mileage. The Economy campers are quite older, with over 200,000kms, hence the cheaper price. But lower rates does not mean low-quality camper. These are reliable vehicles that are regularly maintained and service for utmost convenience. Not only that, if you find the same model from other companies at a cheaper price, you can enjoy a price-match guarantee.
Insurance
As a renter, you have to choose one of their three insurance options: All care no responsibility at $25 per day for an excess of NZ$0, Fence Sitter at $15 per day for an excess NZ$2, 000 and You break it you fix it at no extra daily charge for an excess of NZ$3, 000. Only the first option covers damage to tire, windscreen, window, underbody, overhead as well as single-vehicle accidents.
Reputation
Without a question, Pod campervans are great little vans that can handle well on windy roads and even on unsealed tracks. Though the front seats are a bit uncomfortable on long journeys, these are in good condition with all standard accessories. And even if these aren't brand new models and these aren't as big and fast as some, the facilities on-board are very useful and convenient, and the vans are sure and steady that save you a couple of dollars in gas and camping fees. So for travellers wouldn't mind travelling in a small yet compact van like Pods, enjoy a campervan hire from this family-based business that can assure you of a friendlier and more personalized service.
Summary
For a couple travelling or independent backpacker on a budget, Pod Campervan Rentals is a great option. These petite but reliable vans drive really well, but you've got to keep in mind that these are few of the cheaper campervans that have space and height restrictions.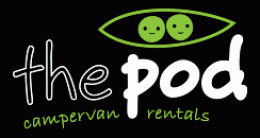 From the Agency
Our focus at The Pod is providing outstanding customer service from your first enquiry through to when we drop you at the airport for your flight home. All enquiries before, during and at the end of the hire are answered by us, the owners of the company Liz and Mike Williams, and we guarantee a first rate and prompt service where we work with you to ensure that your holiday is a positive experience. Our campers have been carefully designed and tested to provide you with everything you need to travel in comfort :)
Pros
Family run with friendlier service
Multiple depots
Positive reputation
Free airport transfers
No one-way fees
More 2 berth options
Cons
Not be attractive for big families
Cassette toilet only
Loud exteriors with huge company logo
See who else rents Campervans in the same cities
Instant Price Comparison
Just Got Questions? Want a Quote direct from the company?
Fill in this form to contact the Agency direct.
Write Your Own Review
Tell the world about your experience renting from this company
1 Review
"
The perfect Pod

"

Great organisation of booking and pick-up/drop off. We were even able to pick up in Queenstown. The vehicle was perfect for us (a couple for 2 weeks) and no issues with it. Excellent use of space, you can store 2 large suitcases no problem. Useful additional equipment.

5

Service

5

Mechanical

4

Interior

5

Value
1 Review
"
Best in New Zealand

"

We had our camper for 3 weeks and I cannot fault the van or the customer service we received from beginning to end. The staff were incredibly helpful and quick to respond. The van itself was suitable for the two of us and even though its not the biggest on the road for the price you pay compared to some of the more well known companies, there is no comparison. There were no hidden gimmicks or unexpected bills, just straight forward van rental. Would definitely use them again.

5

Service

5

Mechanical

5

Interior

5

Value
M. Boynton
, United States
1 Review
"
Excellent Budget Van

"

The two of us chose the budget van and travelled the whole South Island for about 2.5 weeks. It was absolutely excellent and cheaper than other self-contained vehicles we could find! The staff consistently had quick thoughtful responses over email -- we even mistakenly scheduled our drop-off for Queenstown and didn't notice until a few weeks before our trip but had no trouble adjusting. Pick-up was quick (~25 min) and staff was both helpful and friendly. Very inclusive basic features and supplies, and some bonus items like glovebox log from past users. The ONLY thing we didn't love about Little Julie the van was the lack of headspace/ability to sit-up in bed. Absolutely would recommend.

5

Service

4

Mechanical

4

Interior

5

Value
Keriann M.
, United States
1 Review
"
Love the Pod!

"

Great experience with the Pod - the team there is wonderful, and we had a wonderful week cruising around the South Island. The bed was comfortable, the space was well designed, and the Pod came with everything we needed. Would highly recommend going with the Pod for your road tripping needs :)

5

Service

4

Mechanical

5

Interior

5

Value
1 Review
"
#podlife

"

We enjoyed our pod experience immensely. It was just enough comfort, space, and amenities. The little van drove well and was good for boondocking aka freedom camping

5

Service

4

Mechanical

5

Interior

5

Value
1 Review
"
Absolutely love it!

"

I feel so grateful for having the possibility of enjoying the Pod for a month and also having the full support to make the best of my time in New Zealand.

Even before the trip started they helped me a lot and went the extra mile to make sure I had all my answers and enquiries solved with very quick flawless communication.

I loved my van so much to the point that I couldn't return it. Very often people will be surprised on how good and convenient the kitchen looks like.

All in all, extremely reliable van and even better team behind that I would definitely recommend to anyone traveling to New Zealand.

5

Service

5

Mechanical

5

Interior

5

Value
1 Review
"
Great experience!

"

We used a pod campervan for a 3 week journey through NZ and loved it! The pod was clean, comfortable and had everything we needed.

5

Service

5

Mechanical

5

Interior

5

Value
1 Review
"
Loved our pod

"

My wife and I spent 3 weeks in our pod and felt it was perfect for experiencing NZ. Thank you!

5

Service

5

Mechanical

5

Interior

5

Value
1 Review
"
Amazing Experience!

"

We rented "Little Tui" for our trip through the South Island and it was a wonderful holiday! We drove 2700km and had zero issues. The bed was comfortable and the kitchen had everything we needed. I felt like it was definitely the most bang for your buck for campervan rentals and we couldn't be happier with our rental. The staff were great and we would definitely rent from them again!

5

Service

5

Mechanical

5

Interior

5

Value
1 Review
"
Great little van and great company!

"

We had an amazing time travelling in Little katie!
Mike and his team were great to deal with and we would highly recc this campervan company!
We found this company to be the most affordable for what we needed and they did not charge a relocation fee or mileage fee which is rare when looking for a van!
Had no issues at all with the van and will be back to NZ for another trip in the new year!

5

Service

5

Mechanical

5

Interior

5

Value
M. Williams

Brand Manager

Thanks Paula - we look forward to seeing you guys back here one day!

B. Fitzgerald
, United Kingdom
1 Review
"
Loved every minute!

"

Great little van! We hired the adventurer model for one month travelling the North & South islands. Solar panel and fridge were great features so would recommend this model. I would also recommend full insurance with 0 excess as we accidentally broke a pipe, and paid nothing for the fix - Mike was quick to fix it up and get us back on the road too.

Pod market themselves as 'budget'. Whilst they are definitely affordable, the vans and experience from Pod is more than a budget experience. You get full kitchen equipment, cooking gas, bedding, great communication and a friendly service.

Would absolutely recommend Pod Rentals and we would definitely use them again!!

5

Service

5

Mechanical

5

Interior

5

Value
M. Williams

Brand Manager

Thanks Brodi - we hope you guys make it back one day!

T. Devonport
, United Kingdom
1 Review
"
Adventurer Model

"

We had an amazing experience with pod rentals! They were very good with communication prior and during the rental period too.
Having opted for the adventurer model, the van was self contained with a fridge, gas cooker, toilet ( not that we used it because there are toilets everywhere in NZ!) and a solar panel to charge the auxiliary battery. This meant the fridge could run permanently and we could charge our devices overnight ect.

The van came with everything we needed, bedding, cooking utensils, a spare gas canister, table, chairs, heater and hook up lead. None of these items came at any extra cost. The only option we went for was the kitchen tent. Having put the tent up once it became very easy to put up after the first time. To make the tent easier to use it needs a nice grass pitch, some campsites have both so always opt for the grass pitch. It was worth every penny too as it rained allot during our trip and it allowed us to keep dry and warm when using the kitchen area. The water storage tank was also very big as we only ran out of water once! We didn't top it up much either!

It was really nice to be in a van that stood out from the norm too. We had a few compliments and allot of people would check it out at campsites. It was one of a very few campervans we saw in a black colour scheme which made it really easy to find!

Being a smaller company their customer service was amazing. Pod campers were very helpful with any questions we had about the van. We had full insurance with our van too and during our trip we had a slight incident with a mound which broke the waste pipe. Having contacted Mike he organised to have it fixed the next day. In just over an hour the van was fixed at no cost!

I would highly recommend pod campers! Was really gutted when we had to return the van! Best experience i have ever had!

5

Service

5

Mechanical

5

Interior

5

Value
M. Williams

Brand Manager

Thanks Tyler - and thanks for opting for the tent - you were our first users so it was great to hear it was helpful! We look forward to seeing you again!
1 Review
"
Great van...LOVED it!

"

My husband and I rented "Little Nikau" from The Pod Campervan Rentals for a week while exploring the South Island. The booking process was extremely easy and we loved being able to see the island with the ability of freedom camping. Everyone was super friendly and helpful the entire process. We booked an economy van which was great in price, didn't have any issues with breakdowns, and drove beautifully. The bed was super comfy and had plenty of storage room for us for both our belongings and our food for a few days. The provided gas cooker, cooking supplies, dishes, etc were all in great condition for us. We loved that we were able to park in normal parking spots that larger campers wouldn't be able to park in but still have plenty of room to be comfortable and not be crunched for space. It was also nice to know our van was easily recognizable amongst the tons of Mighty and Britz vans we saw everywhere & not trying to figure out which one was ours. We were extremely sad to say goodbye to our little van come the end of the week. I highly recommend renting from this company!

5

Service

5

Mechanical

5

Interior

5

Value
M. Williams

Brand Manager

Thanks for the review Christine! I guess there always is a consideration when selecting a larger camper that parking isn't always as easy as the smaller ones! Thanks again :)
1 Review
"
Great van

"

Good size van for two people. Just enough storage if you pack light. Blackout curtains were great! Perfect size van for all car parks. The bed was very comfortable. Location of toilet was not great and wasted space.

5

Service

4

Mechanical

4

Interior

5

Value
M. Williams

Brand Manager

Thanks for the review Sebastian!

A recent industry change in what was legally able to be 'certified' as self contained was that the toilet now had to be accessible at night when the bed was down. Our options were to no longer have our smaller vans certified as self contained, or to work within the new rules which is where the alteration to the bed came in. Having a certified van allows access to many more fabulous camping spots so we didn't want to restrict our clients from these by handing in our certification! We still offer full size beds in our Adventurer models :)
1 Review
"
Perfect rental

"

The car is all you need. It is well equipped and you get things like chairs and a table for free where other companies charge you a lot for. Mike and Liz are alway available and responding Mails at the point. I would always rent a van with them again.

5

Service

5

Mechanical

5

Interior

5

Value
M. Williams

Brand Manager

Thanks so much - and we hope you'll be back!
L. Koerner
, United Kingdom
1 Review
"
Great value and friendly staff

"

Great campervan and super friendly and helpful staff! We rented the more basic campervan option for a week and it was everything we needed, plus had the benefit of being a lot easier to drive and park than the giant options of other companies, not to mention it was great value. The full-insurance was also a much better value than other companies. I would certainly rent from Pod again.

5

Service

5

Mechanical

4

Interior

5

Value
M. Williams

Brand Manager

Thanks Lauren - we agree about the insurance - our zero excess for full insurance option certainly allows folks to have stress free holidays - we're glad you enjoyed yourselves!
R. Walshe
, United Kingdom
1 Review
"
The perfect budget camper experience

"

Our experience with pod campervan rental was excellent, we picked up an economy van for a week out of queenstown in October, drove north and south and camped in DOC Campsites. The bed in back was comfortable and everything we needed was included, even a thick duvet to keep us warm in the chilly nights. Was also way easier to drive than those massive slow behemoth campers we overtook on the road! Would definitely recommend.

5

Service

5

Mechanical

5

Interior

5

Value
M. Williams

Brand Manager

Thanks for your review Rory, and really pleased to hear you used the DOC sites! They have excellent facilities in NZ and are often in some of the most scenic locations. Hopefully we'll see you back again one day :)
T. Millwad Jacob's
, South Africa
1 Review
"
What a POD!!!aka my Little Star called Little Whetu

"

I am having an amazing camping experience which is made even better when you see that im am driving my Little Whetu aka star. She is The reliable and outfitted with a pee pod , a fridge and a bed and a stove WHAT!!! All this is just incredible value for money included in this deal , great service from a great team , I have renewed my rental twice I recommend this great company that is new to the industry this means they going to offer a fresh updated perspective. Love that campervan .

5

Service

5

Mechanical

5

Interior

5

Value
M. Williams

Brand Manager

Thanks Tania - and how great that you are finding more things to discover so have to keep extending your holiday! As for the fit-outs of our vans - we've been operating since 2011 and over the years have always sought feedback from our clients about how their experience could be made even better. We have then had the opportunity to implement some of the suggestions which you are now reaping the benefits of in Little Whetu! Enjoy the rest of your trip :)
B. Barbrow
, United States
1 Review
"
A lovely way to explore!

"

We loved our pod! It took us from Queenstown to Wanaka to Haast. And from there to Nelson, then down to Christchurch and much more. We had the freedom to go wherever we wanted, whenever we wanted! We were amazed by stunning views on all the drives and on all our hikes and runs. Our favorite hikes were on the Routeburn track, Roy's Peak, the Abel Tasman track, and exploring around Lake Tekapo. We cooked many tasty meals in our kitchen and didn't eat out once while we had our trusty pod. If you want to do that, be sure to order extra fuel when you make your reservation. That came in handy. We have absolutely adored exploring the South Island these past two weeks!

5

Service

5

Mechanical

5

Interior

5

Value
M. Williams

Brand Manager

Thanks for the awesome review guys :) See you next time.
R. Clapton
, United Kingdom
1 Review
"
Best budget camper available!

"

We had an amazing 3 weeks traveling around NZ in Little Apiti (Adventurer). The vans are great and you get a lot of the things you need thrown in (unlike many rivals) such as chairs, kitchen utensils etc. The bed is super comfortable and it's quite cosy in the back. It does get pretty cold (we went in winter) as I'm not sure there is much insulation but we had a sleeping bag along with the duvet and were fine.

The battery you get with the adventurer model is super useful, the fridge means you can live more off grid and still have plenty of good food and you can charge all your gadgets as much as you want without having to pay for powered campsites.

NZ is so well set up for campervaning. With the fully self-contained pod you can set up on pretty much any gov land and be good, but there are also loads of free campsites, many with toilets, taps and bins. You can also of course pay for proper sites and make use of their facilities like kitchens and swimming pools but there's so much natural beauty to see we didn't bother with any of these.

The van is a little old so can struggle up the hills and the engine isn't super efficient so you end up going through a fair amount of petrol but at this price it's what we expected and didn't effect our experience in any way.

Overall it was one of the highlights of our trip, NZ HAS to be seen by road and we would 100% book with Pod again.

5

Service

4

Mechanical

4

Interior

5

Value
M. Williams

Brand Manager

Thanks Richard - great comments :)