New Zealand
Editors Review
Last Updated: 10/6/19
Rental Car Village is a family-owned motor vehicle business in New Zealand that was established in 1938, but later diversified into the rental business in 1997. With almost 2 decades of rental expertise, the company brags of its cheap rental rates and basic yet personalized fleet.
About Rental Car Village
Being in the rental industry since 1997, Rental Car Village appears to utilize a unique marketing strategy by having different brand names, apart from their main business name, which is Rental Car Village. Their two other brand names— Hokianga Campervan and New Zealand Campervan Rentals, are all part of Rental Car Village, providing the same fleet, same rental rates and same contact numbers. The odd way of marketing publicity may have kept their business on top of others, but it can certainly be misleading, especially for those who would never delve into some in-depth research.
Though Rental Car Village has put serious efforts with their tacky online advertising, they have kept a low-profile with regards to their fleet. In fact, they have uphold their tag line of 'no sign writing' or no advertising on their vehicles' exterior for many years. And because of this rather unique fleet, the company is one of the cheapest campervan and car rentals in New Zealand. However, be reminded that you only get what you pay for and nothing more! Each campervan features the basic camping amenities such as cooking & dining essentials, gas cooker, power connection, hanging light, power board, awning, water bottle and mosquito net. So, it's technically an economical campervan a very cheap rate. They have two branches in NZ—in Auckland and Christchurch. Go freedom camping at different NZ districts by knowing the rules beforehand.
Fleet
With only two choices on hand, you can have your campervan selection after a minute or two. Rental Car Village has a limited fleet, giving travellers only two 2-berth campervan choices: the Micro Campervan and the Economy Campervan. Aside from the campervans being offered, there is also a car rental, run by a Sedan or Station Wagon. All these campervans feature a folding double or two single beds, awning, and a tent that can be attached to the rear door, and a mosquito net for a more peaceful retreat with some fresh breeze. At night, you can plug in the 240 volt power connection in a holiday park powered site, giving you access to use the hanging light and charge the fridge and any other electrical devices. However, since these vehicles are economical campervans, just be ready with certain drawbacks such as no CD players and hard mattresses. These downsides may annoy you all throughout the trip, so it's best you know them ahead of time. And to make your New Zealand road trip more convenient, there are optional extras like ice box, linen pack, solar shower, GPS, and the like, at an additional fee.
Vehicles
Micro Campervan
To begin with, Micro Campervan is a 2-berth campervan but can belt up to five people. The automatic vehicle is operated by a Nissan AD Van, with all the basic essentials. This may be pretty small compared to other campervans on the road but it's quite enough for two via its folding bed. Plus, storage area is provided under the head of the bed and an awning that can be attached to the rear door. Detachable curtains are also provided for privacy. With the 240 volt that you can connect to holiday parks, you can charge your appliances and use hanging light.
Economy Campervan
On the other hand, the Economical Campervan, run by a Mazda Bongo, is also a 2-berth campervan but with three seatbelts. Unlike the previous campervan, this model offers both automatic and manual model. Plus, it features a double gas cooker and a fixed table. Aside from that, there are also additions like day sofa, ground sheet and cabinet with a folding table.
Insurance
Rental Car Village imposes a standard excess of $3,000. Just like other rental companies, you can also limit the liability by paying a certain amount per day. For all their vehicles, whether campervans or cars, you can have a zero excess if you opt to pay an additional $22 per day. Of course, it's preferable to pay the additional amount for an easy going holiday.
Reputation
Rental Car Village is typically given a 5- 9 rating, which is quite good for a well-established company. However, there were a couple of bad reviews that revolved around same issues like very hard mattresses and overly-basic interiors. But all in all, Rental Car Village is a nice pick, taking into consideration its very cheap rate, with no hidden costs. All their campervans provide all the basic camping essentials and only differ in certain aspects like the vehicle model and some additional features. Most of their campervans offer great gas mileage, but compared to other models on campgrounds, their fleet seem to be very old-fashioned and offer no frills. Literally, a basic campervan hire that will bring you safely to your destination, which is the campervan's main purpose! However, this company might not be for everyone, especially if you want a more glamorous road trip. But if you want to save heaps of money, you can definitely consider them.
Summary
Rental Car Village is certainly a 100% budget campervan hire company that offers ultra-plain exteriors and interiors. There might be a few things left out when it comes to the camping essentials, but the company is a good catch for travellers looking for an economical road trip in New Zealand.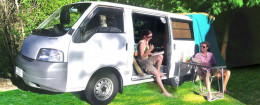 From the Agency
No word from this agency yet. Come back and see if they checked in soon.
Pros
Long-running rental experience
Cheap campervan rates
Meant for two, adventurous travellers
Fleet of 300 campervans
Cons
Not suitable for super tall travellers
Old-fashioned models
Simple mattresses and super basic interiors
See who else rents Campervans in the same cities
Instant Price Comparison
Just Got Questions? Want a Quote direct from the company?
Fill in this form to contact the Agency direct.
Write Your Own Review
Tell the world about your experience renting from this company
1 Review
"
Think it twice

"

You will feel attracted by the prices of the rental, comparing to the others it is really low. However I would like to tell you it will be perfect only if you don't experience any problem with the car. If you do you would be wishing you rented in another company. They are not really into customer service, the owner, Grant, is the one who will answer you in a rude and aggressive way like he really doesn't care. Or maybe he will ignore you. At the end you will be paying for any problem the car will have,

In my case the car just stopped working. I couldn't turn it on, all of a sudden, not even a light was working. I had to call the assistance. When they arrived the guy could turn it on and it seemed the car hadn't any problem.Apparently. They charged me the whole cost as if the car had a problem. I argued with the assistance and with Grant, the last one said to me this was a non-mechanical problem and it was on me to pay. I told him there was not such a problem at the end but he was completely ignoring my point. Do not count on him if you have a problem.He will just do what is best for him. His cars are old and they have "issues", as in my case was a "ghost issue", which are hiding mechanical issues. He will deny that in order for the customers to pay.

Believe me, not a recommended place to rent your car. Go with professionals.

1

Service

1

Mechanical

1

Interior

1

Value