New Zealand
Editors Review
Wicked Campers NZ operates under the multi-national campervan hire, Wicked Campers, which operates all over the world— USA, Canada, Europe, UK, Australia, South America, Africa, and Japan. This particular budget-ranged company offers uniquely painted 2, 3 and 5-berth campers in New Zealand, with locations in Auckland, Christchurch, Queenstown, and Wellington.
What Wicked Campers NZ Tells Us
Operating under a head company, Wicked Campers NZ is a popular choice among budget travellers wanting to roam around the country through a campervan. The company is known for its economical campers that come with unique exteriors and some basic camping necessities. Their Price Beat Guarantee sets off their lacking features, as well as their rather unique and unconventional vehicle branding.
And when we talk about unconventional, we are referring to informal slogans plastered all over the vehicle, which might not be suitable for sensitive travellers. Well, the company may have fully lived up to its name— wicked.
Fleet
Wicked Campers NZ has a wide range of campervans on fleet, ranging from their funky 2-berth Mystery Machine to their adventurous AWD Campers. Definitley not the newest models on the road, their vehicles are still creating a buzz with their flamboyant exteriors. Most of their campers are uniquely painted with catchy exteriors that will surely turn heads during your road trip. Some campervans are sprayed with funny slogans, and sometimes sexist graffiti, which could be very exciting or embarrassing to drive around.
Aside from the unique exteriors, each camper already comes with some basic camping necessities like kitchen essentials and a bed. But think twice because you are not provided with linens. The campervans are not self-contained by the New Zealand standards, so you need to pay for caravan park fees and may have limited access to some free-camp spots. And unlike the normal campervan hires on the road, where your vehicle is already provided with full tank upon pick- up, Wicked campers is quite distinctive as you will pick- up and drop-off the vehicle empty.
Vehicles
It's definitely true that Wicked Campers NZ is way cheaper than other rental companies, but this also come with some downsides. You get what you pay for, literally. All their campervans do not supply pillows or clean lining, and if you're unlucky enough, you might just hire a camper with offensive language painted on the inside (and/or outside). Though you can request a discreet one, it still depends on the camper's availability.
Let's begin with their Iconic 2-seater or 3-seater campervan that features an automatic transmission, ample storage area, and a large bed. Instead of a fridge, you are provided with an esky for your food and drinks. Moving on, the step-up 2-berth campervans are Premium 2-Sleeper (No Branding) and Premium 2-Sleeper (Mystery Machine). The Premium 2- Sleeper (No Branding) is a camper that has no artwork, just simple monochrome exteriors. The Premium 2- Sleeper (Mystery Machine), on the other hand, is a charming camper that features funky colors and designs. Both campers are run by modern models, and include an A/C & AUX Input aside from the basic essentials.
Though most Wicked campers have no bell and whistles, the rooftop tent makes everything more convenient and comfortable. The Mini Camper edition includes exhilarating small hatchbacks that come with rooftop tents for a one of kind sleeping experience. There are two options, the 3-seater or the 5-seater Mini Campers that are run by Nissan models— Almera, Cubes or Serena. The Mini Campers also highlight the air-conditioning and power steering inclusion. Whilst the 3-seater gives you option either a plain color or a painted version, the 5-seater provides advanced additional features such as chiller box and more spacious storage.
For an adventurous campervan hire, the best choice is the AWD campers, which allows you to get off the beaten track, and explore the dirt roads that are often miss out on by daring backpackers. The 2-seater or 5-seater AWD camper already comes with auto transmission and unleaded fuel. Though more expensive than other campers on fleet, these campers are expected to be more fantastic because of its striking additions such as kitchenette, camping stove, gas cooker, cutlery, cooking & dining utensils, internal lounge and table.
And of course, travelling during the chilly New Zealand winter needs a tough and reliable camper, and Wicked Campers gives you their ultimate Snow Riders in 2-seater or 5-seater version. The snow chains and rooftop storage box for boards and skis make your winter adventure more fun and exciting.
Insurance
There are two insurance options— the standard liability and the liability reduction B. If you choose the standard liability, the liability is $ 5,000, and you will be charged for the total amount of the bond, which is $3, 000. Should you choose the liability reduction B, you just have to pay an additional $25 per day, and your liability is reduced into $3, 000 for a single vehicle and $1 for multiple vehicle liability. Such option will also entitle you for coverage of 4 extra drivers, 4 tyres, 1 front windscreen, as well as the waiving of the foreign license fee. However, be it known that there are several ifs and buts with the insurance options, so you should read their fine print carefully.
Reputation
Wicked Campers NZ is popular for its well-loved brands of cheap and flashy campervans. Most campers on fleet feature fancy and funny taglines, along with some sexist and offensive graffiti. Though the exteriors could have double entrede, most people would interpret it as something sexually explicit. They are always judged with their campers' exteriors, but the great thing about Wicked Campers NZ is they certainly don't try to be something they are not. Their campervans will either give you the best or the worst road trip in New Zealand. Well, it all depends on how you get a hold of every situation.
And as an ultra-budget campervan hire, you get what you paid for. The basic interiors, the minimal camping necessities, and the stories of breakdowns are just some of the company's downside. There are also certain reviews about bad customer service and low vehicle maintenance. The quality and service of the campers were often brought into question, but Wicked Campers NZ has been very successful in gaining a lot of feedback (positive or negative), giving them edge when it comes to expertise, not to mention the price.
Summary
Wicked Campers NZ has been in the rental industry for many years, and they are known for their economical campers that feature catchy facades. While the flamboyant exteriors made them unique, these have always been a target by some critics. The upside, though, is the company's cheapest campervan deal that will give you the chance to spend more on other important stuff, considering that their basic campers do not come with any specialties. They could be the cheapest but not the best.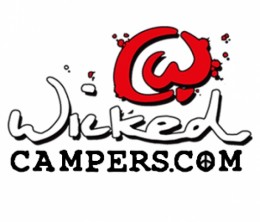 From the Agency
No word from this agency yet. Come back and see if they checked in soon.
Pros
Huge amount of vehicles - rarely book out
Huge amount of campervan styles
For budget backpackers, Wicked Campers NZ gets the job done
The Price Beat Guarantee is a great catch
Fancy and flashy exteriors could be pretty exciting, but definitely not for everyone
Cons
Bad reputation for customer care and maintenance
Bad reputation of renter behaviour
LOTS of wear and tear in the vehicles
Some slogans and graffiti are offensive
Overly basic interiors, with minimal camping necessities provided
See who else rents Campervans in the same cities
Instant Price Comparison
Just Got Questions? Want a Quote direct from the company?
Fill in this form to contact the Agency direct.
Write Your Own Review
Tell the world about your experience renting from this company
1 Review
"
A Big Warning !!

"

Don't get fooled by their cool looking website; beware of this company! They will steal from you!

The long story: I have booked a camper from them in Johannesburg, South Africa. The pickup process and whole rental experience were a bit doggy. The pickup was not close to the airport as advised but in a residential area somewhere in Jo'burg. When I left their premises, they couldn't provide me with any papers regarding the car and when refueling, I had to find out, that the petrol was leaking. Besides that, the car's battery was that bad, that I needed a jump start every single morning. After four days, I have agreed with Wicked Campers representative on the phone, to buy a new battery.

A few days later, I returned the car, freshly washed and without any damages - including a new battery + the corresponding invoice for reimbursement. That was over two months ago and neither my security bond nor the price for the new battery has been refunded to me. In total, the owe me more less 390 USD!

None of my emails were answered to resolve this problem. I hope this can be a warning for anyone being interested to rent from Wicked Campers in the future. Stay away from them. It's not worth having such a rip-off company ruining your road trip!

2

Service

1

Mechanical

1

Interior

1

Value
1 Review
"
really good experience

"

We used wicked campers for a three week trip from Auckland to Christchurch. Being two 21 year olds, wicked campers were by far the cheapest. Easy process to pick the van up, got a self contained van even though we only booked non self contained (lucky they gave us a free upgrade because we needed it!). Van didn't have any slogans on sides - which we didn't specially request. Van went well, bed was as comfy as expected and van was clean. Got a crack in the windscreen 2 days before we were due to return the vehicle, we called roadside who said we could have it fixed within a few hours or simply return the van with the cracked windscreen as it was covered by our insurance. Returned the van with cracked windscreen, advised the staff who checked out the car upon return and they were fine. Received our bond back within specified timeframe.
We could not fault wicked campers and were really happy we got such a damn good deal.

5

Service

5

Mechanical

5

Interior

5

Value
1 Review
"
Worst Company EVER!!!

"

THE WORST PEOPLE TO DEAL WITH. Dont get tricked by their low price. We hired a van for a week from Christchurch to Auckland. They showed me 3 vans to choose from. I chose the one that looked the cleanest.

Bed - Full of bed bugs and smells urine.

Kitchen area - cocroacks filled

Dont even think of using their cutlery if you have self dignity.

Storage boxes - had leftovers from previous hirers

Gear box - For some reason the van doesnt want to go from 2nd to 3rd gear. this happened within 3 hours into the first day. Called the mechanic, who was someone in Australia, blamed my inability to drive manual vehicles(for records I have been driving manualvehicles for 23 years now). Van was virtually undrivable on the way to Queenstown and we are stuck in the middle of the road.

Retuned the van very next day at queenstown, they were not ready to provide a replacement van or do a refund. Refund can only be done the owner who can only be contacted by email and he never replies. I would rather cancel my holidays than hiring from them again.

1

Service

1

Mechanical

1

Interior

1

Value
1 Review
"
Unique Campervan

"

unique campervan and helpful staff

4

Service

4

Mechanical

4

Interior

3

Value
1 Review
"
Beware of this company

"

I'd just say beware of this company. Booking process was mostly fine, then apparently something in their system duplicated so they tried to charge us TWICE the amount, before we had even arrived in New Zealand or picked up the van. An email pretty much sorted this bit out.

It's the lowest price you'll get for any campervan hire in NZ but you really do get what you pay for.. Not great facilities, dirty, cracked windscreen that they didn't even bother to fix... Don't get me wrong everyone who we dealt with at the depot was really friendly and chilled and thankfully we didn't have any problems with the camper during the time we drove it around NZ.

The MAIN problem with this company was when we dropped off the camper. The lady inspected it and everything was fine and she signed us off. We had even vacuumed and cleaned it to the point where it was cleaner than when we picked it up. It was when we returned to the UK and after about a month and a bit, I tried to contact them about the bond money, which was written in their agreement that they would return it within a certain time limit. They then responded by saying we had CRACKED the windscreen and got some random fine somewhere, so deducted that automatically from our bond money without even contacting us about it. There was no document or evidence or invoice. Luckily I had paid through my credit card, and opened up a dispute with them. Let me be clear that we did not crack the windscreen at all, it was already there when we picked up the camper. So clearly they must've charged the last person who was responsible but didn't even bother to fix it!! Then after about a month, they changed tactics and made up a completely new lie to try and charge us for it. Eventually we got the full refund back.

Basically, just be careful of this company. The price is decent if you don't care about luxury or sleeping comfy for your trip etc. But it seems they are keen to try and scam people out of their bond money by making up things.

2

Service

2

Mechanical

1

Interior

2

Value
1 Review
"
Rip off

"

The vehicles appear cheap. If they know you are from another country they create false charges a couple days after you are gone knowing you will have trouble disputing from another country. We were charged for a cleaning fee which we had already paid for of $200 because we left a bag with two apples in the car. We were charged $800 for a dent in the top of the car that was there when we rented the vehicle. Do Not Rent From Them!

1

Service

1

Mechanical

2

Interior

1

Value