United States
Editors Review
As the name suggests, Black Forest Westfalias rents out affordable 4-berth VW Vanagon Westfalias for Seattle and the Pacific Northwest areas.
About Black Forest Westfalias
Charmingly restored and converted VW campervans make its way to the Black Forest Westfalias fleet to conquer the Seattle and the Pacific Northwest open roads in a classical van. This family-owned company exquisitely designs each campervan to cater the needs of budget backpackers with two child or travellers in four. As a small rental entity, the owners only have a limited fleet and only one depot.
Fleet
The campervans are compact, swift and creatively created to explore the wilds of the northwest region. As these are older VW units, camping becomes quite vintage but still comfy and reliable. They even drive more like a swift car than a bulky RV because of striking improvements such as better mileage, increased horsepower, and steamed up suspension. The vehicles, however, can only sleep up to 4 adults. But even if there is a shortcoming when it comes to sleeping specifications, each van gets an adorable name like Gretel or Goldie, whom you can fondly call all throughout your road trip. And to add more comfort to your holiday, you can rent out the following: rear-hatch bike rack,roof rack cross bars, canoe with paddles & adult PFDs, propane interior space heater, propane lantern and camp chairs.
Vehicles
1986 Goldie

The Goldie is actually the newest on fleet with a fully restored and re-powered automatic transmission VW Vanagon GL Westfalia. This compact campervan is very easy to drive and park, and can sleep up to 4 adults. Sporting a very functional layout, the unit comes with a propane-powered kitchenette 2-burner stove, refrigerator, and kitchen sink with 14-gallon water tank. The bench becomes a nice sleeping area complete with set of bed sheets, camp pillows and sleeping bags. Plus, the pop-top roof makes your sleeping session more cozy because of its cross ventilation.
1983 Gretel

The oldest on selection, the 1983 Gretel is still fully-equipped and reliable on the road. This Vanagon with an orange exterior comes with a built-in kitchen with sink, stove, refrigerator,and cooking/eating utensils. But of course, do not expect for super stylish facilities and overly spacious layout. Still, the owners have done a great job in designing a practical yet comfortable interior.
1985 Dutch

Relatively newer is the 1985 Dutch, which is also a nimble yet compact camper that drives likes a car. Because of its size, it's easier to park than a normal RV. This one is pretty unique because it polishes an awning for outdoor dining and entertainment. Plus, you are provided with a full cooking array so that you can have a more fun cooking session everyday. Just don't forget to rent out some camping chairs!
1985 Wolf

To complete theBlack Forest Westfalias fleet, we have the 1985 Wolf, This dark and also petite campervan is suitable for those who have hearts for adventure. Designed with a roof rack for your sport gears, you can easily and securely store your things outside. In addition, this unit still comes with a pop-top roof for extra comfort and sleeping area, allowing it to sleep up to 4 people.
Insurance
Get in touch with the company as to the insurance coverage, especially that you are renting a vintage van.
Reputation
Black Forest Westfalias may cater only a limited number of renters because of their quite unique fleet, the company makes sure that they give utmost service to each renter. Hence, they got a good reputation for providing personalized campervan rentals as well as friendly customer service. Plus, their rates are cheaper and reservations are easy. These older units are smooth and reliable from start to finish.
Summary
These are vintage Vanagon models from Black Forest Westfalia will attract simple and smaller families wanting a classical getaway. Not only that, you will certainly turn heads among the crowd of conventional units.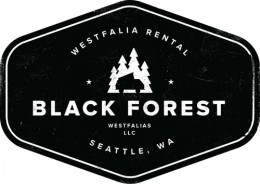 From the Agency
No word from this agency yet. Come back and see if they checked in soon.
Pros
Affordable rental rates
Suitable for smaller families
Exquisitely designed VW Vanagon Westfalias
Cons
Older models on fleet
Limited sleeping specifications
Only one depot
See who else rents RVs in the same cities
Instant Price Comparison
Just Got Questions? Want a Quote direct from the company?
Fill in this form to contact the Agency direct.
Write Your Own Review
Tell the world about your experience renting from this company
Have you experienced Black Forest Westfalias?
Be the first to leave them a review and help others on their journey.