United States
Editors Review
Harvey RV Rentals is a family-owned RV rental established in 2015. Situated in Palm Beach County, this pet-friendly entity rents out personalized RV for a weekend getaway or long family vacation.
About Harvey RV Rentals
This start-up motorhome hire in Greenacres is all about customized rentals, which means you get a motorhome that has a name, from Eugene to Breezy and Winnie to Harvey. That personalized vibe does not stop there because they allow pets in the motorhome. This pet-friendly company even provides free pickup and drop-off from and to Palm Beach International Airport, plus free storage of personal car while you are on travel. A good run for your money, right?
Fleet
Driving these Class A and Class C RVs with personal names are downright fun, and you even get 100 free miles and 4-hour generator use per day. Though the rental fleet is only limited to four RV types, all motorhomes are fully-furnished with full bathroom, stocked kitchen, sleeping places, entertainment center and outdoor awning. If you rent in particular their Harvey and Winnie RV motorhomes, you don't have to bring kitchen utensils and cooking supplies because these are already included in the motorhome.
Vehicles
Eugene

The newest addition to the rental fleet is this 8 berth diesel pusher, a 36' bunkhouse model featuring two slides. As one of the largest motorhomes on offer, this is a great option for touring families. Eugene is a Class A Legacy tailored with a full kitchen with large residential refrigerator, a nice entertainment set with 5 TVs/ DVDs and exterior TV, and an electric awning.
Breezy

Also at 36', Breezy is a Class A bunkhouse suitable for big groups. With a maximum occupancy of 8, this unit furnishes all comforts of home, including a full kitchen, bathroom with shower and toilet, bunks with TVs, rear bedroom with king bed, and an automatic overhead bunk. Uniquely, the motorhome comes with an interior and exterior Bluetooth entertainment for extra convenience.
Winnie

Winnie is a 32' Coachmen Freelander that sleeps 7 to 8 people. Even with its relatively large size, this Class C is very easy to drive. The two slide-outs provides extra interior space while the power patio awning and exterior TV bless you with a spectacular outdoor entertainment. Inside, there's the sofa bed and convertible dinette with 3 seat belts each and a bunk bed with ladder and safety net for the kiddos. To complete the indoor amusement, there are 3 TVs/DVDs provided.
Harvey
Lastly, the Harvey is the smallest motorhome with a sleeping capacity of up to 7. This is popular among medium-sized groups but can easily be booked out because of the limited local availability. At 27', the unit is easy to maneuver and park, plus it comes with a portable gazebo for outdoor shade. To make your stay in the motorhome more comfortable and enjoyable, you are provided with 2 TVs and DVD.
Insurance
First things first, you will be required to provide your own auto insurance as primary coverage of the rented unit. Then, you can add on secondary rental insurance like a supplemental liability package from their partner insurance company at $14.95 per day. The SLI is recommended if you're planning to tow any kind of vehicle to the rented motorhome.
Reputation
Even if Harvey RV Rentals haven't completely carved a name in the industry yet, they still give their competitors a good run for their money. This family-owned and operated company offers pet-friendly, personalized motorhomes at competitive rates. Not only that, you can save a couple of bucks because they provide free pickup and drop-off services as well as free storage of your personal car. Though they have a quite limited rental fleet and most of the options are big motorhomes, you get what you pay for or even more.
Summary
With only four motorhome types on offer, Harvey RV Rentals attracts medium to large families with the help of their pet-friendly and personalized recreational vehicles at fairly good rates.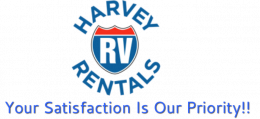 From the Agency
No word from this agency yet. Come back and see if they checked in soon.
Pros
Good rental rates
Personalized motorhomes with names
Pet-friendly
Free pickup and drop-off services
Cons
Haven't completely carved a name in the industry
Limited rental fleet
Mostly big motorhomes
See who else rents RVs in the same cities
Instant Price Comparison
Just Got Questions? Want a Quote direct from the company?
Fill in this form to contact the Agency direct.
Write Your Own Review
Tell the world about your experience renting from this company
Have you experienced Harvey RV Rentals?
Be the first to leave them a review and help others on their journey.