United States
Editors Review
Established in 2012, North Shore RV Rentals is an intermediate family-run, pet-friendly venture that rents out motorhomes, travel trailers, and pop-up campers.
About North Shore RV Rentals
A family-run, pet-friendly business that allows you to take your RV across the frontier to Canada, North Shore RV Rentals started in 2012. This family-run business in Merrimac claims to be the only entity offering RV rentals in Boston north. They rent out their fleet of different RV types for your tailgating weekend or longer road trips.
Fleet
All motorhomes for hire are 2018 models that can sleep couples, small families, and even large groups up to 8. These van-style units are complete with all you need, from kitchen facilities to bathroom essentials. There's a gas generator fitted inside the motorhome so that you can go wherever you want. Surprisingly, they allow you to bring your furry pets inside the motorhome. Rental includes a free 100 free miles per day. They rent out kitchen and linen kits or you can bring your own.
Vehicles
20' Gulfstream BT Cruiser

A brand new motorhome, the 20' Gulfstream BT Cruiser is the suitable option for couples looking for just enough space and size in a motorhome. Sleeping places come from the convertible couch and dinette. For entertainment and outside dining, there's a 32" TV/DVD player and electronic awning featuring LED lighting. This may be the smallest option on the rental fleet, but it way too cozy for two.
22' Thor Chateau

This small 22' RV sleeps up to 5 adults. A Thor Chateau model, the unit comes with one queen-size at the back, cab-over bed, and a single bed from the dining table. Featuring a bigger flatscreen TV with Blu-ray player at the cab-over area, there's an optional exterior TV for outdoor entertainment. The bathroom is located beside the rear bed.
24' Thor Chateau

A slightly comfier Thor Chateau at 24', the motorhome has almost the same layout as the 22' unit but with a nice addition, a swivel chair at the back of the front passenger seat. This one also sleeps 5 with a rear queen bed, cab-over bed for two and transformable dinette bed.
28' Thor Chateau

The ideal of option for families up to 8, the 28' Thor Chateau now comes with bigger layout and space. Accordingly, both dinette and sofa convert into double beds at night. The entire back portion makes up the spacious rear bedroom with queen-size walkaround bed, wardrobe, and cabinets. The unit also provides a full bathroom, a nice kitchen, and electronic awning.
Insurance
For the insurance coverage, you may coordinate with the company during the booking stage and verify if you can provide your own insurance binder. The security deposit for the motorhome rental is at $1000.
Reputation
Even as an intermediate RV business, North Shore RV Rentals have proven to be a good option for those looking for a decent, brand new RV rental in north Boston. Their fleet is composed of 2018 Class C units. Yes, only Class C motorhomes but they have other rental options like pop-up campers and travel trailers. Another good aspect of this family-owned and operated company is their pet-friendly units.
Summary
For renters on the hunt for a late model Class C motorhome, then North Shore RV Rentals can give you a nice, reliable unit that allows you to bring your adorable four-legged pets.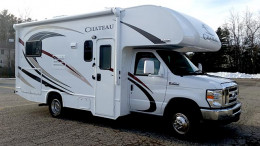 From the Agency
No word from this agency yet. Come back and see if they checked in soon.
Pros
Brand new motorhomes
Pet-friendly
Good reputation
Cons
Motorhome fleet limited to only Class C
See who else rents RVs in the same cities
Instant Price Comparison
Just Got Questions? Want a Quote direct from the company?
Fill in this form to contact the Agency direct.
Write Your Own Review
Tell the world about your experience renting from this company
Have you experienced North Shore RV Rentals?
Be the first to leave them a review and help others on their journey.