United States
Editors Review
Our Editor's review of Road Bear RV US will tell you everything you need to know before renting an RV from them. Don't forget to scroll down afterwards and read the reviews by others who have used Road Bear RV for their road trips...
Overview
Road Bear RV was started over 30 years ago and has since grown to have 7 depots across the U.S. and approximately 650 vehicles. All Road Bear RV's are kept for a maximum of one year making this a premium rental company aimed at those looking for a top quality RV. Road Bear RV supplies 2 berth RV's at 20' up to 7 berth 30' RV's and specialise in German speaking clientele, however, obviously English speaking is just as welcomed. RV's are made by Coachmen and Thor.
The Skinny
Road Bear RV was bought out 100% by THL at the end of 2010. THL are a massive campervan rental company listed on the New Zealand stock exchange that dominates the Australian and New Zealand markets with brands like Maui, Britz and Mighty Campervans. THL also recently bought out 100% of El Monte RV's so you can expect Road Bear RV's to be passed to the El Monte fleet in the future rather than being sold back to market.
What Road Bear RV Tell Us
Road Bear RV rentals like to be associated with words like "exquisite" and "classy" and with 650 new, top of the range RV's entering the fleet each year we tend to agree with them. This reviewer's last inspection of the RV's on the lot in Las Vegas had random vehicles still with the plastic on the chairs and mattresses that came straight from the manufacturer. The only miles on the clock were that of driving the RV from the manufacturer in the Mid-West to the LV depot.
The other thing Road Bear RV rentals like to be known for is customer service. They're not happy if you're not happy and this is taken very seriously, not some slogan to throw on a bumper sticker. No customer is allowed to leave the lot after a return is made without all issues being completely done and dusted.
Oh and don't forget complimentary transfers to/from the depots, but each city has its own exact specifications so check them out per city.
Fleet
The Road Bear RV rental fleet consists of RV's manufactured by Coachmen and Thor, with around about a 50/50 split between the two. They have all the latest design mod cons, including slide outs, latest bench space design as well as some generous sized bathrooms. There is very little branding on the fleet, with a simple logo, name and web address on the back.
The fleet currently operates with around 650 RV's all of which are 1 year old or less, making this a premium quality company. All RVs come with a generator permanently installed.
Vehicles
20-23' RV - 4 berth
The smallest RV in the fleet is the 20-23' motorhome. It has a permanent Queen bed set up in the rear and another over the drivers cab. This is the standard setup for most RV's across the USA. Also, there is the dinette bed that turns the the dining seats and table in to another bed but generally only suits shorter adults and children. Road Bear RV mainly promotes this RV as a 2 berth because of the living space. In fact this model is most popular with couples even though technically it can accommodate 4. V6 engine is a bonus – using less fuel than many of the other V10 and V12 RV's that are out there.
This model is becoming increasingly popular with european renters and Road Bear RV moved from having only 10 of these in 2016 when they were introduced to 50 in 2017.
21-24' RV – 5 berth
Similar in design with a permanent queen bed at the back and another over the drivers cab, the only real difference is a bit more space, the dinette and the engine as this model moves in to the V8/V10 category. This model has a dinette that wraps around at both ends making the bench seat C shaped rather than L shaped as in the smaller model. Otherwise it is stacked with the same amenities including TV, microwave, air con, toilet and shower etc. There is a flip-up extension for the kitchen bench in both this and smaller RV that is very handy for when prepping meals and tucks away nicely when not needed. I like it.
There is also a motorised retractable awning for outside on some models but is not fitted as standard. As with the 20' model, it can seatbelt 6 but is best to sleep 5 (4 adults and 1 child)
23-26' RV – 6 berth
As with the previous models, the '6 berth' moniker is really just a guide as technically the earlier RV models could seat and sleep 6, however, this is probably the first one you really want to rent for six just due to living, sleeping and storage space.
This is where the basic design starts to change a bit as the kitchen is now placed on the driver's side and the side door moved a little further back down the length of the RV. There is extra seating too so not just a dinette but also an additional bench seat behind the driver this turns in to a 4th bed – albeit a small one. Unfortunately the space in the kitchen for preparing meals is no bigger due to the double sink. You will probably have to use the main table to help with prepping food for 6 peeps. The rest of the RV is the pretty much the same as the other rental models in regards amenities of Air Con, TV, fridge, toilet etc.
The main advantage of this model over the previous is the 4th bed so you are looking at 4 adults occupying the 2 queen beds and 2 kids in a bed of their own.
Size is another talking point when renting this RV. Once you get an RV larger than this you are handling a VERY large vehicle. This is as big as I would recommend if you are from Europe, Australia or New Zealand as driving and maneuvering a thing this big it tricky – even more so in the bigger models.
27-30' RV – 7 berth
Ooo – a slide out – yummmm. Listed as a 7 berth with 4 double (or queen) beds available. How is this achieved? With a slide out wall behind the driver that allows the main couch to become a double bed. I love slide outs, they are just so dang cool giving you a tonne more extra space when parked but keeping you road legal when they are sucked back in. That is except when they break down whilst open – that's when they suck. However, in Coachmen we trust (the manufacturer) and so we love this RV model and there is, in fact, a manual retraction option of the slide out - it's just hard to do.
Luxury abounds with the plush leather-like couch and the return bench in the kitchen for prepping meals or just generally a great place to put your beer or wine glass. I also love the layout for the rear bed. Because the shower has the space to be brought forward you have 180 degree views from the rear bed – in fact you get the best view in the house from there. The only slight design flaw in the see through shower door. Whilst the shower door can be partitioned off from the rear bed via a curtain and from the main cabin by opening the large cupboard door to block the hall, if anyone wants to get to the rear bed, or the storage above it, they will need to pass through the "bathroom" that has a glass door. If everyone is family, then this might be alright but if we are talking "just friends" then it can be frustrating for the rear bed owner to be banned from their room whilst everyone else has showers.
Overall though, this is a pretty luxurious model with all the mod cons and safety elements you could want built in, the kitchen is fantastic and the slide-out rocks. There's also an awning for the outside. Downside is the size which can cause handling and parking issues, its a fuel guzzler with a V8/V10 engine and a heavy load to bear and the aforementioned glass bathroom door. I would not hesitate to recommend this as an RV rental if you are comfortable with the size.
29-32' Class A (bus) – 6 berth
RV rental doesn't come any bigger than this!
Similar to the 23-26' RV this model has slide-out joy and 4 beds to pamper yourself with. It is the biggest RV to rent in the fleet and is also the only A class (bus) model Road Bear RV offer.
Inside it is has a bit of different layout from previous models with a lot of hotel-room style given to the main bedroom. Yes, in this RV you can get out BOTH sides of the bed! Have you noticed that as the RV's get bigger you get more room to get OFF the bed? There is also a whopping amount of space dedicated to the bathroom too! And then of course the piece de resistance – the massive slide out kitchen and dinette giving a load more living and food prep space.
All the other stuff that we expect is there of course, generator, air con, TV, DVD etc
As with the earlier RV's the problems with this are size and fuel. This is a bus. If you've only ever driven a sedan, then this may cause you problems. There's a reversing camera to help but the best idea is to have someone jump out and look that you are clear and take your time. Never rush maneuvering these things unless you want to end up $1000 out of pocket when you crunch a panel.
If you are the kind of person that only wants to travel in absolute luxury, then this is the RV for you. Rock Stars would be happy in this. But if you are not comfortable with driving the enormity of this RV then I suggest you go for the 23-26'
Changing Tires – Nope
You are not allowed to change tires on any of the Road Bear RVs. This pretty much goes for any RV that is 20' and over from any Agency. If you blow a tire then you have to call the emergency number given to you and they will send out a specialist to look after it. Whilst there is a spare tire on board, there are no tools to do the changing. If it can be shown that something you did caused it to blow, like driving over a nail or bolt, then you will be up for the costs up to $1000. If the tire shreds and it can't be proven why it happened, then you're off the hook and they take on the costs.
Insurance
The payable by you if you damage the RV is up to $1000. That is, for every time you have an incident, you are liable for the first $1000 worth of repairs, but no more. There is a $1000 pending charge put on your credit card when you pick up the RV.
Road Bear RV have mechanics at their depots who will quote the repairs before you leave so there is no lingering email conversations going on afterwards about getting your bond back and how much of it you are getting back etc. If the damage is deemed over $1000 you pay that much before you leave, if it is less, then all the better and you only pay that before you go.
There are no options to reduce the payable amount. This is a pretty fair system and is common across most RV rental companies in the US. If you have additional travel insurance that covers car rental, you should be able to claim the $1000 back off them (minus whatever the payable is to them).
Other Benefits of Road Bear RV
Apart from being guaranteed an RV that is less than 1 year old there a couple of other benefits to renting with them:
Free Transfers: Road Bear RV offers shuttle busses to hotels after drop off. In Las Vegas, where I visited, the outbound shuttle is at 11am as that is when all RV's should have been dropped off by. There are limits as to how far in to town and to where exactly the shuttle will take you. In Vegas it is mainly just the airport and the Strip hotels.
They will also do pick up to be there for the 3pm start of pick ups.
Early Pick Up: This is an unspoken an un-advertised perk. Your RV may be ready early if it was dropped off the day before. Normally pick up can't start until 3pm so they can refresh the returns from the morning but you should call the night before or morning of pickup to see if your RV is already ready – if it is, they are happy for you to come and get it so the chaos at 3pm is reduced.
KOA discounts: KOA is the largest brand of RV parks in the US, with a Road Bear RV you will get a 10% discount if staying there.
Free Levelers: Road Bear RV also include mounts to put under the tires to help level the RV. The RV performs best and gives the best sleep when it is parked level. Other RV rental companies don't offer this at all, let alone included free.
Summary
Wow what an RV rental company! Road Bear RV certainly have got a luxury company here. I was very impressed with the freshness of the fleet and facilities available of the Las Vegas branch. There were plenty of staff on board to cater for renters as they arrive and the vehicles where immaculate. By far one of the best RV rental companies in the US, but being a premium product you will be paying for it, they are also one of the most expensive.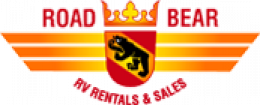 From the Agency
No word from this agency yet. Come back and see if they checked in soon.
Pros
Guaranteed 1 year old or less
Plenty of stock
Good model selection
Luxury, luxury, luxury
7 depots
See who else rents RVs in the same cities
Instant Price Comparison
Just Got Questions? Want a Quote direct from the company?
Fill in this form to contact the Agency direct.
Write Your Own Review
Tell the world about your experience renting from this company
1 Review
"
Very unfriendly staff

"

We discovered to be supposed to pay for miles once there, maybe the online booking wasn't that clear. During the rental, we had to deal with a leakage problem of the dumping tube. Differently from other agencies, we have received no money back for this inconvenient. Moreover, we were asked to pay for having used the generator (we switched it on only once for FEW MINUTES), as well as for propane (we refilled it up to 50% instead of 67%). Last but not least, we were asked 300$ for repairing a screw of the outside stairs, in a very unfriendly way. They pretended to justify the alight discussion with our Italian origin (in their opinion, you have to shut up and pay whatever they ask).

1

Service

4

Mechanical

4

Interior

3

Value
1 Review
"
Do not rent with Road Bear!

"

Roadbear were unethical and disgraceful! They seem good at first but will absolutely over charge on fabricated cleaning fees when you return the vehicle. We spent an entire day cleaning the vehicle after we rented it and they still charged us $700 for cleaning because they found some dust in the kitchen sink?! They told us that we are lucky because others were charged $1800. We've been going to Burning Man for 5 years with other companies and always returned the RV in this condition after a full day of cleaning and have NEVER been charged a cleaning fee (not a single dollar). We also had a faulty lock that broke and we had to pay for our of our own pockets despite the paperwork saying they'd fix and faulty items. I've had no problems with Cruise America previously - try them. Avoid Roadbear. Ganeshka at the San Leandro branch was particularly unhelpful.

1

Service

4

Mechanical

4

Interior

1

Value
1 Review
"
Awesome Customer Service

"

Great RV and awesome service. I made a mistake on booking the reservation and Road Bear RV took full care of it.

RV was clean and luxurious. Thank you Road Bear.

David

5

Service

5

Mechanical

5

Interior

5

Value
1 Review
"
Very Impressed

"

I rented an RV from Road Bear in May and was very impressed. There was everything we needed provided with the camper and everything worked great. There weren't many miles on the clock. I can't remember how many, but not many and everything was still pretty shiny and new. The people at the counter were really nice too and showed us through the whole thing and answered questions. We had a great time in the US and the RV and would use Road Bear again.

5

Service

5

Mechanical

5

Interior

5

Value
1 Review
"
Disgusting

"

Had many problems with things that weren't working ( AC, dvd player..) and the options we got with the booking deal weren't avaible when picking it up. We even got charged 400$ for a 1mm chip in the windshield that was already there when we pick it up and costed 50$ to repair it but didn't let us do it. When we tried to talk to somebody in the main office they either hang up the phone or let it ring forever. Be so careful with them.

1

Service

1

Mechanical

1

Interior

1

Value