United States
Editors Review
As long time Volkswagen enthusiasts, the owners of Rocky Mountain Campervans offers fully-equipped campervans that include camping necessities and even lots of extras for free.
What Rocky Mountain Campervans Tells Us
Rocky Mountain Campervans is a family-operated business with two branches― Las Vegas and Denver, and offers fully-equipped campervans. The range of campervan options caters different budgets and group sizes through distinct camper interiors. The vintage fleet of Volkswagen units allows you to travel discreetly without any hint of renting it out. No trace of marketing slogans or anything fancy. Hence, this may somehow be a downer for posh travellers. Still, these relatively old units are stocked with essentials and even extras for a comfy and one of a kind adventure. Not only that, you may be able to tag along your pets!
Fleet
On the lighter side, all models, except the Tin Tops, feature a pop-up roof that creates room for at least two persons. Most of the vehicles are automatic transmissions, though there are also manual units, if you prefer such. The Full Campers can sleep up to 4 and still leave plenty of storage for your stuff. The Tin Tops, on the other hand, are suitable for couples or budget backpackers up to 2. As to the campervan inclusions, the company sees to it to provide all the essentials and even extras like assorted cookware, pots and pans, blankets, sleeping bags, camping chairs, clothes line, outdoor rug, deck of cards and so much more. Though there's no built-in shower and toilet, each van comes with a shovel or small spade so that you'll leave with no trace and a water sprayer for outdoor rinsing. They also rent out portable potties, if you want. At night,no need to plug-in for electricity because that's what your propane and battery are for! Just make sure to charge the camper battery every time you drive.
Vehicles
2017 Pro-master Pop-Top Luxury Camper
The most recent of all pop-top campers, the Dodge ProMaster is also the most luxurious option on fleet. The unit is, of course, smaller compared to large motorhomes, but the sleeping places are enough for 2 adults and 3 children because of the custom pop-top that creates 7′ additional height for standing up. Inside the vehicle, there's a large bed and rear bench that unfolds into a another bed. The full kitchen comes with a dual burner, sink with hot water and fridge/ freezer. Off the rear of the camper is an exterior hot water shower. And for your convenience, there's a stowable toilet with automatic bagging system but with no black water. Because this is the fanciest campervan on selection, you will enjoy the custom wood finished layout.
Eurovan Full Camper

This modern member of the fleet is slightly older ranging from 1993- 2003 models. But this one is the most versatile option, featuring a thermostat for climate control and plenty of ventilation for the varying season.The Eurovan Full Camper has a length of 17', allowing it to cater up to 4 people. The interior storage is never a problem- from wardrobe closet to storage under the rear bench and more. Also, the stainless steel sink, counter top, gas stove, silverware drawer and adjustable tables make it more convenient for your cooking and dining sessions.
Vanagon Full Camper

The Vanagon Full Campers are 1980- 1991 Vanagon Westfalia Camper T 25. The age may be a disappointment but the company goes the extra mile to maintain these old yet clearly attractive units. Each Vanagon camper comes in distinct colors and interiors, plus all of these models are complete with all essentials of a camper such as beds, sink, refrigerator, stove and more. So if you want to have unique road trip, renting charming, vintage model like the T25 is recommended.
Vanagon Weekender

Another VW T25 but newer with fittings, the Vanagon Weekend is another stylish and fancy member of the vintage fleet. Seating up to 6, the vehicle provides sleeping places in the pop-top and convertible table for a total of 4 people. For the comfort of everyone on-board, these campers are equipped with kitchen amenities such as sink basin, stove, cooler, propane, cabinetry, and a lot more.
Eurovan Weekender

The Eurovan Weekender units are the same age with the Eurovan Full Campers but will smaller length at 15′ 8″ instead of 17'. Accordingly, the vehicle is a nice alternative in case the full campers are fully booked. This one features a room for 4 to sleep with included essentials like propane, cooler or fridge, 2 burner stove, water jugs, sink with storage and solar shower. Despite of the restricted length, the foldable rear bench transforms into a bigger second bed.
Tin Tops

These Eurovan Tin Tops are great for budget backpackers. With no pop-top, the units can sleep up to 2 only at the foldable rear bench. To add more space inside, you have the option to remove the two jump seats positioned behind the front captain chairs. These 1993- 2003 VW T4s are also ready for a unique adventure through its useful kitchen and sleeping facilities.
Insurance
The company requires a $1000 security deposit at time of vehicle pick up. For the insurance, you have the option to provide your own insurance coverage with inclusions of liability, comprehensive and collision. For those who cannot provide their binder, the insurance rate is $5.95/ day. This insurance already provides a minimum statutory liability coverage with $1000 deductible per occurrence. Additional insurance coverage options are the SLI for a liability coverage up $1,000,000 at $15.95/day, Collision Coverage depending on rental price to increase the coverage up to $75,000 for vintage campers and $200, 000 for modern campers, and SLI with Collision for the SLI cost reduced to $10/day and cost of collision coverage.
Reputation
Rocky Mountain Campervans caters a specific market— budget travellers who need a simple yet one of a kind vintage adventure. Particularly, these are not great for fancy travellers as the units have no high-end facilities. Their fleet of vintage VWs uphold their tagline— be a traveler not a tourist.
Summary
With a fleet of old yet fully-stocked campervans and two branches, it's not hard to fully enjoy the Rocky Mountain adventure. Just make sure you are open for a slightly rugged road trip with few pit stops!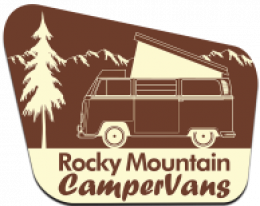 From the Agency
No word from this agency yet. Come back and see if they checked in soon.
Pros
Two branches: Las Vegas and Denver
Range of campervan options
Fully-stocked campervan
Some pet-friendly units
Cons
No high-end facilities
Not great for fancy travellers
Mostly vintage Volkswagen units
See who else rents RVs in the same cities
Instant Price Comparison
Just Got Questions? Want a Quote direct from the company?
Fill in this form to contact the Agency direct.
Write Your Own Review
Tell the world about your experience renting from this company
Have you experienced Rocky Mountain Campervans?
Be the first to leave them a review and help others on their journey.