New Zealand
Editors Review
Last Updated: 9/18/19
Hippie Campers New Zealand is aimed at the budget and youth market so they allow drivers aged 18 to 21. They only supply 2 berth, 2/3berth, and 4 berth campervans, with limited depots only in Auckland and Christchurch―but what they supply is well worth looking at.
About Hippie Camper New Zealand
Hippie is part of the Apollo family of campervans so you will be picking the camper up from a depot branded with Star RV, Apollo, and Cheapa Campa. Apollo is one of the largest campervan and motorhome rental companies in the world with vehicles in Australia, New Zealand, and the USA and are listed on the Australian stock exchange.
Hippie exudes a vibrant and youthful feel. They want your road trip to be fun and exciting and they suggest many ideas on what you can do. They have even teamed up with a New Zealand adventure company to get discounts on activities around the country, called the Hippie Club. Sometimes these discounts are actually worth it and really save you money, other times not so much, but at least the ideas are there to see.
Hippie is trying very hard to value-add to their brand. The vehicles they supply realistically can be found at many campervan hire companies so how are they going to be better? First, the Hippie Club gets you discounts on New Zealand adventures as well as 10-15% Discounts at caravan parks. Second, you can utilize the web check-in before you get there, though you still have to sign stuff when you get there. Well, Hippie NZ wants you to know they are 'cruzy' and cheap whilst at the same time giving quality for your money. So, in general, you won't be disappointed when approaching a Hippie rental with this in mind.
And to ensure that you follow all the NZ camping rules, check this very useful website ahead―NZ free camping tool ―to know the do's and don'ts per district that you are visiting.
Fleet
Hippie is keeping it pretty simple for a company with such financial might behind it by going with only 3 models of campervan - the Hippie Drift (budget model), the Hitop (deluxe model), and the Hippie Endeavour Camper (recent addition). What's the main difference other than price? Budget equals low roof is the biggest difference. Further, there are going to be slight differences between campers over the years as they are produced, so keep an open mind that some things might be different with the camper you get. For a budget campervan hire like Hippie who rents out vehicle aged over 5 years, DO NOT expect everything to be perfect and shiny. Of course, there will be wear and tear - that's why they're cheap!
One of the best things about these budget models though is that these come with a fridge in it. Well, the other option of an esky (cooler, chilly bin) with ice in it is not as good as having a fridge. Apart from the $7 per day you spend on the ice, the melted ice inevitably ruins some food that doesn't take well to water so a fridge is a great bonus. It runs off the house battery that also powers lights so don't worry about it flattening your campervans engine battery. Not only that, you can even bring your pet inside the unit. So, for fur parents, the Hippie campers are great options.
Vehicles
Hippie Hitop
Hippie Campers has introduced a Hi-Top and being their "deluxe" model say they are 0-3 years old. This is stepping up the range to compete for the dollars of those travelling on less modest budgets who want a bit more comfort and style. Hi-Tops allow for full, upright standing inside the campervan. You can't do this in the Budget models. Nimble young-ens on a tight budget generally couldn't care less about this element, but those choosing a bit more comfort or who are a bit older will love it. Being able to stand up makes a camper a lot more "homey" and less like tent-living. The interior design is fairly standard. There are only about 4 designs that pretty much everyone uses in 2 berth campervans and this is one of them. Fully-internal kitchen means easy cooking no matter what the weather and a bigger water container mean less running out at the wrong moment.
Hippie Drift
The Hippie Drift is the budget model that caters 2 people only as there are only 2 seat belts, both in the front. There are no seatbelts in the back and children under 8 cannot travel in this camper. Built on the ubiquitous Mitsubishi Express it is actually decked out pretty well for a budget van. The seating and table arrangement is good, there's a safe and a nice addition of some roof racks which most companies don't have also an awning is thrown in as inclusion which is rare for a budget 2 berth campervan. If you're on a surfing safari the roof racks and the awning are going to be a bonus. The kitchen is at the back of the campervan, as is the case with pretty much all budget vans, so you have to open the back flip-up door in order to cook, wash etc, but snacks can be obtained from inside by leaning over the back. Hippie seems to still be transitioning out of some older style vans (the ones that have flowers painted on them) to a newer paint job and model style, however, the flower ones are still definitely floating around in the fleet. If you arrive to pick up your Hippie Drift and it has flowers on it, you know you are getting an older model camper.
Whilst the Hippie Drift is cheaper to rent upfront, if you are in it for a long distance, keep in mind that its fuel efficiency is not as good as the Hi-Top so over a long journey it might end up costing a little more to run. This seems counter-intuitive due to a lower roof, less wind resistance right? Wrong! An old Mitsubishi engine is not as efficient as a Toyota new one.
Hippie Endeavour
Most Hi-Tops in New Zealand are based on the Toyota Hiace (at least the good ones are) and this is no exception. The 4 berth Hippie Endeavor is nicer to drive than other budget campervans, with its comfier driver's seat and bit quieter engine, if nothing else. A bigger fuel tank and better fuel economy will also mean fewer petrol costs. Not only does it have better mileage, but you won't be forced to stop at that super-overpriced petrol station as you should have enough to continue on to the next town. If you are doing a long journey (say Auckland to Christchurch with detours) then better mileage is something to consider even if the campervan costs a little more to hire. Saving around 30% on fuel bills really add up on long road trips The hi-top can accommodate up to 4, with options for 2 baby/ booster seats. So, if you're planning to tag along with your kids, this one is the most suitable option without breaking the bank.
Insurance
The insurance liability/ security bond is $3000, which is payable thru credit card (bond admin fee of 2%) at the time of pick-up. Reduce the liability to $0 and security bond to $100 by availing of 'The High Road', which is an additional of 29/ day, with. This additional payment or the reduction option also includes camping table, chairs, baby/booster seat, extra driver fees, and pre-purchased gas bottle. IF you want to include windscreen and tyre damage, you can pay $7/day capped at 25 days.
Reputation
In general, the maintenance and general appointments of a Hippie Camper interior are good for the price range. The other distinct advantage is that even the budget version comes with a fridge and an electric water pump. Most the others in this price range are going to come with an esky (cooler box, chilly bin), which is a pain as you are constantly having to find ice supplies and the ice melt will inevitably ruin some food. The difference between Hippie Campers Australia and Hippie Campers New Zealand is negligible, so if you are researching one, you are researching the other at the same time.
It is quite sad that a campervan hire company with such might as Apollo has only set up 2 locations in New Zealand for campervan and motorhome hire. Apollo has approx. 730 campervans and motorhomes on hire in New Zealand that can only check-in and out of 2 places - this makes for a VERY busy depot. Be prepared to wait even WITH the web check-in.
Summary
Hippie Campers are a good hire in their price range but are still only providing the essential services in a campervan. With recent improvements in the fleet, it is now one of the leading budget campervans hire companies in Australia and New Zealand. If you are restricted in the budget, then this is definitely one to get a quote from. If they come out a few dollars more expensive than their competitors, then it is probably worth it for the comforts provided.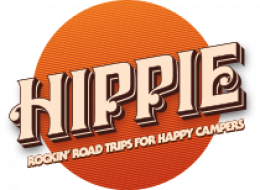 From the Agency
No word from this agency yet. Come back and see if they checked in soon.
Pros
Reputation for being clean & new
Good interiors
Cheap and cheerful
Pet-friendly units
Cons
Pricier end of "budget"
Quickly book out in high season
Only 3 models to choose from
Reputation for long delays in returning bond
See who else rents Campervans in the same cities
Instant Price Comparison
Just Got Questions? Want a Quote direct from the company?
Fill in this form to contact the Agency direct.
Write Your Own Review
Tell the world about your experience renting from this company
Have you experienced Hippie Campers New Zealand?
Be the first to leave them a review and help others on their journey.