New Zealand
Editors Review
Last Updated: 10/9/19
Nomad Campervans is aimed squarely at the budget-minded traveler. If you are researching campervans for hire in New Zealand at low rates, Nomad Campervans is worth a look.
About Nomad Campervans
Nomad Campervans is far different from Nomad Rentals in NZ (check out their review here). (Update Feb 2019 - Nomad Rentals has changed its name to Adventurer Rentals to avoid the confusion that was going on with the Nomad name. However, this company, Nomad Campervans, has kept the Nomad in its name).
This one is larger and offers a bigger selection of vintage units. But it's obvious that Nomad Campervans has no desire to be all things to all people. They operate two rental depots— in Auckland and Christchurch. They're all pretty easy to get to, but if you're flying in from out of country you'll have to get there on your own. Unlike many of its competitors, Nomad Campervans doesn't offer transportation from any of New Zealand's international airports. But, did you know that this campervan rental company accepts Bitcoin as payment? Yes, and this unique payment scheme saves you from certain credit card transaction fees!
And to ensure a cosy and convenient road trip, keep in mind the freedom camping rules that vary per NZ district.
Fleet
Before, Nomad Campervans offers a fleet of mostly older campervans, from 2007 to 2008 age models. They even have a 1985 camper for vintage lovers. As they evolve, this budget-based rental no offer some modern and quite polished campervans for hire. Even with the additions to their fleet, every campervan at Nomad Campervans is well-maintained and fully kitted for the road. Plus, each one is fitted with a security system so you can explore New Zealand with peace of mind. You can choose between petrol or diesel-fueled vehicles, but every one of the campervan for hire at Nomad Campervans operates on a manual transmission. Bear this in mind if you have trouble driving a stick shift. And, most of these units are VW vehicles and two Fiat Ducato base models. But the great thing, all units come with the self-containment sticker for freedom camping.
Vehicles
Renault Odyssey 2 Berth

The latest addition to the Nomad fleet is this automatic Renault Master that comfortably sleeps up to two. Featuring a 2.3-litre dCi diesel engine, this 2017 campervan model suits well on both rural and city roads. As the newest camper on offer, you can expect for some upgraded features, including 110hp power output, multi-function trip computer, and 12-volt auxiliary power outlet. Plus, the rear area comes with a versatile space. At day-time, you can easily relax and dine in using the two side seats with a removable table. Then at night, you simply remove the table and lower the hydraulic drop-down bed. On the other hand, both kitchen and bathroom areas are positioned at the front.
Volkswagen 2 Berth Sleepervan
A budget vintage unit for couples, the Volkswagen T5 2 berth campervan is actually a versatile vehicle as it features an optional rooftop tent for extra passengers. Hence, this 2007 campervan is suitable for two adults and even up to three children because of the rooftop tent on top and the elective hammock slides that can be fitted into the passenger cabin for another extra berth. The spacious double bed inside is for the adults while the roof tent with sleeping mattress and the hammock are for the kiddos. The campervan kitchen has all the standard facilities you need for your cooking session. The slide-out drawer underneath the bed frame is a nice storage for your kitchen tools. The only flip side of this small sleepervan is you don't have enough headroom when standing up.
Volkswagen 4 Berth Sleepervan
The 2008 VW T5 4 motion is either a 2 or 4 berth campervan because of its optional canvas rooftop tent. So, it can be an option for couples or starting families with two kids. Since the rooftop tent is pretty large, it can easily accommodate the kids or even two adults. However, since this is just a sleepervan with no pop-top, standing up inside the main cabin can't be done. Still, the unit can provide you with fantastic outdoor views as well as brilliant air-flow.
Volkswagen 2+1 Berth Hightop
This snug ride that will seat 3 people is a 2007 VW Hightop. The campervan features the traditional L-shaped kitchen with a gas stove, microwave, fridge, and cooking facilities. The dinette caters all passengers in transit and converts into a double bed for two. The slide-out space in the roof loft is more than enough to sleep another adult or act as extra storage area. This compact campervan is a fuel-efficient and reliable vehicle, but they're far from fancy.
Volkswagen 4 Berth Poptop
A 2008 VW unit in a 5-speed manual with an average of 10 litres per 100km, this simple Volkswagen Poptop is another great option in the 4 berth group. The elevating pop-top gives ventilation and extra height space. The full-width bed is perfect for two adults while the pop-top for the kids. Don't worry because the upper bed is equipped with a comfortable sleeping mattress. Unlike the crowd charmer VW Classic, this one is a bit low-key, allowing you to travel discreetly.
Volkswagen 4 Berth Poptop Classic
Driving a bright, vintage campervan is surely an attention-seeker. This 1985 VW T25 Caravelle pop-top campervan is ideally for a merry ride of two adults and two children. Explore the NZ routes with this smooth, automatic transmission, with no power steering though, and enjoy the kitted out facilities inside the main cabin such as the double bed, Westfalia kitchen cabinetry, inner dining table and sleeping essentials. And, of course, the pop-top makes your trip extra comfortable!
Fiat Ducato 4 Berth
One of the two Fiat Ducato models on fleet, this 4 berth Discovery motorhome is a breeze to drive and features all you need for a comfortable vacation on wheels. This 2016 unit comes with cozy accommodation for four—permanent low down double bed and drop-down double bed from the ceiling. Some unique features of this motorhome are the solar panel, bike rack, window blinds, fly screens and the power steering. The galley kitchen is kitted with oven, 3 burner gas stove and grill, and fridge.
Fiat Discovery 5 Berth
Lastly, we have the 5 berth Discovery with a maximum of 4 adults + 1 to 2 children. The motorhome features a fixed low bed at the back and another drop-down bed from the ceiling. This 2016 unit is recommended for your kids as the entertainment system is way attractive with TV/ DVD (playback only), MP3 AM/FM Bluetooth and radio. Plus, the comfy seats can brighten up their grumpy mood. In addition, the reversing camera makes your trip more convenient.
Insurance
The standard insurance excess, which is included in the rental rate, is NZD $2,000 for drivers over 25 years and NZD $2500 for drivers 18-24 years (campervans) while NZD $5000 for drivers over 25 years and NZD $6000 for drivers 21-24 years (motorhomes). This basic coverage does not cover glass, windscreen or tyre damage. There are three reductions on offer that will reduce the excess and include windscreen and tyre damage as well as any single-vehicle accident.
Kick Start— at NZD 25/ day, maximum of 50 days, excess of NZD $1500 for drivers over 25 years and NZD $2000 for drivers 18-24 years
Over the Hump— at NZD 30/ day, maximum of 50 days, excess of NZD $1000 for drivers over 25 years and NZD $1500 for drivers 18-24 years
Piece of Mind— at NZD 35/ day, maximum of 50 days, excess of NZD $250 for drivers over 25 years and NZD $500 for drivers 18-24 years
Reputation
Is Nomad Campervans a good choice for everyone? No. If you're traveling as a family or in the market for a luxury campervan, this is not the company for you. But if you're an adventurous, budget-minded traveler wanting to explore New Zealand on the cheap side, then you might want to take a look at their fleet of late-model campervans and quite new selection of motorhomes. And, their customer service is a gem and it might be hard to find friendlier and more personalized service, especially if you rent from a bigger rental corporation out there.
Summary
Nomad Campervans can give you the best budget option for classical and soulful campervan hire. This family-run business is something to consider if you're up to a family NZ holiday at an affordable rate.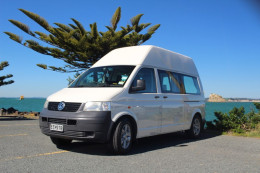 From the Agency
No word from this agency yet. Come back and see if they checked in soon.
Pros
Budget-based rentals
Well-equipped motorhomes
Friendly and personalized service
Great reputation
Cons
Mostly older campervans
Not meant for groups more than 5
See who else rents Campervans in the same cities
Instant Price Comparison
Just Got Questions? Want a Quote direct from the company?
Fill in this form to contact the Agency direct.
Write Your Own Review
Tell the world about your experience renting from this company
Have you experienced Nomad Campervans?
Be the first to leave them a review and help others on their journey.