New Zealand
Editors Review
Last Updated: 8/31/19
Star RV is the luxury motorhome company in New Zealand that treats their customers like stars. If you're looking for a luxury holiday behind the wheels of the newest 2 to 6 berth motorhomes on the road, Star RV gives a decent and elegant fight.
About Star RV New Zealand
Star RV is a division from Apollo Tourism & Leisure Ltd., who originate from Australia. They specialize in luxury motorhomes that are 0-3 years old. They claim that they are the only motorhome company to guarantee that every vehicle in their fleet is under a year old. This is a big aspect of their brand and image, and it matters because newer vehicles are much less likely to have mechanical faults and more likely to have good, clean interiors. Their other big emphasis is on customer service; they offer a complimentary valet service, complimentary transfers from airport to branch and vice versa, complimentary linen exchange, and expedited vehicle pickup and return.
Fleet
Star RV's New Zealand range is rather small in comparison to their North American options, with four models available, ranging from 2-berth through 4-berth to 6-berth. This is no bad thing, as it means that the staff is likely to have more detailed knowledge of each model in case anything goes wrong. All the vehicles are manufactured in Brisbane by Apollo's production company, TALVOR, and built on VW or Mercedes bases.
Each vehicle is equipped with an entertainment system consisting of a flatscreen TV, DVD player, CD/radio and an iPod docking station, and linen is supplied with every hire. In keeping with Star RV's 'luxury' branding, all vehicles have both air conditioning and heating in the driver's cab and main cabin; in hot summers or cold winters, this can be a godsend! Additionally, some companies charge for camping and picnic furniture, or satellite phones and GPS units, at a day rate; Star RV offer them for hire with vehicles at a one-off cost.
More than the camping equipment, you should also check the rules of the NZ district/s you're planning to explore. Take advantage of this impressive NZ free camping tool that comes with all the important guidelines per district.
Vehicles
Aquila RV

All of Star RV's NZ vehicles are motorhomes, rather than campervans, which mean they have internal walkthrough access to the driver's cab. A 2-berth motorhome is unusual, but the Aquila RV is one — and makes it known with the size! Featuring onboard kitchen and bathroom facilities, it's significantly larger than most 2-berths, which has its pros and cons: most importantly, it's spacious, but also trickier to handle. Ultimately, whether the Aquila is for you will be determined by budget, and how much space you really need as a couple or lone traveller. It's equipped with two seatbelts in the cabin (no space to fit a child seat, so this isn't one for families) and one large double bed at the rear, which converts from the living area at night. The kitchen has a 3-burner gas stove with sink (hot and cold water) and microwave, plus a 62-litre fridge-freezer.
Pandora RV

The 4-berth Pandora RV sleeps four in two double beds and can be fitted with up to two baby or child seats, making it an ideal vehicle for small families. Self-contained with a toilet and shower on board, its kitchen has a fridge/freezer with a capacity of 150 litres, two gas burners, and an electric hotplate, along with hot and cold running water and a (small) oven. Part of the Pandora's convenience and its suitability for families is its electronic bed-lift system — much less time-consuming of an evening than manual bed assembly models. Its large size is tempered with a rear-vision camera, and it has a large side awning for cloudy or rainy days.
Pegasus RV
A spacious 4 berth built on a luxury model, this Fiat Ducato motorhome offers palatial seating and sleeping arrangement for the entire family. The slide-out panel in the kitchen/ living room makes this unit more unique and downright spacious. Compared to other units on the fleet, this one has the largest double beds and the largest fridge. So, if you're looking for the utmost comfort, take advantage of this vehicle's 30% extra space while living a luxury road life.
Hercules RV

Star of the show, in terms of capacity, is the Hercules RV, a 6-berth motorhome with two seats in the cab and four in the main cabin (with room for up to two baby or child seats). It comfortably sleeps six adults, with three double beds, and as you'd expect from a 'bells and whistles' motorhome of this kind, features a fully-equipped kitchen and onboard shower and toilet— plus a side awning and rear-vision camera.
Insurance
In comparison to Apollo and other Apollo-related campervan companies―Cheapa and Hippie―Maui NZ already includes the insurance coverage in your rental rates per day. That means there's no need to spend an additional fee because you are well-secured. At no cost per day, you get $0 liability, plus unlimited windscreen and tyre coverage for accidental damage, recovery fee if needed, overhead/ undercarriage damage, pre-purchased gas bottle and (on request) snow chains, camp furniture, additional heater and fan, and baby or child seats at no extra cost.
You'll only be required to pay $250 for the bond, which is payable by credit card imprint.
Reputation
The quality, 'luxe factor' and cleanliness of Star RV's vehicles have been praised thoroughly online, but some customers have found the high liability very offputting. Of course, reduction options are always available, and to an extent, you get what you pay for: a high liability is to be expected with a top-tier vehicle of less than a year old. Tardiness with refunds has shown up as a relatively common problem, but on the whole, Star RV NZ have had good feedback across the board.
Summary
With prices that correspond to the top-tier standards of their vehicles, Star RV NZ isn't for everyone — but if you're looking for luxury motorhome travel in New Zealand, they just might be for you.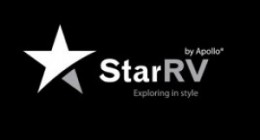 From the Agency
No word from this agency yet. Come back and see if they checked in soon.
Pros
Luxury vacation on wheels
One of the premier motorhome hire companies in NZ
Very young fleet of high-quality vehicles
Insurance included in the rental rate
Cons
High rental rate
Obscure rental agreements
See who else rents Campervans in the same cities
Instant Price Comparison
Just Got Questions? Want a Quote direct from the company?
Fill in this form to contact the Agency direct.
Write Your Own Review
Tell the world about your experience renting from this company
Have you experienced Star RV New Zealand?
Be the first to leave them a review and help others on their journey.