United States
Editors Review
RV Fun Rental offers Class C RVs for travellers of different budgets and sizes, with discounts for first-time RVers. This Oceanside-based RV rental caters to small groups and large families travelling around Southern California.
About RV Fun Rental
RV Fun Rental gives you the fun in every rental by offering a range of motorhome choices for every family out there. Their corporate office is located in Carlsbad while their RV depot is situated in Oceanside. All pick-up and drop are done at their RV lot in Oceanside, which is positioned near many campground and airports. For the convenience of the renters, they allow free parking of personal vehicles in their RV lot. And if you're planning to bring your pet, you can do so as long as you can handle them properly.
Fleet
Loaded with RV's, pop-up campers, and travel trailers, each rental is equipped with 100 free miles per rental night (50 miles for luxury RVs) and 4 hours of usage each night. The Class C motorhomes cater to different sizes. and These well-appointed units are equipped with basic amenities and great entertainment set, including TV/ DVD, CD player, and AM/FM stereo. Guests, however, must bring with them their own linens, pillows, blankets, towels, as well as cooking utensils and cooking ware.
Vehicles
24' Thor Chateau
This brand new 24' Thor Chateau welcomes the fleet of Class C motorhomes. At 24', this unit is super easy to maneuver and park. It caters to up 6 passengers with its wall slide and spacious layout. The unit is an upgraded version of a traditional, small RV. The interior exudes sophistication and style. On top of the swivel driver and passenger seat is a cab-over bunk with LED TV. The beautiful dinette is versatile and converts into a bed at night. But of course, with the limited length, there's no such thing as extreme privacy among the passengers on board because all amenities are positioned next to each other.
19' Coachmen Freelander

Smaller but functional, the 19' Coachmen Freelander is such a breeze to drive. Imagine driving a car, slightly bigger―that's how this petite RV works its magic on the road. However, you might be surprised that this RV sleeps up to 5 people. With the great layout, you get sleeping options at the rear queen bed, convertible lounge, and bunk bed. Since this one is quite small, the kitchen and dinette are strategically conjoined to save space.
29' Winnebago Outlook
For those looking for added privacy and space while on board, you can opt for the bigger and better 29' Outlook. This model is excellent in terms of interior space. It has a super slide out, huge living room, and private bedroom. A luxury family unit, it fits in a family of 8 with its 2 queen beds and 2 full beds.
30' Winnebago Outlook

Eyeing for longer road trips? The 30' Winnebago Outlook is the perfect choice for a family of 8 planning to hit the road for 7 days or more. This model features a dinette bed, sofa sleeper, large kitchen, separate shower, and kitchen, and cab-over bunk. Uniquely, the unit provides a folding door to separate the living room from the master's bedroom.
31' Fleetwood Tioga

The 31' Fleetwood Tioga is the most spacious option for 8 people. Designed with four sleeping options―2 queen beds and 2 full beds―the motorhome is also equipped with a well-appointed kitchen. The living room provides a very spacious layout with a 30" flat screen TV. The cab-over bunk is styled with plenty of windows for extra views while on the road.
32' Coachmen Leprechaun

Armed with leather finishes and double slide-outs, this brand new luxury RV sleeps 10. So, if you're planning to bring the entire clan, this one's for you. The 32' Coachmen Leprechaun is a bunkhouse model that takes you to a whole level of glamping with the whole family.
Insurance
Whether you are driving or towing the RV, you need auto insurance to cover damage in case of any accidents. Good thing is that RV Fun Rental offers free RV binders. You can just extend insurance coverage from your current auto insurance provider for the rented RV dates. Aside from that, you are given the option to purchase insurance coverage for around $30/ day from the company's preferred company. This insurance policy includes $1,000,000 liability protection and $1500 deductible.
Reputation
RV Fun Rental is a recommended choice for first-time RVers travelling San Diego and Southern California areas. The owner makes everything more convenient by offering a fleet of RVs in different sizes and budgets. They've got options for couples, small groups, and large families. The motorhomes, all Class C RVs, provide plenty of space for every passenger. Aside from special discounts for newbies and free cleaning and dump fees, all units come with solar power.
Summary
Geared with a rental inventory of all Class C motorhomes of different sizes for different budgets, RV Fun Rental is a great family RV rental in SoCal.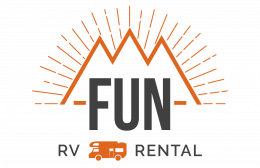 From the Agency
No word from this agency yet. Come back and see if they checked in soon.
Pros
Caters to different sizes and budgets
Discounts and specials
Solar power on all units
Free parking of personal vehicle
Cons
All Class C RVs, no other motorhome options
One depot for pick-up and drop-off
See who else rents RVs in the same cities
Instant Price Comparison
Just Got Questions? Want a Quote direct from the company?
Fill in this form to contact the Agency direct.
Write Your Own Review
Tell the world about your experience renting from this company
Have you experienced RV Fun Rental?
Be the first to leave them a review and help others on their journey.