United States
Editors Review
Britz (USA) is relatively new to the USA RV market and currently offer a single 4 berth motorhome type. They have 7 locations around the USA and share a depot with their sister company, Road Bear RV.
About Britz USA
A very popular rental company in Australia and New Zealand, Britz USA may be relatively new to the United States RV market but it has partially proven its dominance in the familiar industry. It brags of its extensive rental expertise that eventually branched out to 7 USA locations— Denver, Las Vegas, Los Angeles, New York, Orlando, San Francisco and Seattle. The numerous depots are certainly attractive, but the very limited fleet is a downer. And when we say limited, it technically means only one model on selection. But to bring extra comfort to each renter, there is a complementary airport area, hotel shuttle for pick-up and drop-off, and 100 miles per day.
Fleet
These one-style vehicles can cater up to 4 persons only. Hence, it may not be very appealing for larger families. To compensate the downside, all these motorhomes are guaranteed 2 years old (2016- 2018 models). You'll also be provided with all the important camping amenities like awning, camping table, outside storage and more. The Britz USA motorhomes are not that small and not that big— just perfect in size with an exterior length that ranges up to 30 ft.
Vehicle
The one and only Britz motorhome is a 4 berth unit with panoramic and tinted windows for scenic viewing and discreet holiday. This motorhome is good for families with or without kids. The rear and cab-over beds sleep all passengers comfortably. Inside, there is a dry bathroom with a 40 gal of fresh water. The kitchen is polished with cook stove, microwave, full-size fridge, separate freezer and overhead storage. For independence and extra comfort, you are provided with 110V on-board generator and awning. For your outdoor gears and extra stuff, store them easily in the mega exterior locker that comes with a camping table.
Insurance
The liability insurance is already part of the daily rate, with accidental damage including the windshield and glass. The amount of deductible per accident or damage is $1,000. You can purchase SLI at an additional fee so that your liability protection extends up to $1, 000, 000 for third party damage claims. Don't forget the security deposit of $1,000, which may increase during special events such as Coachella, Burning Man, Stagecoach and the like.
Reputation
Britz is a popular company when it comes to rental business, especially in New Zealand and Australia. And now, they have expanded their fleet and opened 7 branches in the USA. Though new to the US rental industry, the company still holds the Britz reputation of providing a fleet of newer vehicles that are great for small families. With only one type of rental vehicle, the 4 berth, this may be, of course, a disappointment for bigger groups. However, hiring a unit from the famed Britz entity gives you a more decent and dependable holiday.
Summary
So, if you are a family of four or a couple needing extra comfort, rent out a family motorhome from Britz and you will have a reliable RV rental for a great USA holiday.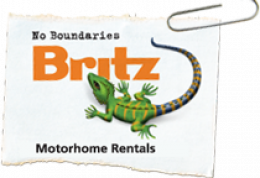 From the Agency
No word from this agency yet. Come back and see if they checked in soon.
Pros
Great for small families
Many depots in USA
Popular company when it comes to rental business
Cons
Only one vehicle
Technically new to the USA RV market
See who else rents RVs in the same cities
Instant Price Comparison
Just Got Questions? Want a Quote direct from the company?
Fill in this form to contact the Agency direct.
Write Your Own Review
Tell the world about your experience renting from this company
Have you experienced Britz Motorhomes USA?
Be the first to leave them a review and help others on their journey.