Australia
Editors Review
Go Cheap Motorhomes started in Tasmania but has now partnered with Cruisin' Motorhomes, hence the same depots. They take on the older models―4 to 7 years old―from their sister company.
About Go Cheap Motorhomes
Go Cheap has been operating in Tasmania since 1999. They are proud to offer campervans and motorhomes made with Fiat, Ford, and Toyota. These vehicles are meant for couples, small families, and large groups. Their depots are at all the main places – Hobart Airport, Launceston and Devonport. But do take note that these depots are also Cruisin' Motorhomes pick-up and drop-off branches. It is because these two are sister companies. So, at the end of the day, it is just semantics; you will be picking up a Cruisin' branded campervan at the Cruisin' depot if you book from either company. The newer vehicles go to Cruisin while Go Cheap acquires these models when they are 4 to 7 years old. One thing to mention about Go Cheap is that they offer a price match promise that allows you to find the same GoCheap unit for a lower price and they'll beat the competitor's price.
Fleet
It is quite common for campervan hire companies to hand their older models to a different brand: Apollo Campers hands down its older models to Cheapa Campa, Britz to Mighty Campers, Jucy hands down to Lucky Campers, and Cruisin' to Go Cheap. It just means the campervans aren't new enough to represent the premium brand, but they aren't ready for the scrap yard either. Go Cheap supply 2 berth, 3 berth, 4 berth, and 6 berth campervans and motorhomes. All bedding is included with the price, so you'll enjoy the doona (duvet) rather than a sleeping bag. Even during summer, Tasmania can and does get cold at night―much more during the non-summer period where it can be freezing. So with the inclusion of some doonas, sheets, and pillows, you get enough warmth at night and snuggle comfortably. Plus, baby seats and booster seat can be fitted in their vehicles. Such a great feature for traveling families.
Vehicles
2-3 Berth Hi-Top Campervan
It is the oldest unit on the fleet at 2007 onwards age model. This version of the hi-top has the sink and cupboards just behind the driver's cabin and the rear bench seats and table fold out to make the bed. In the event of a third person, wooden planks will be provided that can slide on to some rails up near the original roof level, and the 3rd person will sleep 'upstairs'. You can, in fact, fit 2 up there but there are only 3 seat belts, so only 3 can travel. A 2-burner stove top and a microwave will provide you the cooking and a decent 60 ltr fridge/freezer will keep the food and beer in top shape.
2 Berth Picton
This kind of campervan never looks too flashy but they are very practical. Built on a Toyota Hilux, these units give more living space than the high top but not as much as the luxury Tamar campervan. Still, it comes with toilet/shower and some upgraded kitchen facilities such as 3-burner gas stove, a 110 ltr fridge/freezer, hot and cold water, and air-con and heating on the main cab. These 2 berth campervans are a step up in terms of comfort; hence it's a recommended unit for those wanting added sophistication while on board.
2 Berth Tamar Campervan
The Tamar campervan is the top-of-line 2 berth campervan available through Go Cheap Motorhomes. This model is quite popular now throughout Australia, so Go Cheap will have to be competing for your dollars via price and availability. The Tamar has a diesel engine, toilet/shower combo, main cabin air-con and heating, an 80 ltr fridge, 3 burner gas stove, and more! You can walk through from the driver cabin to the main cabin which is handy at night. There is plenty of space for 2 people in this campervan due to its size. On the flip side, being about 7m long, it can be hard to park in cities. But of course, the added size means a lot of storage too.
4 Berth Henty Motorhome
A nice motorhome built on a Fiat base, this 4 Berth Henty features a fairly standard layout with a permanent bed above the driver's cabin and the dinette converting to the other double bed. It provides the basic conveniences that you would expect from a motorhome including the toilet/shower, well-equipped kitchen, and quite spacious living room. Overall, this is a good campervan that will suit families or groups of 4, while leaving a little more room for your stuff.
6 Berth Derwent Motorhome
The one and only big motorhome on offer, this 6 Berth Derwent is a great bargain despite its 4 to 7 years age model. Built on a Fiat base, it is a diesel automatic motorhome that is easy to drive even with its length. Plus, it includes all the things you would expect in a large motorhome such as air-con, microwave, 100ltr water tank, hot and cold water, bathroom, and the like. And if you're traveling with 2 children, then this is another great option aside from the 4 berth Henty because of its 2 child seats inclusion.
Insurance
Go Cheap Motorhomes' standard liability is $5, 000, which is also the same amount for the security bond. This is to be taken at the time of the rental agreement via credit card. There is an administration fee amounting to $100. To limit the liability as well as the bond to $0, you need to pay $45 per day, which corresponds to a maximum payable of $2,250 for 50 days rental. There is also another option, the Maximum Cover Package at $55 per day, which now includes optional extras such as camping table and chairs, GPS, LPG, and toddler/child seat if needed. For this reduction option, the maximum amount payable is $2,750 (50 days rental).
Reputations
Reviews for Go Cheap Motorhomes and/or Cruisin' Tasmania are a mixed bunch. Overall, I would say that the biggest complaint is about the unhelpfulness of the staff. Being up to 7 years old, you can expect some wear and tear on the interior, and the same could be said for all the Go Cheap motorhomes―they are cheaper for a reason. I guess the main thing to point out is that pillows, sheets, and doonas are included in the price, whereas some companies only provide sleeping bags or you have to pay extra for sleeping stuff. On the bright side, Go Cheap Motorhomes is aiming at the quality and comfort-conscious rather than budget. This is good positioning as there are only a couple of companies in this market in Tasmania―Tasmania Campers would be the main competitor along with Autorent Hertz, Bargain Car Rentals, and Devil Campers.
Summary
Offering a nice alternative for couples and family campers, Go Cheap Motorhomes gives other companies a run for their money in the 2-6 berth market. So, if you are looking for comfort vehicle at a cheaper rate, you can take a look at what Go Cheap Motorhomes has on offer.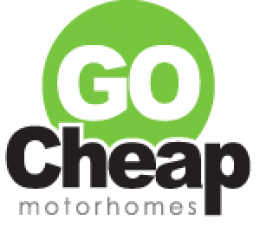 From the Agency
No word from this agency yet. Come back and see if they checked in soon.
Pros
Competitive rates
Multiple depots
Well-serviced vehicles
Cons
Fine print, bonds, and fees
Older models at 4-7 years old
Possible wear and tear issues
See who else rents Campervans in the same cities
Instant Price Comparison
Just Got Questions? Want a Quote direct from the company?
Fill in this form to contact the Agency direct.
Write Your Own Review
Tell the world about your experience renting from this company
1 Review
"
terrible avoid

"

Fuel cap didn't tighten properly
Gas bottle ran out after 2 cups of tea (obviously not full to start with)
Rear wheel drive vehicle with the weight load was dangerous
Camper was dirty when we picked it up
TV didn't work

We made do with what we had. But this company isn't trustworthy and doesn't deliver what they claim.

Avoid and go elsewhere for your motorhome adventure.

5

Service

2

Mechanical

3

Interior

1

Value
1 Review
"
Review of my Go-Cheap-Motorhomes hire

"

Comfortable-had all we wanted. Absolutely nil complaints

5

Service

5

Mechanical

5

Interior

5

Value
1 Review
"
TOTAL RABISH

"

DO CHEAP MOTORHOMES ?

ONE BIG DISAPPOINTMENT ??????

1

Service

1

Mechanical

1

Interior

1

Value
1 Review
"
Review of my Go-Cheap-Motorhomes hire

"

We hired the 4 Berth Henty for a short trip in Tasmania. We came across many issues during the trip with the vehicle (flat battery to supply rear living of vehicle, blown fuse, hot water issues, fridge issues), however some of these were sorted by Customer Care. The vehicle was also unhygeinic in the bathroom. The Service staff took a long time to hand the vehicle over. The Customer Care and Roadside care staff were professional and solved our issues.
Overall we were put out of place but were given help and solutions to our issues to make our holiday work.
The Customer Care dealt with our complaint promptly after our holiday and made sure we were compensated for.
I would use Cruisin again but would hope they serviced their vehicles and maintained them better.

4

Service

2

Mechanical

2

Interior

2

Value
1 Review
"
Review Of My Rental With Go-Cheap-Motorhomes

"

We had a great family trip along the Great Ocean Road with the 4 berth campervan. The vehicle was adequately equipped and the staff was more than friendly and helpful. I would definitely rent at GoCheap again.

5

Service

5

Mechanical

4

Interior

5

Value
1 Review
"
So many fees and rips offs

"

The campervan itself was fine, it was the service and charges from the Hobart office that blew me away. As previously stated by another reviewer, they charge $100 on top of the $5000 bond taken from your credit card - this being taken off despite the fact that I had organised insurance through someone else as theirs was stupidly expensive. In addition to that, I had to pay $25 for the gas bottle to be filled despite never using it. When I asked for this to be refunded on return of the vehicle, they wrote back and claimed that I wasn't entitled to a refund, as stated in the terms and conditions (which I had combed the night before and found no such evide of this). All in all, I paid about $400 more than what I was originally quoted, and felt my holiday was almost ruined by these people. I will be telling all family members and friends not to bother hiring a campervan through them. Bugger that.

3

Service

4

Mechanical

4

Interior

2

Value
1 Review
Epic fail. Hired a 3 person camper van through these guys and it was a calamity of errors from the start. The most notable issues was the fact that the fridge didn't work, so after we loaded it with meat and food, we lost the lot. Rang up the hire place and was literally told "oh well, go and buy some ice then!". The entire van was full of black mould. That is a massive health hazard, so we stayed in motels for the trip until we could take it back to the depot. When we got back and showed them, they treated us like idiots.

I would rather be suffering from polio than use this bunch of deceiving muppets again. Guys, there are HEAPS of other camper hire sites out there...don't make the same mistake we did by using GoCheap.
1

Service
3

Mechanical
2

Interior
2

Value
2 Review
Well, obviously you didn't hire a vehicle from this company. We are about to take our complaints about them further. Firstly, we were NOT told there would be a $5000 deposit if we didn't take out extra insurance. NOR were we told there would be a $100 credit card surcharge on this deposit. that we don't get back. we had to chase the company up a number of times to confirm the booking. The vehicle that we had was not well maintained. Once we got on the road we discovered a number of problems. The tv didn't work – it turned out the remote was entirely wrong for that tv, one of the latches on the doors didn't work, a piece of foam had had the velcro ripped off so wouldn't attach, two of the 3 gas burners did not work. the fire extinguisher fell off the wall while we were travelling along (lucky our son was not right underneath it). While we were travelling around we sent two emails expressing our concerns which were not responded to. So we went back to Hobart and had a heated argument with one of the staff. While we were there, another customer came in returning her van and told a staff member that the vehicles were very poorly maintained and should be retired. Finally, sthe staff member conceded to give us a SMALL discount of about $40 for our inconvenience. We are still waiting for this, plus our $5000 back – four days after the vehicle was returned.
1

Service
3

Mechanical
2

Interior
2

Value