United States
Editors Review
I visited the Las Vegas branch of El Monte RV rentals in May to find out what's going on with one of Americas largest RV rental companies. My little review here will tell you everything you need to know before renting an RV from them. Don't forget to scroll down afterwards and read the reviews by others who have used El Monte for their road trips...
Overview
El Monte RV has been a family run company for over 40 years. It has grown to have 31 locations over that time and approximately 1500 in the rental fleet, making it one of the largest in the USA. They supply 2 berth up to 8 berth RVs in both A Class (bus style) and C Class (motorhome style). Their RVs range from brand new to up to 6 years old but "times they are a changing" there at El Monte. Read on and find out what to expect in the now and in to the future.
The Skinny
After 47 years of being a family company, El Monte sold 100% to THL in December 2016. THL are a massive, New Zealand stock market listed company that specialise in RV, Campervan and Motorhome rental world wide. A few years ago they also took a 51% holding in Road Bear which have similar but newer models to El Monte. Going forward you can expect the premium, 1 year RVs to be with Road Bear, then they will be passed to El Monte for years 2 through 4, then sold. Prediction only :-) but there will also be some brand new vehicles of their own in El Monte because they have about twice the RVs of Road Bear. Of the 31 branches only 6 are operated by El Monte themselves with the rest being franchises.
What El Monte Tell Us
El Monte RV rentals want you to know they are large with claims to world fame. El Monte have a right to be proud of their journey starting from a little town in California with only 1 or 2 RVs to becoming one of the larges RV renters in the US. From El Monte themselves... "El Monte RV rents 5 unit types, and we have hundreds of each size. So not only to we have the most variety of models, but the availability as well.."
They also offer a 5th wheeler and trailer service but they pale in comparison to its huge RV rental side. And with over 40 years of knowledge to share there is a heap of itinerary and RV park information available on their website that is worth looking over too.
Fleet
El Monte RV rentals stock their fleet with RV's manufactured by Thor and Coachmen. - they are not customised. Coachmen branded RVs seem to make up the majority of the fleet. My last visit to the Las Vegas branch saw barely a handful of Thor brand in there. The models range from 2 berth to 8 berth and can be brand new or up to 6 years old. However, there is a mandate by the new owners to get rid of anything over 4 years, so going forward you can expect that. Seeing as the RV's are stock standard purchases from the factory, you can expect competitors to stock similar or same models in many cases.
Vehicles
Cabover Style C Class RV 22' – 4 Berth
Despite being able to sleep 4 this model is popular with European renters as a 2 berth. A permanent queen bed in the rear and another over the cab means this RV is comfortable with 4 people and there is even enough storage for 4. The reason it is popular with Europeans is because it is the smallest in the fleet and they are used to smaller vehicles and thinner roads than are found in the US.
It has all the modern conveniences you would expect in an RV rental these days EXCEPT no TV or DVD player. You are on your own when it comes to entertainment. Good bench space.
Cabover Style C Class RV 25' – 4/5 Berth
This RV is similar to the 22' except for a little more room and 1 extra seat. There is a captains chair on the right as you enter that is not there in the smaller model. Also there is a separated vanity basin and mirror as opposed to being jammed into the bathroom, this means a lot more storage for bathroom products – yay! There is also a double sink in some models which to me is a waste of bench space, but sadly, no one asks for my design input when they make these things.
Dinette can be become a bed. Only really suitable to one short adult or up to 2 kids but I'm still saying max of 5 berth here with 4 being a better option.
Note in the photos wear and tear signs on the drivers seat. This is the kind of thing you can expect in any RV rental that is over 1 year old really.
Cabover Style C Class RV 28' – 6 Berth
We're getting in to the BIG style now, the kind of thing that many overseas people get scared of driving in a foreign nation – this model is more popular with Americans. A lot more room in the master bedroom at the back and the first model that allows you to get out of bed on both sides. A full couch to sit on as well as the dinette so you can easily seat 6 and even squash in 7. I mean, technically you can seat-belt 9 people while travelling, but you'd have trouble sleeping them.
There's a compromise on kitchen bench space in order to have a larger seating capacity and that means that if prepping dinner for 6 you are probably going to have to use the dinette table as a chopping table because there is not a lot of chopping space in the main kitchen area.
Other than that there is plenty of storage for all the people. But again, a risk of no TV or DVD for those rainy days as the older models don't have (and newer models might not either)
Cabover Style C Class RV 31' – 8 Berth
OMG what a monster! With a double slide out this beast of an RV is the most popular rental model with Americans.
2 dinette sections, a full size couch, 2 queen beds, 2 double beds and 2 single bunks. It could sleep more than 8 but the 'double' beds are bit squashy for adults. A spacious bathroom setup, TV included for a change, and did I mention the slide outs? 2 of them! The rear dinette slides out and the couch slides out. This gives a feel of a lot more room inside when parked. Slide outs are great except if they break while they are open – then you can't drive anywhere. But lets assume they are going to work here and revel in the idea of driving an RV that is bigger than your apartment. You simply just can't get better than this in cabover RV, but the cost (apart from the cost $) is going to be parking. City parking will be a nightmare and even RV parks have limited spaces for RV's this size. So if you are going to rent it, maybe check in advance of the kind of places you are planning on going and make sure there are plenty of wide open spaces.
Bus Style A Class RV 34' – 6 Berth
Now we get in to driving a bus. In many other nations to drive an RV this big you need a special licence – not so in the USA. You're stepping up in luxury here with lots of space, storage and plushness – some of the best you with find in an RV rental. 2 TV's, additional mirrors, slide out walls and a myriad of other inclusions really do mean they have managed to turn a bus in to an apartment. A permanent queen bed at the back and permanent bunk beds along the side mean less converting tables to beds at the end of the day and a bathroom that many New Yorkers would be envious of. A plush and beautiful ride but again massive size might be an issue for some and you must really also start to consider fuel costs with this 6.8L engine and a lot of wind resistance.
Bus Style A Class RV 37' – 7 Berth
What luxury - this is the biggest RV in the fleet. Double vanity and mirrors in the bathroom, a full size domestic fridge, 2 TV's, double sink, masses of bench space and more. You are never going to want to go home! Leather style seats and oodles of room make this RV the plushest in the fleet. Only those needing the absolute best and biggest are going to be interested in this. And the bravest! At 31' it is going to need special driving skills to manoeuvre and park. But if you think you have the skills, and the cash to rent this most expensive of beasts, then you will be up for an amazing vacation. Personally I think I'll stick to the 25' C Class, they suit me just fine and I can get a parking spot at Safeway.
Insurance
El Monte require a $1000 security deposit imprint of a non-debit credit card on pick up. This will be used in case of tolls, fines, incorrect fuel return level or propane return level etc. My understanding is that this does NOT cover damage to the vehicles. My conversation at the Las Vegas branch led me to believe that if you damage the RV extensively you are simply up for the damages to the value of the repairs.
However, there is a $16pd 'damage waiver' that can be paid to reduce the amount you pay in case of damage but that still won't cover tires, windscreen, undercarriage or overcarriage. I have actively looked in the published terms and conditions on the El Monte RV website and can't find anything anywhere about this so it is worth asking about it when picking up or at time of booking.
Other Stuff
El Monte do offer ONE WAY travel however are a bit coy about it. In my last trip to the USA I tried to rent an El Monte to go one way from Las Vegas to San Francisco. All searches of dates resulted in me having to call directly. I called and discussed it but was not able to get a one-way rental. I was surprised as San Francisco and Las Vegas are 2 of the busiest branches and thought it would be easy to find someone wanting to go the other way. Alas it was not to happen.
Travelling in an El Monte RV rental gets you 10% off at KOA RV parks.
Summary
El Monte RV Rentals are one of the top 3 RV rental companies in the USA (see also Road Bear RV and Cruise America). They have earned a well deserved reputation for being able to supply you with the style of RV you need at the time you need it. With one of the largest ranges to choose from in the USA we can't see them going away any time soon.
Recommended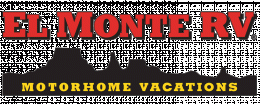 From the Agency
No word from this agency yet. Come back and see if they checked in soon.
Pros
Lots of branches
Lots of vehicles
Range of choice
Cons
Vehicles starting to age
Pricier than some
No small campervan option
See who else rents RVs in the same cities
Instant Price Comparison
Just Got Questions? Want a Quote direct from the company?
Fill in this form to contact the Agency direct.
Write Your Own Review
Tell the world about your experience renting from this company
1 Review
"
Entreprise à éviter

"

Expérience désolante. Dans le contexte de la pandémie COVID 19, l'entreprise ne fait pas de remboursement lorsqu'un véhicule doit être rapporté plus tôt que prévu. Pourtant, l'industrie touristique en général (Air Bnb, hôtellerie, campings) a assoupli ses politiques de cancellation et rembourse ses clients El monte RV et l'agence Camper travel située à Dallas (partenaire) nous ont avisés qu'ils allaient conserver la totalité du montant versé initialement ce qui nous apparaît inacceptable et abusif comme pratique dans le contexte de pandémie qui sévit actuellement.

1

Service

3

Mechanical

5

Interior

3

Value
Traveler Chris
, United States
1 Review
"
Caution: nearly 100% of damage to the RV will not be covered by any insurance El Monte offers.

"

El Monte's best insurance does not covers you for almost any damage to the RV. The "VIP" insurance, which is meant to cover the RV, has the following stipulations: 1) the first $1,000 of any damage of any kind is your responsibility, 2) things NOT covered: the ENTIRE interior, the windshield, "overhead damage" (that would be the entire top/roof and anything mounted there), damage incurred while backing up, damage from hot or cold weather, the slide-out, the awning, the undercarriage, tires, wheels, entry-step, vandalism, and more...

2

Service

3

Mechanical

3

Interior

1

Value
1 Review
"
Renting from El Monte RV McKinney, Texas

"

We rented a 22 foot RV and were very satisfied! The unit was a 2020 model, and we had no mechanical issues at all. This was our first rental, and we had heard horror stories from friends in other cities about difficult rental agents, poorly maintained vehicles and hidden charges. We experienced none of these problems at El Monte in McKinney! The entire staff was friendly, helpful, and answered all of our questions. They even helped me with a packing checklist. The vehicle was totally ready at the designated time and the pre-rental inspection thoroughly explained all related features. The vehicle was clean and ran well to/from Albuquerque. When we returned, there were no hidden/previously undisclosed charges. There's a sign in the office that says, "integrity above profit." I believe the staff exemplifies this. We had a great time in our rental RV and will certainly come back to El Monte when we're planning our next road trip!

5

Service

5

Mechanical

5

Interior

5

Value
1 Review
"
Be careful with El Monte RV

"

Customer service at pickup, while in the vehicle, and dropoff was very courteous and professional.

Unfortunately.

I have not had any of my $US1,000 bond returned, nor will they respond to emails.

Personal summation: Avoid. Especially avoid if you are from overseas (I am from New Zealand).

4

Service

4

Mechanical

4

Interior

2

Value