Australia
Editors Review
Last Updated: 8/11/19
Specializing in cheap campervan hire with a limited rental fleet, Devil Campers is the Tazmanian rental constituent of one of Australia's large rental vehicle networks. Over the course of time, several campers were added into their rental range. Now, they have eight units for hire.
About Devil Campers
Devil Campers is part of a larger rental network in Australia, including the likes of Captain Billy's 4WD Hire and Tasmania Campers in Australia, as well as Tui Campers, Tui Sleepervans, Freedom Campers, and Budget Campers in New Zealand. Based in Tasmania, this campervan rental company provides depot in Hobart, with pick up/drop off fees. Their charges, as well as conditions, may vary from time to time, though the rates are still mainly on the budget scale. Though they offer one-way rentals, their vehicles are restricted within Tasmania only.
Fleet
If you have a keen eye, then you'll know that they have the same fleet as Tasmania Campers. Running an extensive range of campervans and 4WD units, Devil Campers now provides eight vehicles. They have funky-styled sleepervans and campervans are preferable for budget-conscious couples or small families who love some loud exteriors and cozy interior. Because of the cheaper rate, you cannot expect for an overly luxurious rental hire. Still, you will be greeted with simple yet furnished vehicles equipped with dining table, cutlery, crockery, sound system, camping grounds, and maps. Camping chairs, tables, and awning are not for free. At the start of your hire, the rented vehicle comes with a full tank of fuel and should be returned with the same upon return. On the other hand, they have sturdy 4WDs meant for adventurous wanderers.
Vehicles
Devil Sleepervan

The 2002 Toyota Hiace is a 2 berth sleepervan with limited headroom. This unit may be small but it already provides a mini kitchen with cooking essentials, sink, cabinets, onboard water, and a cooler box. Adjacent to the cooking area is a cozy daytime lounge that becomes a double bed for two. There is ample storage for your equipment underneath the couch. The kitchen countertop is extendable so that you can easily transverse from cooking to eating.
Devil Finder HiTop

A more spacious unit that can comfortably cater to couples, the Hitop model highlights its roomier headroom and cozier interior. The overhead area provides extra light and storage for your stuff. At the back of the driver's seat is the kitchen sink with cabinet. On both sides are two single couches that convert into a large double bed.
Devil 3 + 2 Finder
Also a Toyota Hiace, the Devil 3+1 Finder is the only option for small families up to 4. This automatic transmission campervan is suitable for two adults and two small children. It comes with two rear forward-facing seats that feature diagonal seatbelts and option for child seat restraints. The well-thought-out layout provides a more versatile and comfortable interior. Sleeping options inside come from the convertible living quarters and the double top bunk.
Trail Finder 2/3
Are you a couple travelling with a child? The Trail Finder 2/3 is the perfect fit for you and your small family. These 2006 to 2007 models are not just compact units but also fuel-efficient. Offering you two sleeping areas (double and overhead single bed), this Hitop camper also provides you with a small kitchen equipped with 2 burner gas stove, microwave, fridge, and cutlery.
Trail Finder 4+1
For bigger groups who want to save money, there's a Trail Finder suitable for you too. Trail Finder 4+1 highlights its versatile and roomy interior, allowing it to sleep up to 4 adults and 1 child. Yep, there's a space for everyone inside! Aside from the lap seat belts, child seat restraints can be fitted in no time. Not only that, you'll love this family camper because it's an automatic unit that runs on petrol.
Bush Camper 2 berth
Moving into the other category, Bush Camper is a great treat for two people in need of an off the beaten track outback escapade. Surprisingly, this 2 berth vehicle is fully-furnished with almost everything you need, from a comfy double bed to a full kitchen to a spacious dining area.
Bush Camper 4 berth
For thrill-seeking friends, you have another Bush Camper unit on offer. This 4 berth unlocks the road less travelled in a more convenient way through its list of facilities. These include an indoor kitchen, two double beds, an external shower, and a living/ dining space. To top it all, there's a retractable awning that gives you the chance to enjoy alfresco dining.
Bush Challenger
To complete the fleet is the Bush Challenger, another 2/3 berth 4WD that takes you to some scenic outback adventures. Explore the hidden gems of Tasmania with this unit geared with a pop-top roof. This provides ventilation as well as extra space inside. The unit is custom-built for a rather exciting road trip, hence equipped with reliable features and even useful inclusions such 240V mains, 12V battery, linen, bedding, cold water supply, and portable heater.
Insurance
Renting a unit from Devil Campers includes a standard liability amounting to $2, 800 for sleepervans and campervans ($3,800 for drivers aged under 25 years) or $3, 800 for trailfinders and bush campers ($4,800 for drivers under 25 years). The liability reduction options are as follows:
Option 1: Sleepervans and campervans- $20 per day ($25 per day for drivers under 25 years) reduces the excess to $850. Trailfinder and bush camper- $28 per day ($33.00 per day for drivers under 25 years) reduces the excess to $1,200.
Option 2: Sleepervans and campervans- $29 per day ($34 per day for drivers under 25 years) reduces the excess to $0. Trailfinder and bush camper- $38 per day ($43.00 per day for drivers under 25 years) reduces the excess to $0. This option also includes two tyres, one windscreen, and multiple windscreen chips, along with other extras like baby seat, LPG bottle, airport transport services, and more.
Whatever your choice, you will be required a credit card imprint upon vehicle collection.
Reputation
Whilst Devil Campers isn't really that popular in the rental industry in Tasmania, they have continued to be a cheaper alternative for couples who want to rent out a basic campervan with basic amenities. The rental rate is one of the competitive aspects of this budget-based company that is part of a large rental network in Australia. Plus, they now have several units for rent, from campervans to 4WDs. But if you're looking for much reliable rental companies coupled with a more positive reputation, there are several options to consider.
Summary
Devil Campers isn't still on the list of the most admirable campervan hires in Tasmania. Plus, their limited rental options is another disappointment. But you may give credit to their cheaper rates and rental options for couples and small families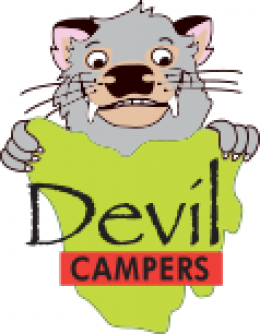 From the Agency
No word from this agency yet. Come back and see if they checked in soon.
Pros
Cheaper campervan hire
Convenient depot
Accommodates couples and small families
Part of a larger rental network in Australia and NZ
4WD option
Cons
Only one branch
Mixed reviews
Older vehicles with basic amenities
See who else rents Campervans in the same cities
Instant Price Comparison
Just Got Questions? Want a Quote direct from the company?
Fill in this form to contact the Agency direct.
Write Your Own Review
Tell the world about your experience renting from this company
Have you experienced Devil Campers?
Be the first to leave them a review and help others on their journey.