Australia
Editors Review
In Australia, Britz are everywhere, both in terms of depots and the vehicles that you will see on the road. They have the full range in size from the bare-bones 2 people Action Pod, through to the luxury 6 berth motorhomes, complete with flushing toilets and showers. Add to this some of the best 4wd's in the country and they seem to have all bases covered.
They only run their vehicles for 2-3 years before they pass them off. Of course, they pass many of them off to their other company Mighty Campers. Did I mention Britz was big? Their parent company also owns Maui and Mighty Campers in both Australia and New Zealand as well as Road Bear RV and El Monte in the USA.
Fleet
Campervans and Motorhomes running under the Britz brand in Australia are a maximum of 3 years old. After that, or at 150,000km, they sell them or pass them on to their cheaper family of campers under the brand of Mighty Campers.
Like pretty much all the campervan hire companies, you are charged by calendar days used, not the time of day picked up like car rental. So, it pays to pick up early and drop off late as you are paying for whole day regardless. If you rent a motorhome with a toilet, you will have to get used to the idea of emptying the cassette as if you return it full, you will be paying a fee.
The Life Cycle of a Britz Family Campervan or Motorhome:
Just so you know which of the Britz brands is best for you, here is how they stack up:
MAUI is the brand used for campervans and motorhomes that are brand new to approx. $60,000km (about 1 year).
BRITZ campervans are run from 60,000km to 150,000km (1 year old to approx. 3), But some models also start their life here so can be under 1 year old.
MIGHTY campervans then runs the camper from 150,000km to end of life which might be about 5 years. Britz is constantly inventing and re-inventing their fleet so it is always fun to watch what is coming next.
4wd Campervans To Seal The Deal:
If you are looking for true outback adventure in Australia, then Britz is also the way to go. Whether you want to do the "top end" of Australia, the "red centre" or maybe the wild Kimberley or Pilbara regions then a 4WD is a must. The Britz 4WD campervans have simply been the best in the market for a long time. Over the last couple of years, they have changed their strategy a bit so they can source vehicles that are less expensive and have fewer conversion costs. I think this has lead to their title for "best 4wd campers" being challenged by Apollo. Gone are the sleep-inside hi-top Landcruiser Troop Carrier models (breaks my heart to see them go) and in comes the new breed.
Campervans and Motorhomes
2 Berth Action Pod
So what on earth is an "Action Pod"― well, it's a catchy name for a bare bones 2 berth campervan! It's designed as a high-season overflow vehicle. They've leased a Toyota Hiace van, packed in some nifty campervan-designed cupboards etc and voila, there you have a simple low-roof camper. When it goes back to shoulder and low season, simply slide out the installation and they have an empty Hiace that they can send back to the owner. Ingenious and everyone is a winner!
They have come up with a nice new design so that it there are lots of space just inside the side door and built in a groovy slide out the kitchen at the back. There's not a lot of cupboard space left for luggage, but you can leave luggage in the empty space in the rear during the day and chuck it on the front seats at night. That's what I've always done so that you can get to stuff at night. It's a standard concept in budget campervans that you have to open the rear door and cook outside, so nothing new there, but the U-shaped position of everything when both cupboards are slid out the back should make cooking a lot easier. It will be interesting to see how the panels cope over time as inevitably they are going to get wet from when people have to cook in the rain.
Basics:
2ppl only
Bare bones model = less inclusions
Bed set up across the bench seats
Half size fridge
Portable cooker with gas cylinder not bottle
slide out kitchen
Pros:
Cheap
Available during high season boosting numbers available
0-1 year old
Auto transmission
Cons:
Vey simple
Limited storage
outside cooking
East coast Australia
2 Berth Freedom Motorhome
Man this thing is so new they don't even have any images of it on the parent company official image library service. But can you believe from what you see here that it is only a 2 berth!? That's right! Talk about luxury. Coming in at 6.5m long, it is only 10cm shorter than the new 4 berth Discovery model (see later).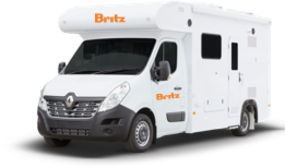 For the 2 Berth Freedom, the interior is much more spacious and more comfortable than the Action Pod and the traditional hi-top model 2 berth campervan. The Freedom model now comes with a rear shower and toilet, a better kitchen and automatic transmission This unit is a breeze to drive, plus it has more than enough room for two. Sleeping area with ladder is positioned on top of the large dinette, but all this luxury is going to cost you. If looking for cheap and cheerful: Action Pod, if looking for something in the middle: Hi-top campervan.
Basics:
2ppl only
Now with bathroom
Bed set up on top of the dinette
Permanent and well-equipped kitchen
Pros:
More spacious and comfy
Plenty of interior storage
0-1 year old
Auto transmission
Cons:
Mucho mucho Dinero for the luxury
May book out easily
2 Berth HiTop
This is a pretty stock standard hi-top campervan. The same type of model can be found in many of the Britz competitors: the Camperman Juliette, Cheapa Campa Hi-Top, Viva Campers Deluxe 3 person Hi-Top, Mighty Highball to name a few. The thing to note about the Britz version will be the age I guess. As mentioned earlier, Britz tends to run their campervans only for a couple of years before they pass them down or sell them. The price of competitors and your desire for crisp and clean will be the only factors to consider with this model.
Basics:
Base model but good inclusions as per Britz standards
2 burner stove
57 ltr fridge
Pillows, sheets, doona, towel included
Microwave
Electric water pump
water tank 39ltr
Auto and manual transmission
Pros:
Stand fully upright
0-5 years old
Good storage
Cons:
No kids under 4yo
Not the cheapest and could get a 5-year-old camper
HI-tops have poorer fuel efficiency
2 Berth Venturer
You're getting into the luxury end of town when you get this particular campervan. Built on the Mercedes Sprinter it is much longer and wider than the Toyota Hiace based models that come before. It includes a toilet, shower, microwave and TV making it fully contained and there is a lot more room to move around in. Being in one of these gives one the sense of being in a "home" rather than just a campervan.
There's a lot more storage with extra cupboards up along the roof corners to store groceries and other tidbits so if you are the kind of person who doesn't travel light, then this is the campervan for you. There's plenty of bench space for preparing meals and putting empty wine bottles on at the end of the night as well as a freezer, not just a fridge, for keeping the fish you caught.
Basics:
Shower
toilet
TV/DVD
Microwave
Fridge/freezer 110ltr
Hot water
1 double or 2 single beds
Freshwater tank 70-100ltr
Auto transmission
Pros:
Everything you could need is on board
Plenty of room
Luxurious
Whopping beds
Cons:
This is a long vehicle - city parking issues
Priciest among all 2 berths
A lot to learn to make it all the inclusions work
2+1 Berth Venturer Plus
A step-up Ventura is this 2+ 1 motorhome that adds a sleeping capacity for an extra passenger― a child. So, aside from the options of two rear single beds or one rear double, you can put a single bed in just behind where the driver cabin is for your kid. The extra single bed is strategically located so that your kid can sit behind the driver while travelling. Overall, this unit is just the same with the 2 Berth Ventura, which is a nicely designed equipped with bathroom, kitchen, and entertainment system. So, if you are looking for a nicer living space than the other 2-person campers, (whether or not you're bringing a child), this is sort of a bridging-camper that is bigger and better than a standard campervan.
4 Berth Voyager
There are so many ways you can fit 4 people into a small campervan, but you've gotta be pretty happy with this layout. Daytime sees 2 peeps in the front seats and 2 people right at the back. Now, over the road noise when travelling, it will be a little hard to hear the peeps in the back row from the front, so if you have bickering kids, this will be perfect for you.
There's a hi-top roof on this Toyota Hiace campervan that allows for 2 peeps to sleep "upstairs", so night time sees 2 peeps upstairs near the front and 2 downstairs at the back. Personally, I love this design allowing full standing height, interior cooking, and enough room to sit around a table. I recommend this camper for any group of 4 that are travelling buddies or family.
Basics:
Microwave
Electric water pump
2 burner stove
80ltr Fridge/freezer
2 double beds
39ltr water tank
2 booster seats available
Auto transmission
Sheets, doona, pillows, towels
Pros:
New design
Good storage
1-2 years old
Cons:
New design is unique but UGLY.
4 Adults will be close quarters
Fridge and water a little small for 4 peeps
4 Berth Discovery
Woohoo - bunk beds! If you've got kids, then the sleeping setup of this campervan is going to get them excited. In this unique design, the 2 double beds stack above one another and the top bunk is housed up in the roof the rest the of the day. Now I know this has been around for ages in Europe, but for the Australian campervan hire industry, this is NEW!
Apart from that, there is a neat little toilet/bathroom design, a skylight for when you want the privacy curtains shut, quality cooking and fridge installations. Basically, this camper is SCHMICK! Perfect for the family with kids who want to climb ladders. Plenty of storage, easy driving with automatic transmission and even a range-hood for when you are cooking up a storm. Recommended - however, is only a summer high-season vehicle that will not be around all year.
Basics:
Auto transmission
Diesel
Fridge
Shower/Toilet
Sheets, doona, pillows, and towels
child and booster seats available
2 double beds
Pros:
Modern design
0-1 years old
Cons:
Limited availability
Leased into fleet so Britz staff won't know it that well.
4 Berth Explorer
For 4 people looking for the traditional Motorhome experience, there is The Explorer. This is the first type in the Britz range that has that bubble looking bit above the driver's cabin. Someone will be sleeping up there. If you have kids, give it to them, they will love the "bunk bed" feel of having to climb up and down, but I find the ground floor bed better for adults. As with all, there is the toilet and shower.
Now, with four people (as with 6) don't plan on all having your showers one after the other, the hot water won't last that long. It's an issue with all motorhomes, but the shower systems just can't keep up with that many people, plan on some people having showers at different times and you won't be disappointed. Showers are usually the most complained things about motorhome rentals. The Explorer is a very comfy design with plenty of storage, although you should be prepared to spread things out around the cupboards, rather than keeping everything in your luggage. From a uniqueness POV, there isn't much to point out about the Explorer. There are a number of other companies offering similar, so shop around and compare prices. Remember Britz operates in the 2-5 years age motorhome space but you could look at alternatives like the Apollo Euro Star, Lets Go 4 Berth Conquest or the Cruisin' Motorhomes 4 berth Seeker.
Basics:
Both double beds permanently set up
stove top burners
Microwave
Fridge/Freezer 136ltr
Toilet/shower
Pillows, sheets, doona, towels
2-5 years old
Pros:
Spacious for 4 people
Permanent double beds easy to flop onto at end of day
Plenty of storage
Cons:
A bit noisy when driving 100km/hr
Poor fuel economy
Long vehicle, hard city parking
6 Berth Frontier
The Frontier is one of the largest Britz motorhomes, accommodating 6 people. Air con and heating in both the driver's cabin and the rear cabin, TV, plenty of sitting space, tables and everything you could want from a house on wheels. This is the largest you can get before you move into the kind of motorhome models that are based on busses. If you have a big group or want to live in the lap of luxury, this the model for you - but you WILL be paying for it. This is not a cheap vehicle.
One other thing to keep in mind with this model, and all models that have toilets, if you hire for long enough, you are going to have to clean out the toilet waste. If you are on short hire, Britz offers a toilet cleaning service on return, if you are on long hire you are going to have empty the cassette yourself. They'll show you how to do it when you pick the motorhome up, but anyway you cut it, it can be a bit off-putting if you have to do it yourself. Just make sure there is someone in your group who is going to be up to the task. Will be 2-5 years of age.
Basics:
2 of 3 beds pack away during the day
stove top burners
Microwave
Fridge/Freezer 90-140ltr
Pillows, sheets, doona, towels
Toilet/shower
Pros:
Plenty of space and storage
Back cabin A/C when on mains power
Very comfortable driver's seat
Cruise control
Cons:
Access door to undercarriage storage a little small
Noisy when at high speed
6 Berth Traveller
This model seems to be "New" each year, I was writing here about it last summer and here it is again "New" this summer. But's that's good. Britz customers obviously loved it enough for the company to get it back again this year.
In an apples v apples comparison with the 6 berth stalwart, the Frontier, it stacks up pretty well. The Traveller is a little longer at 7.67m making it the longest motorhome in the Britz fleet, but at the same time the interior height is a tiny bit lower than the Frontier, so you gain some, you lose some. Both have solar panels and awnings, both allow for 2 kids travel seats, whether child seats or booster seats.
So what it really comes down to is the underlying manufacturer which for this model, the Traveller, is a Jayco, and for the Frontier, well, is not.
Basics:
Rear bed is permanent along with front bed
Rear cabin A/C
Leather seats
Gas stove top cookers
Toilet/shower
Fridge/freezer
Auto transmission
Pros:
Brand New
Cheaper than the other 6 berths
Permanent rear bed
Cons:
Only around for the peak season
Only runs the east coast of Australia
No kids under 7 can be seated
4WD Campervans
2 Berth Scout 4WD
Yay, someone bringing back the idea of a 4wd campervan that you can sleep inside. The new Britz Scout van is a Mercedes based van that you can switch to 4wd with the push of a button. Designed most like a 'campervan' of all the Britz 4wd offerings, the Scout will be able to get you to a lot of places a normal campervan won't.
Britz has borrowed the design of their cheap and cheerful Action Pod and thrown in a basic slide in/out kitchen concept, where the cupboards that house the slide outs for the outside act as the seats for sitting at the table inside the camper. Then you can turn the whole thing into a bed at night - great design. It's not 5-star luxury but at least now you can stay inside the camper at night. Like so many campervan designs though, you will be cooking outside - sucks if it's raining.
When it comes to 4wd grunt, the Scout campervan is the weakest in the Britz 4wd fleet. It's heavier and has a lower ground clearance than the other Britz 4wd offerings and there are plenty of places it won't get to. HOWEVER, there are soooo many places in outback Australia to visit to that are at the end of a gravel road, and not a goat track, that you might not need the power the Landcruiser offers. Most 2 wheel drive campervans are not allowed to travel more than about 7km of gravel roads and that's only to get to a campsite. The Scout campervan opens up so many more options of places to go that might still only be at the end of a simple gravel road, but in a lesser camper, you still couldn't go.
Overall we like the Scout campervan as an idea and a big fat BOO YAH to Britz for bringing back the sleep-inside 4wd campervan.
Basics:
2 people only
Sleep inside
4wd at the press of a button
1 child booster seat available in front
Safety and recovery gear included
40L fridge
Pretty simple design and inclusions
Pros:
Brand New
Sleep inside
luxury driving cabin for a 4wd
Cons:
Weakest of the 4wd's in the fleet
Lowest ground clearance in the 4wd fleet
No snorkel for river crossings
5 Berth Outback 4WD
Out with the old and in with the new. From the beginning of 2018, Britz has updated this model from VW Amarok to the much better suited Toyota Hilux SR. This is the cheaper model of the 2 "hard-working" 4wd cars they offer - I say hard working because their new VW Scout campervan simply won't be able to get you to the places the Hilux and Landcruiser can get you. 2 peeps in the front and up to 3 in the back with the ability to take 2 child seats. Sleeping is done in the supplied 5 person tent. Yep, if you are going to rough the roads, you can rough the sleeping too it seems.

There are limited resources inside the vehicle for what is in a traditional "campervan". There's a 40ltr fridge (small) and a gas burner that comes with 4 butane gas bottle for that burner, but you are most likely going to need more than 4 so stock up somewhere in the city you pick up from, because they can be hard to find on the road. Other than that, there are pots, pans, and cutlery. But where do you put the luggage? The rear boot/trunk is all filled up with kitchen and foodstuff. The rear seats are filled up with the kids and the roof is filled with the tent - umm luggage for 4 people goes.......where? Look, you'll eventually be able to jam things in here and there and on the roof - just travel light.
Everything you need to go across Australia's harsh outback regions is in this camper including recovery gear from being bogged and an emergency beacon you can set off if you are in real trouble. The Hilux SR may be tough-as-nails but it doesn't come with a snorkel that allows the engine to breathe in deep water river crossings, but I doubt Britz want you doing that anyway! This camper will get you everywhere you need to go, it just might not have the grunt or ground clearance to go to some insane places.
Basics:
Can take a whole family 4wd'ing (5 people)
Sleep in a tent
Air con - essential
Child seats allowed
Safety and recovery gear included
40L fridge
Auto transmission
Pros:
Brand New
Vehicle has grunt
2nd battery for fridge
Cons:
Very little luggage space
Sleep in a tent not inside
No snorkel for river crossings
Not really a 'campervan'
5 Berth Safari Landcruiser 4WD
The Toyota Landcruiser has "owned" the Aussie outback for many years. Anyone who lives out there drives one of these. They are almost unstoppable. But when they do break, they are very fixable. Basically, if it's physically possible to drive a car somewhere, this car is the one that will get there. Sleeping is via roof-tent for 2 peeps and 3 more on the ground in the annex attached to the tent. Like Hilux, no toilet or shower facilities and the rear of the camper is just kitted out to have the fridge, kitchen stuff, and storage. If you are looking to compare apples to apples for this campervan, it is most like the Overlander Campervan offered by Apollo.
Both these campervans can handle a lot more battering than you might think. If you aren't that experienced with 4WD vehicles then you can pretty much guarantee these campervans will be able to cope with anything you throw at it, opening up a lot more roads and places to visit than you could have imagined. Britz has some restrictions in place to a few tracks that you can't go on. This is mainly for your own safety as they are kind of tracks only REALLY experienced 4wd'ers should go on. Other roads and tracks require you to phone in 24-48 hours before you go on them. Again this is for your safety and just to check the road is even open. Often in heavy rain, the roads are closed to protect both drivers and the road. There is a whole article on this topic here. A 4WD is recommended if you want to go off the road and get to some of the most remote places in Oz.
Basics:
Can take 5 people
Sleep in roof tent and/or annex
Air con - essential
Child seats allowed
Safety and recovery gear included
40L fridge
Auto transmission
Pros:
Most powerful and robust 4wd campervan in the fleet
2nd battery for fridge
Will go anywhere - FUN!
Cons:
Very little luggage space
Sleep in a tent not inside
Camp stove on a table
Not really a 'campervan'
Reputation
You know you are going to get a well-oiled machine when you go through a company this big, but you are also going to be paying for it. They are hardly the cheapest kid on the block, but they are going for those that value quality over price. Their campervans and motorhomes are normally meticulously maintained and they spend a lot of time putting thoughts into the design of their customizations. They have depots in all major cities as well as a few smaller ones that are popular with tourists so they are a truly national company. That being said, you will only ever be dealing with "staff" and never the owner. Many campervan hire companies are running these kind unit models now so you can shop around a bit before settling. Maui springs to mind, but theirs will cost more as they are brand new to 1 year old.
Summary
With such a huge fleet, this is a benchmark company that you simply must get a price comparison with as you look for quotes. Best suited to those who are mid to high budget or travelling in a group and require a little more quality.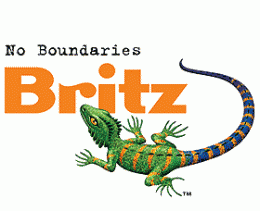 From the Agency
No word from this agency yet. Come back and see if they checked in soon.
Pros
A 5-star camper company with big company support.
Lots of vehicles to choose from and availability most the time.
Definitely, have a model to suit middle to upper budget.
Cons
Can book out in peak periods due to popularity
Not the cheapest
People complain about how long it takes to get their deposit back
See who else rents Campervans in the same cities
Instant Price Comparison
Just Got Questions? Want a Quote direct from the company?
Fill in this form to contact the Agency direct.
Write Your Own Review
Tell the world about your experience renting from this company Ballamboy
, United Kingdom
1 Review
"
Poor Experience

"

A very poor experience! We rented a Britz Venturer motorhome from their Brisbane depot a few weeks ago for an 11-day hire. Not a great start when an awning that we'd booked and paid for months previously was not available. 'We've had a run on them recently, lots of people wanted them at the last minute'. Having asked to see the manager I was told that he was unavailable but had agreed that we could buy one ourselves and he would reimburse us!

The vehicle was disappointing. We were aware that Britz vehicles have generally done 2 years with Maui and are 'up to 4 years old'. This one definitely showed it's age with a battered front number plate and at least a dozen minor bumps and scratches. The mileage was 183, 000 km.

When being shown the van, the rep was unable to remove the toilet cassette from it's locker. A technician was called and had to pull out the cassette using some force; he then pushed it back in (again with some force). 'Working perfectly' I was told!

Within a day or two I noticed an unpleasant smell coming from the toilet/shower cubicle. I removed the cassette from it's outside locker and noticed liquid pooled beneath it, and in the open trap beneath it. I hosed it out, emptied the cassette and replaced it back in the locker. We used the toilet for the next few days but the smell continued. I removed and emptied the cassette several times. We eventually stopped using the toilet (we were on sites with good facilities). On Day 9 I emailed Britz for advice. I was told to check that the toilet was properly seated and that that the 'exit' area lined up with the 'entry' area in the cassette. I checked and it was lined up perfectly. I have had a caravan for 10 years and am familiar with Thetford toilets. My suspicion was that it had been damaged being so tightly fitted and that the technician having to force it in, and then force it out had probably damaged the seal. As we were managing without it (and returning it 2 days later) I was unwilling to spend holiday time taking it to a dealer or awaiting a technician.

On return I flagged up the toilet issue, and some other issues that needed sorting - a waste bucket with a large hole in it, frayed towels, kitchen trim that needed re-fixing, a broken windscreen wiper. Also the condition of a picnic table that we had paid 25AUD to hire - it had a hole in it and was so grubby that we were embarrassed to use it (we were camping with Australian friends). Duvet and sheets were ridiculous - 2 double duvets and a sheets that were around 2mx2m were useless when sleeping on 2 single beds (Britz maintain that 2 singles isn't an advertised configuration on the Venturer - they should check their website!)

I made a written complaint. The Britz response has been to remind me that in the circumstances they would waive the 125AUD for returning the toilet not fully emptied! Apparently nobody else has had the same problem - unsurprising as it was probably caused by them as were were being shown over the vehicle - and may have been righted by my removing and refitting several times. Additionally they reminded me that ' when a camper-van is returned without being reasonably clean, we reserve the right to charge an additional AUD250 to cover the cost of providing a deep clean.' Words almost fail me…..the van was spotless, surfaces clean, washing put away, everything left tidy. An astonishing response.

They have not offered to recompense us for the picnic table hire or for our unpleasant experience. Apologies for the long post but our experience was very poor, and Britz's response astonishing.

1

Service

4

Mechanical

1

Interior

2

Value 1 Review
"
Not a 5 star company . Especially if you are going remote check car and gear first

"

If you are in a hurry picking up the car and starting your trip you may miss some important things like we did:

The car had 3 standard tyres and only one proper offroad tyre.
The gear was in bad condition except for the fridge which was great. Eg: the cheap portable stoves will not be good in any breezy conditions. One did not even work properly. If you get the prepaid gas refill ($18) for the end of your trip you'll feel ripped off because you could hardly use the stoves and also the refill is a few butane canisters, exact type for 3 was $4.95 at Bunnings.
A part of the internal tent pole was so worn that we had to jam a nailfile in the top bit to stop it collapsing each night.
The sleeping mats were old and really uncomfortable so in the end we decided that sleeping in the Toyota was better ie; put the seats back, this was preferable to sleeping on old mats with an ancient tent that also nearly flooded on the first night we camped. One of the sleeping 'bags' was not a bag at all so my partner had to wrap the velcro material thing (not sure what it was) around him in stead of promised sleeping bag.
We ended up buying our own mugs as the mugs provided were covered in some unidentifiable yellow substance ( I have photos of this).
Hiring the car and gear was a big deal for us, ie alot of money for us. The car was good except for the tyres, good that we weren't doing any full on 4 wd driving. You should be able to though for this money. Using crappy gear was not a great start to the holiday.
It was very difficult to find out what was included in the camping gear, which is tricky when you are planning your gear especially from interstate or overseas and you have little time. We were glad we borrowed a friend's stove. I emailed Britz but was fobbed off. You can only find generalities on the website. The website is also confusing in offering all sorts of inclusions (pay extra) and it's hard to work out what you are already getting or not getting.
I guess the cars must have a very quick turn around, something is obviously wrong with the process. The staff member didn't really show us any of the gear in the car. We were in a hurry so we didn't care at the time but in retrospect she probably didn't really want to.
As pointed out in another review on this website the tent is on the roof, not easy to get down if you are under 6ft. The cover of the tent was quite dirty as well. I could go on.
What choice is there though I guess they have monopoly

3

Service

4

Mechanical

3

Interior

2

Value 1 Review
"
Review of my Britz-Campervans-Australia hire

"

We were thrilled with the car - strong and solid - in excellent condition, and we traveled safely over some tough roads. Fuel consumption a pleasant surprise - very efficient. The roof top camper was well equipped with basics for cooking, bedding etc - a grater would be a good addition - stove was fine for our needs.. The erection of the camper was a little problematic - even with the instructions. The tyre step is inadequate and made it very difficult to reach the top - without climbing on the roof - which you are not allowed to do. You would need to be very tall ( and my partner is 6') to manage this function. A small step ladder would be a great help. Had concerns about the pull over access ladder - flimsy and malfunctioned - ( didn't lock in as pins were bent) and we didn't feel totally confident - climbing into the tent. The tent itself was perfectly adequate - good sheets ( terrible pillows - bring your own) and great to feel safe - especially in the NT. Excellent fridge and Tom Tom a great help - small humane gas bottles should be in a small box maybe. Overall once we got the set up right - we were very happy with our experience - had an extraordinary time and dealings with Britz. .

5

Service

5

Mechanical

4

Interior

4

Value 1 Review
"
5 Berth Outback 4WD: Good car, but broken camping equipement

"

We rented a 5 Berth Outback 4WD for 4 weeks with camping equipment and fridge. Staff in both Brisbane and Cairns were nice, but some were rather inexperienced (mostly interns from abroad). While the car and the fridge were excellent, 3 of the 4 inflatable mats showed leaks, one sleeping bag had a broken zipper and the two tents had central poles that slowly come down during the night, making our first night on Straddie a cold and uncomfortable one. If you expect to see some rain during camping these tents will not keep you dry. After buying two light-weight tents and air-mattrasses we were ok except for the bulk space that the Britz mats take in. Britz did compensate us for the three air-mattrasses but did not offer any other compensation. So buy/bring your own tents and mats and leave the bulky Britz equipment behind (that will also give you more space for your own luggage as space is limited).

2

Service

4

Mechanical

5

Interior

3

Value 1 Review
"
Blitz voyager or Apollo hi-top

"

Britz review

We hired the voyager 4 berth Britz camper van (the one with the high top that extends over the drivers seat) from Broome to Perth for 5 weeks.

The van is a larger version of the traditional camper. It berths 4 but is very cosy. There is good cupboard space and head space. All the cooking and kitchen benches are inside, so limited space for chefs assistants. No fold out table to prep food outside.

this new larger hi-top had some good features (larger, bigger fridge, more storage space etc.) but some significant cons are that the bed folds up by day blocking out the light and view out the back window which made it dark and stuffy. Most importantly the
bed was incredibly uncomfortable (and I'm not that fussy). It is very short and is formed from two separate pieces that slip apart. The base has terrible plastic springs that the thin mattress (an inch thick) sits on. Awful design. It is also very heavy to lift up and is only on hinges so a bit dangerous if u drop it on you which I did.

The water pump is electric so when it broke one week in we had no water. We ended up having to take it to a pump person for repair and they commented they were cheap simple pumps which frequently break.

The gas bottle they gave us was tiny, only 2kg. It was not a swap and go and we spent 21/2 hours driving around trying to find someone to fill it. Even the place Britt said would fill it did not provide that service. Wasted a chunk of our day. Really need a swap and go or larger bottle.

The sink drains into a greywater collection tank rather than just onto the ground. A good idea but it causes the van to stink. There may be a product called bioactivator that a few squirts daily might kill the odour without chemicals. Worth trying Britz.

We hired fromBroome where the male staff were grumpy, offered no free table or chairs (which Apollo had done the year prior) and had a very strict rule of 12 km on dirt if heading to an official campsite (Apollo were much more relaxed about this). We had booked into Broome bird observatory which was 13km on dirt, Broome staff said no way.

On board they pointed out was a Tom Tom which monitors your every move and makes audible warnings for going on non approved tracks, too fast, driving in the dark, cornering too fast etc etc. we turned it off and buried it in the glove box.

Britz charged $750 for pick up from Broome and a $150 feel for relocation from Perth.

Apollo vans were cheaper, and a well tried out design.

I feel we can compare apples with apples as we hired an Apollo hi-top from Perth last year for 6 weeks and this year a Britz from Broome to Perth for 5 weeks.

Apollo vans were very relaxed about how far you can drive on dirt roads. They provided us with free chairs, table, extra towels etc due to our length of hire. Super friendly staff, they even emailed us to check all was well.

2

Service

5

Mechanical

4

Interior

4

Value 1 Review
"
Terrible Customer service

"

I would not recommend this company to anyone. There was a miscommunication when we rented the van and when we called the manager from Melbourne, he called us liars, and did the bare minimum to help us out because we kept persisting. We thought this would be a great company and spent extra to get the best insurance and the best of everything and they did nothing for us to help us with our issue. Very very disappointed with this company. Will be going with a different company from now on. And will continue to tell people to steer clear from Britz campervans.

1

Service

4

Mechanical

3

Interior

1

Value 1 Review
"
Review Of My Rental With Britz-Campervans-Australia

"

Véhicule fiable et sûr
La couchette pour la troisième personne n'est pas très confortable mais reste convenable.

4

Service

5

Mechanical

4

Interior

4

Value 1 Review
"
Britz 3 berth campervan hired from Hobart

"

The campervan was a reasonable size for two people and the shower/toilet although small worked well. At some places the connection did not fit for refilling the water, an adaptor should be provided. Also they do not provide enough chemical for the toilet, that should be explained so you can purchase it before you go on the road.
The campervan was presented in clean condition.
There are no gauges for water and gas which is a bit of a worry when you are free camping for a couple of days. Also we couldnt get the barbeque to work and the staff did not seem very interested when we told them.
We made up the double bed which was a good size and we left it made up. It was reasonably comfortable and the doona was warm but I think they should provide a mattress liner to go between the seat cushions and the sheet, not only for comfort but for hygiene.
I think a booklet or sheet with RV friendly towns should be provided as you can only free camp in certain areas. We were given a campsite book but if you used them every night it would be very expensive.
After the add on for full insurance and gas/ fuel top up charge it actually works out to be an expensive holiday, especially with camp fees on top.
The staff at Hobart were rather offhand and not interested in any comments on our return

3

Service

4

Mechanical

3

Interior

3

Value 1 Review
"
Our Sydney to Brisbane trip

"

We hired a Britz 6 berth traveller and drove from Sydney dropping the van off in Brisbane. The vehicle was great we had a few minor problems but were given a generous refund at end of trip. The customer service was excellent .The Mercedes Benz vehicle was beautiful to drive. The bed was made up felt a bit small due to the fact the shower was beside it. However there is a large double bed over cab as well as centre .overall webwould give vehicle 9/10 shower was great larger than most motorhomes that are older .

5

Service

5

Mechanical

5

Interior

5

Value 1 Review
"
Avoid the Voyager or check the bed arrangement before taking off on your trip

"

The voyager that we hired was a great design and was nice and clean but the double bed down the bottom was absolute torture, because the base was one piece of wood that folded down it had a metal frame to support it. This metal frame was rectangular in shape and had two other bars running across the base, it had plastic squares around it that were supposed to support the mattress but unfortunately all they did was poke into you and the bars were unavoidable too. The mattress was too thin for this arrangement too. I am still getting osteo as a result. My friends cousin hired a voyager and had the same experience . The staff did try to help me by hiring a Doona to add extra cushioning but that's all that they could do for us where we were. I'd say don't hire one in the first place .

4

Service

5

Mechanical

2

Interior

2

Value 1 Review
"
overall very positive experience.

"

I have the pleasure to report excellent holidays we have spent in Australia, with only few drawbacks stemming from the Britz negligence – however finally well compensated.

We arrived to Sydney, went to Blue Mountains, then via Canberra and Cooma to the Ocean, along the coast to Adelaide and then up to Darwin with side-jumps to Uluru and Kakadu, with a flight on our way back via Perth. We enjoyed all these places, although the weather in the South was terrible (the rain was "dropping" horizontally at the 12 Apostels), and the heat in the North was too great.

The problems with Britz started in Sydney – I had to return to the depot twice to have the GPS and "check engine" control fixed (it came back in Canberra and was removed in VW service). The driving over 80 km/h was almost impossible due to unbalanced wheels. In the Bridgestone service station in Canberra they found the front tires to be completely worn down and also ovalized. The Britz Vista van had also several other minor faults. After I asked them to whom I should report the fact that we were put on the road with an unsafe vehicle we were proposed to change to a Maui motorhome which we did in Adelaide. We were also refunded one full day fee for the time we spent in the service stations (and a bottle of white wine!).

So overall very positive experience. Australia is great, I regret we were able to see only a small fraction of your country and could not get into true Outback.

5

Service

3

Mechanical

4

Interior

4

Value 1 Review
"
Review of my britz-campervans hire

"

4

Service

5

Mechanical

4

Interior

4

Value 2 Review
"
Very happy with service and vehicle

"

We had the new model 4wd camper, the Outback. The vehicle was brand new, the staff were great and everything was as expected. It took just over an hour to check the camper out after watching the videos and everything, but that was fine. We got our bond back pretty quick and I was really happy with Britz

5

Service

5

Mechanical

5

Interior

5

Value 2 Review
"
Great experience in the outback

"

We drove a Britz hitop van from Adelaide to Alice Springs and I would say Britz was really reliable, far better than the JUCY condo van we hired for Great Ocean Road, Grampians an Kangaroo Island trip. PROS for Britz: There's a microwave, toaster and water boiler in the van, not only a stove. It's more spacious than JUCY condo and the bed is more comfortable. When renting the car, they show a tutorial video on how everything works in the car which was very helpful - the staff was very helpful in Adelaide. We needed to call the customer support at Britz regarding a camper light (we didnt see a button for turning the light off ) and the CS representative was very friendly and helpful. Also, before hiring the car I called them up to confirm the exact cost of everything etc and they were pretty helpful. We also noticed that all the cooking supplies were clean and wrapped in the van, in JUCY they were kinda dirty. The Britz hitop has a quite powerful engine, it was easy to drive it up the hills etc and it didn't take too much fuel actually. We got a discount for booking the car early so we were very happy with the price. CONS: Small water tank (but the greywater flows out right away, so you are not wasting fuel on carrying it on the car), also the roof of the car was a bit moldy and the backseat and sheets could have been more clean! Overall, would definitely recommend the Britz hitop van for longer roadtrips (ideal for 2 people), it's not a 4WD so it can of course get stuck if you drive on the sand, but if you stay on the road you'll be fine. Great memories with the van :)

4

Service

5

Mechanical

5

Interior

5

Value 1 Review
"
Review of my britz-campervans hire

"

Very bad customer service when returning the vehicle, staff refused to check the vehicle with us even after we requested and made it clear that we would like them to inspect it. The female staff member was very rude and unnecessarily short with us. It left us feeling very unhappy about the situation

1

Service

5

Mechanical

5

Interior

5

Value 1 Review
"
Not worth the high price

"

Spent a small fortune on a 6 berth camper van from Britz. Very worn interior, noisy water pump, terrible kitchen and engine with an assortment of light coming on and off during the 6 days. Would definitely not hire from britz again.

2

Service

1

Mechanical

2

Interior

1

Value 1 Review
"
Great vehicle. Great depot staff. BUT UK hirers beware!!!

"

Title says it all really.

We hired a two berth campervan for six days during the last week of Jan 2017 from the Hobart branch.

The van was reliable and clean. Bedding and cooking/eating/cleaning items provided were all clean. We had a great time....... BUT.........

The cooking gas isn't provided, and by the depots own admission they are one of the few companies that still use refillable gas bottles. Refillable gas bottles that the depot informed us very few retail outlets serviced... Cue an $18 gas fee.

You'll also need a Parks vehicle pass.... $60

The biggest negative re Britz is their deposit policy. We hired several vehicles whilst in Australia, including a 4x4 for self driving on Fraser Island where the risk of damage is high.....

All the rental companies required a security deposit, but Britz is the ONLY company that actually charged the full deposit to our credit card at time of vehicle collection.

The standard security deposit is $5000. On top of that they add a $100 credit card admin fee (that won't be refunded if you pay the security with Amex).

As a UK resident with a UK based credit card, this Britz policy incurred a £94 (circa $160 ) foreign currency transaction fee!

Our rental went without issue............

Our returned security deposit despite zero damage or extra fees is £50 ($84) less than the deposit paid... and the exchange rate hasn't varied that much in the past week.....

Britz admin has added $243 needlessly to our rental. Such a shame given the quality of the vehicle and the fun we had. I'd love to be able to recommend Britz, but in view of the unavoidable admin costs I'm sad to say we wouldn't use Britz again....

5

Service

5

Mechanical

5

Interior

3

Value 1 Review
"
Worst company in the world

"

2 days ago I rented a motorhome with Britz. They gave us a very old motorhome which was obviously worn out and had more than 330.000 kilometres on the record. We told the Adelaide branche that we were not happy about this at all, but they told us there was nothing that they could do, so we just gave in and took the motorhome anyway. Big mistake, because the next day the motorhome stopped working. It wouldn't go more than 40 km/h  so we contacted Britz and asked if they could help us. Somebody on the phone told us that we should just restart the engine 3 times and after that it would be fine again. We did this and it was fine for about 10 minutes but then the problems started happening again. We called again and after being put through to the New Zealand branche, them putting us back to Australia, waiting for almost 2 HOURS (!!) someone told us we should go to a campsite and they would call us back at 7AM the next day. 8:30AM the next day we still didn't receive a call so we decided we were going to call them ourselves. The person on the phone said there was no note of them having to call us back (????) but that we should just call the Adelaide branche and they would arrange a new vehicle for us. We immediately called the Adelaide branche and now they're telling us that they don't have a new motorhome because "there's nothing available", but we "should just come to their branche" and then they'll see what the problem is. Your costumer service is the worst in the whole entire world and I hope you do something about it because I know for sure I wil NEVER RENT WITH BRITZ AGAIN.

I hope later on I can give an update on this that Britz sorted our problem out.

1

Service

1

Mechanical

1

Interior

1

Value ,
0 Review
"
Very happy with the campervan

"

We had a Britz campervan for 2 weeks. It was a hi top and was fine. It have everything we requested and the staff that checked us in were very friendly. The check in process takes some time so I'm glad there weren't a lot of people at the time but that meant we were shown around the campervan pretty well. I would recommend Britz and would use them again

5

Service

5

Mechanical

5

Interior

5

Value ,
0 Review
"
good

"

Excellenty furnished with equipment , navigation, bedding, cutlery etc. Good , friendly service.

4

Service

4

Mechanical

5

Interior

4

Value